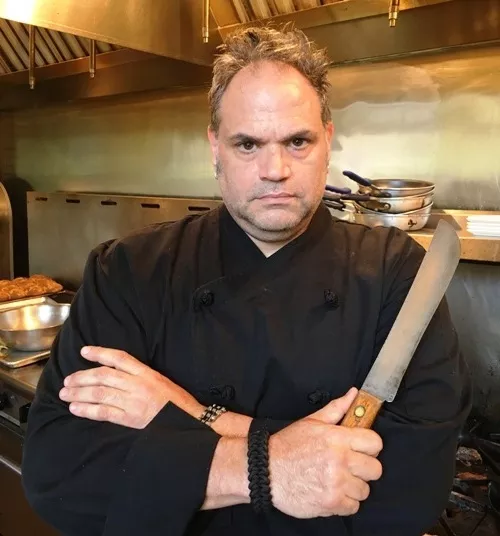 Ron Buechele of Capitalist Pig: Chef, ninja ... or both?
Every chef has a favorite tool he or she cherishes. It can range from the extremely specialized and high-tech to the ultra-simple. Some are specific to a type of cuisine, others are family heirlooms — but all of them are indispensable. We spoke with ten St. Louis chefs who shared ten unique stories of their most beloved tools of the trade.
Ron Buechele, chef and owner
<!————————EndFragment————————>
Capitalist Pig
Ron Buechele's father had wanted a butcher knife that was heavier on the back end than commercial knives. Buechele's grandfather, a tool and die maker, made one for him by cutting down and resharpening a beautiful World War II machete with brass rivets in the handle. The knife was used at every holiday and family gathering, slicing ham paper thin, carving turkeys and parting out chickens until it was handed down to Buechele. He now uses this knife to serve up barbecue at his Soulard spot, the Capitalist Pig.

Matthew Bessler, executive chef
The Libertine
Matthew Bessler first became interested in cooking when he was fifteen years old. He'd sit for hours of
Ming Sai
on PBS (the fried rice he finally mastered is now a family favorite). He first saw his beloved wok on a late-night infomercial when he was supposed to be asleep and was instantly hooked. The wok is made from cut steel drums pounded with mallets by hand on a rounded tree stump to create divots and bumps in a circular pattern that hold food on the sides as new ingredients are added. Bessler's mother surprised him with the wok for his birthday and he is still using it 25 years later. "It's now perfectly seasoned and can fry and egg without sticking as well as sear, sauté and boil anything," extols Bessler.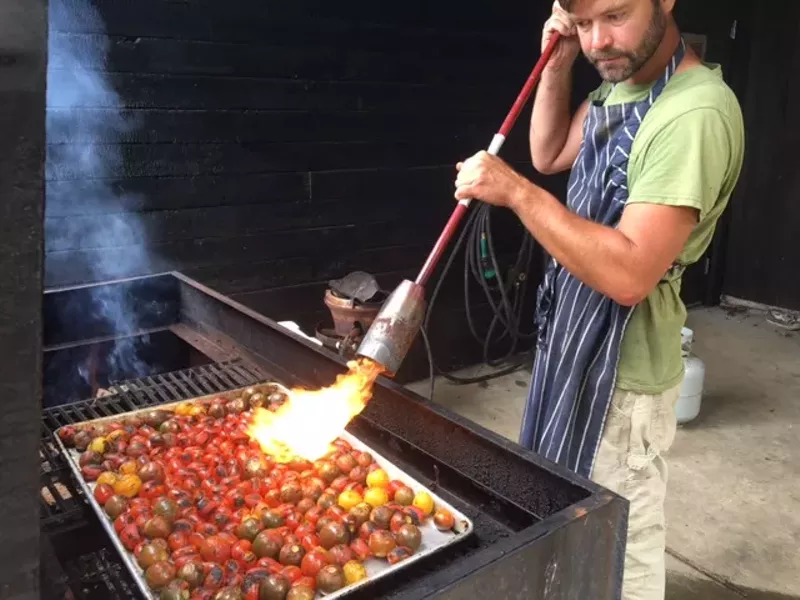 Sam Hilmer, Owner, Chef and Farmer <!————————EndFragment————————>
Claverach Farm
This Red Dragon 500,000-BTU propane torch is used at Claverach Farm whenever a massive amount of focused heat is needed — organic weed control, brush burning or metal working. It's also useful in food prep: to char skins on summer peppers and tomatoes, to perfectly quick-roast a tray of asparagus for a large crowd at a farm dinner, or put just a kiss of crisp on blanched baby carrots. "This tool makes a fool of
the Searzall
!" says owner Sam Hilmer.
Stephen Trouvere, Executive Chef <!————————EndFragment————————>
Bailey's Restaurants
A chef needs to focus on proper execution, but also repair and recovery. A good whetstone makes both possible. "Your knife, when sharp, will always go where you direct it," says Trouvere, who's in charge of the food for Dave Bailey's sprawling restaurant empire (Bailey's Range, Bailey's Chocolate Bar and Bridge Tap House and Wine Bar among them). "Then, as you master the stone, it will enable you to remake any edge. As a bonus, the patient and repetitive motion of shaping a new edge is a great antidote to the intensity of a hard service." Trouvere remembers the day he finally made a great edge on his Wusthof chef knife – he cut down a dozen live lobsters and then sliced tomatoes with ease. He has never again worried about dull knives.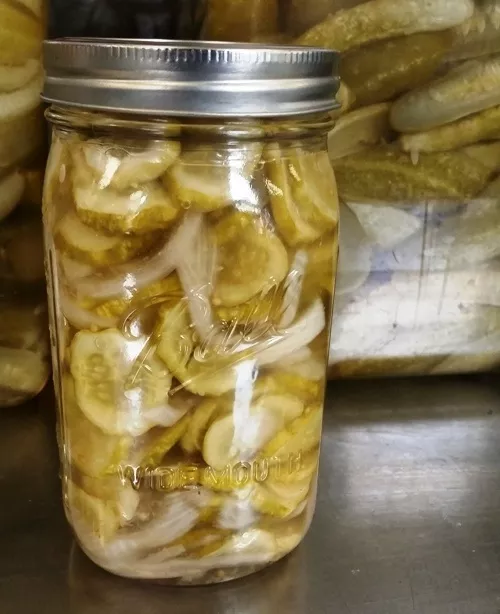 Tyson Long, Head Chef<!————————EndFragment————————>
Winslow's Home
Long's favorite kitchen tool is a mason jar for canning and preserving. His University City restaurant has the unique situation of having of its very own farm (Winslow's Farm) that caters solely to the needs of its kitchen. Using hyper-seasonal produce, however, often results in an over-abundance at peak harvest. Long preserves any extras so that he can offer them year-round. "Being able to use a canned farm-fresh tomato in the middle of winter to me is incredible," says Long.
Turn the page for more chefs and their tools.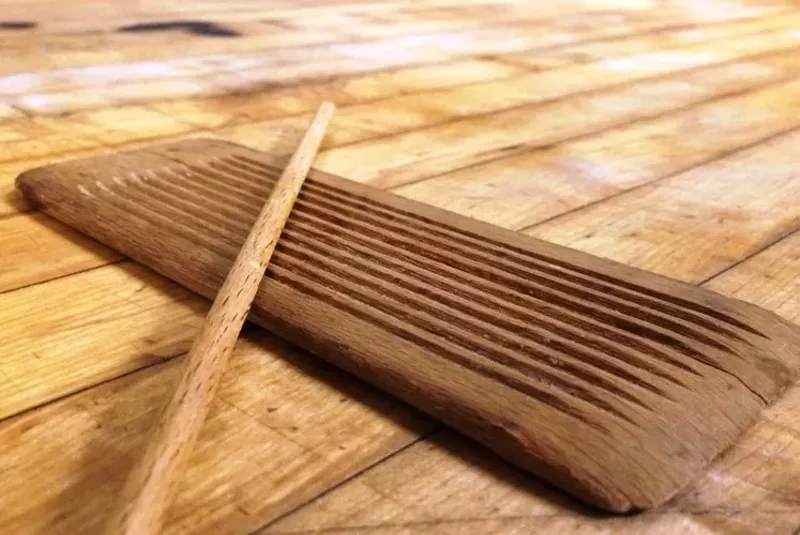 Gian Nicola Colucci, executive chef <!————————EndFragment————————>
Cielo Restaurant & Bar
Some of Colucci's fondest memories from childhood are of crafting hand-made pasta with his grandmother in Puglia, Italy. This pasta maker is nearly 100 years old, a family heirloom. It was passed on to Colucci's mother and gifted to the chef shortly before he started culinary school in Turin. It has traveled the world with him ever since. Ideal for making hand-made gnocchi, cavatelle and penne pasta, the natural wood keeps the dough from warming too soon. Colucci — executive chef at the Four Seasons Hotel St. Louis' marquee restaurant — uses this tool for small dinner parties and at home with his family and teaching his daughters the art of hand-made pasta.
Ashley Shelton, Executive Chef <!————————EndFragment————————>
Pastaria
"Ten-inch tweezers are so versatile they become an extension of your hand," explains chef Ashley Shelton, the executive chef at Gerard Craft's Clayton spot Pastaria. "You can use them to taste food, twirl and plate pasta, grab skillets that are just out of reach, flip food that needs to be cooked on both sides, grab small food items instead of using spoon, remove unwanted items or garnish that have made their way to the plate and much more." With a pair of tweezers in hand, Shelton can cook and do anything on the line quickly and expertly.
Mark Sanfilippo, Owner and Head Salumiere <!————————EndFragment————————>
Salume Beddu
Mark Sanfilippo's wooden-handled knife originally belonged to his mother, who got it from his father, who worked briefly as a meat cutter. Though it's a boning knife, she used it for everything from slicing summer tomatoes to weeding the garden. When she passed away, Sanfilippo re-formed the edge, cleaned it up and brought it back to its original glory. He now uses it for breaking down whole pigs and preparing culatello at Salume Beddu, his meat shop in Lindenwood Park. He often thinks of her when using it, making it truly irreplaceable.

Ryan Buettner, executive chef <!————————EndFragment————————>
Vin de Set
Ryan Buettner's favorite tools are these wooden spoons. Obviously, they help while stirring food and sauces at Vin de Set, the French spot where he is executive chef, but their unique angle that also facilitates getting into the corners of pans better than a traditional spoon. Perhaps the best part: they were made by two of his regular customers, Gary and Myra. They modeled the spoons after ones Gary used as a young man while working for a French chef. He gifted Buettner with three different sizes, which prove especially useful when his children want to help in the kitchen.
Mike Randolph, chef and Owner<!———————EndFragment———————>
Randolfi's, Publico and Half & Half
Forget all those fancy tools for a moment: Mike Randolph, the acclaimed chef behind some of the city's top restaurants, has a more utilitarian tool to shout out. His most indispensable tool is a tasting spoon, affectionately named Pickles. "Pickles is just the perfect spoon. I got it at an antique mall and have had it for over five years. It's just perfect for what you need to taste a dish," says Randolph. And she's a beauty, too.
Follow Sara Graham on Instagram and Twitter at @engagetaste. E-mail the author at sara@engagetaste.com.