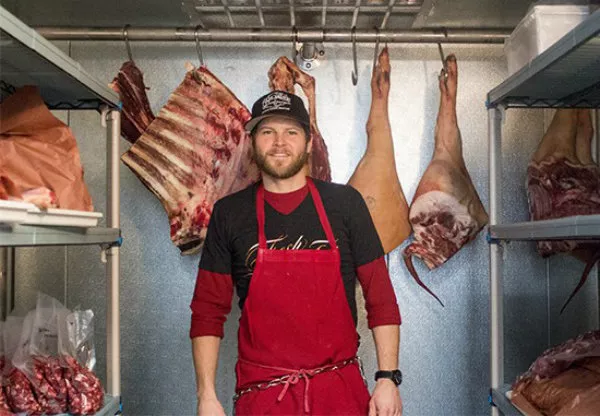 Mabel Suen
Chris Bolyard of Bolyard's Meat & Provisions.
If you thought
Bolyard's Meat & Provisions
(2810 Sutton Boulevard, Maplewood; 314-647-2567)
couldn't get any better, prepare yourself: The beloved Maplewood butcher shop is getting ready to expand its business model.
On Tuesday night, the City of Maplewood granted a conditional use permit to co-owner Abbie Bolyard to operate a sandwich shop at the butchery. Head butcher and co-owner Chris Bolyard confirmed to
the Riverfront Times
that the shop is indeed planning to offer table seating in the near future.
"Right now the plan is to add fifteen seats in the shop and sell the lunch items from open to close," Bolyard says. "We have been selling a lot of whole roasted chickens lately, so we hope people will stay to eat."
Chris Bolyard, a Culinary Institute of America-trained chef, already offers sandwiches at the shop, but seating constraints means they are currently served takeout-only. He hopes that by adding seating, the butchery can expand its business.
"On a weekly basis we get a handful of people who come in, but see that we don't have seating and leave," Bolyard says. "We have outdoor seating, but if the weather is bad, that's not an option. Hopefully this will allow people to stay."
Since opening in November 2014, Bolyard's has been the undisputed king of butchery in St. Louis, thanks to Chris Bolyard's impeccable butchery skills, but also to the shop's commitment to ethically and sustainably sourced local meat. He personally visits every farm and processing plant that supplies the store to ensure to his customers that he can meet the highest of standards.
"We didn't even offer sandwiches when we opened," Bolyard explains. "Then we started a weekly sandwich special. When that took off, we added more and eventually bought a sandwich station to make it easier."
Rachelle L'Ecuyer, Maplewood's Community Development Director, explains that the conditional use permit is necessary because the seating will re-classify the space as a restaurant rather than a retail shop. She's excited to see what this will mean for the already successful business.
"This just seems like a natural progression for them," L'Ecuyer says. "They already have the meats and the provisions, so it seems right that they'd take it to the next level. I know they currently feature specials, but since they are adding seating, I hope that will mean an expansion of the menu."
Bolyard, however, is not ready to commit to additional menu items.
"Right now we offer four sandwiches and we are going to stick with that," he says. "We've talked about doing a Saturday breakfast biscuit — we've been doing biscuits on Tuesdays and Thursdays with our smoke-out menu because we have so much lard around here. That's why we started doing tamales. But right now, we are just going to stick with what we are doing and see how it goes."
We are always hungry for tips and feedback. Email the author at [email protected]