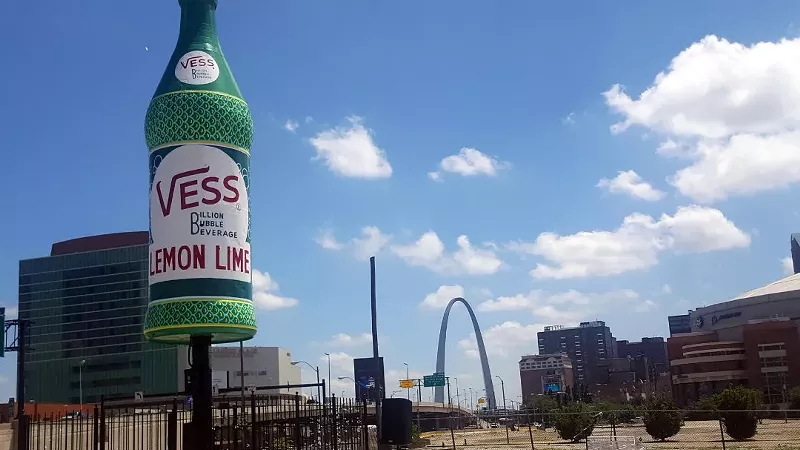 Vess revealed a "refreshed" version of its bottle landmark downtown yesterday — a day St. Louis Mayor Francis Slay officially named "Vess Bottle Day" in St. Louis.
The St. Louis soda brand celebrated its centennial by revealing the renovated bottle at 520 O'Fallon Street, an official city landmark just north of The Dome at America's Center (formerly the Edward Jones Dome).
The handmade 12-foot tall model of an old-fashioned family-sized lemon-lime Vess bottle was constructed in 1953 and recently renovated for Vess's 100-year anniversary.
Jason Sorvillo is the vice president of marketing at Cott Beverages, which owns Vess. He says that restoring the bottle felt like the company's responsibility to St. Louis. He hopes Vess will continue to be St. Louis's soda for the next 100 years.
"We want to be St. Louis' favorite soda. A lot of times we talk about Vess being the flavor of St. Louis," Sorvillo says. "We know people in St. Louis love this brand, and it's nice to have that connection."
The bottle was found in storage in 1990 and installed in its current location soon thereafter. But before the restoration, the bottle had become weathered and its base was surrounded with trash.
Antique Architectural Decor led the redesign, which called for one of the company's designers, DeAnte Haire, to spend two weeks repainting the bottle in the summer heat.
"This job was a hard job because it was so hot — 103, 102 degrees. As soon as you put the brush and pulled a stroke, it was dry," Antique Architectural Decor founder Mark Pitliangas says.
Before the redesign, the Vess bottle was lit with neon and rotated, something Pitliangas says may return in the future.
Sorvillo says it took nearly $50,000 to bring the bottle to its refurbished condition. Cott Beverages wants to make an effort to visit the site more regularly to clean up trash and keep the bottle in good condition, he says.
"Its advertising and that's great for the business, but at the same time we felt this feeling of responsibility," Sorvillo says. "We wanted to make sure we got it done right to the best of our abilities."
Vess got its start in St. Louis in 1916, when founder Sylvester Jones and the Vess family founded the Orange Whistle Company. Since then, the company has changed hands several times, eventually landing in the hands of current owners, Canada's Cott Beverages.
Sorvillo read from the Mayor's decree naming July 11 "Vess Bottle Day" in St. Louis to complete the ceremony.
Kavahn Mansouri
Confetti flies and a local marching band performs at the Vess centennial celebration. Vess soda was founded in St. Louis in 1916, where the brand's many flavors are still made today.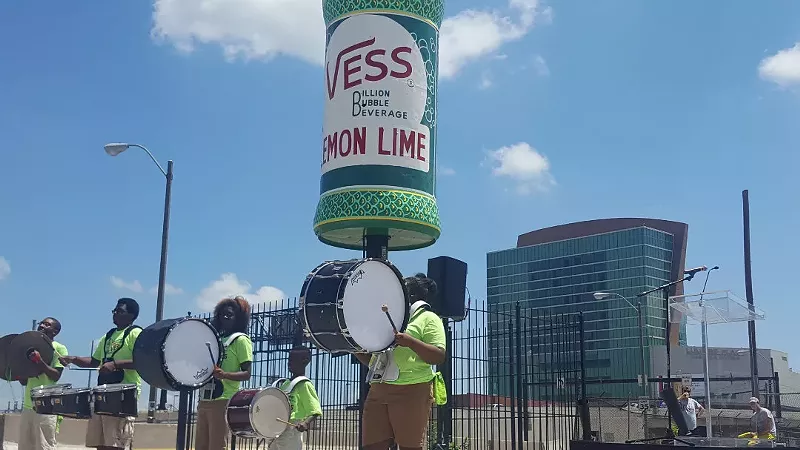 PHOTO BY KAVAHN MANSOURI
What goes with soda better than a drumline?