PHOTO BY SARAH FENSKE
The cold ramen salad features a slow-cooked egg with pickled vegetables, tofu and ginger-scallion sauce.
Many takeout-only restaurants suffer from the problem of what to do with guests while they wait for their food to be cooked. But
Kounter Kulture
(3825 Watson Road, 314-781-4344)
, the delightful new counter spot from the Kitchen Kulture duo of Christine Meyer and Michael Miller, has solved that problem with rare aplomb: They're offering complimentary beer, wine and a signature cocktail, with a friendly bartender serving them up just outside the front door.
It says something about the attention to detail at this brand-new spot that the signature cocktail on the day we visited — gin, ginger, seltzer, lemongrass — would have been at home in any of the city's finer bars. And that's not the only exquisite freebie they're offering here, at least in these opening days: On our visit, we were handed a delicious appetizer, artfully plated, to tide us over during our wait.
On cold days, even this remarkable hospitality may not be enough. Meyer and Miller, who drew a following for prepared foods at the Tower Grove Farmers Market and then a series of pop-ups, have opened their first brick-and-mortar in the old Pint-Size Bakery spot in Lindenwood Park. The space,
which the bustling bakery outgrew
, retains the basic setup: There's room for a few cooks behind the counter, but the space in front of it is too slim even for a chair or two. After you order you'll want to head outside to the stylishly painted chairs lining the building. The inside simply doesn't have room to linger.
Yet linger you may want to: Everyone here is incredibly nice. We didn't identify ourselves on our visit, yet co-owner Miller spent a good amount of time explaining how to us how to put the finishing touches on our order after we got home and then helped us walk it to the car. "I have to make myself indispensable somehow," he joked.
He needn't worry. The food here is reason enough to keep him around. Kounter Kulture is offering a tightly curated menu that delivers a powerful punch of flavor. Spring rolls ($6) are studded with cucumbers, rice noodles, cilantro and radish, as well as a bright sesame-carrot sauce, while the kohlrabi salad ($7) draws on palm sugar for a hint of sweetness to cut through the acid of lime and heat of chili.
There are two noodle dishes — the cold ramen salad, which benefits from a soft egg and heaps of expertly pickled veggies ($15), and the chicken curry, which combines raw shallots and pickled greens with chicken and noodles ($16). Both are great on first taste and just as good leftover.
But for our money, the real dish to try here are okonomiyaki pancakes. You can get this variation on a Japanese pizza/pancake stuffed with kimchi, Chinese bacon, mushrooms, shrimp, or some combination thereof. It's then drizzled with a tangy sauce and Japanese mayo. L.A. hipsters know this dish as the perfect hangover antidote — it's both filling and marvelously tasty, a sort of umami-laden bomb that will cure what ails you. The menu item here is one of the very few, if only, versions we've seen in St. Louis, and it does not disappoint.
You can also order steamed buns ($6-$7 each, depending on the filling) or a golden trout, served with wax beans and roasted mushrooms ($17). It's a pretty wide-ranging menu for its size, yet everything is meant to be ready in about ten minutes — which means only one complimentary cocktail for you.
For now, Kounter Kulture is open 4:30 p.m. to 9:30 p.m. from Monday through Friday.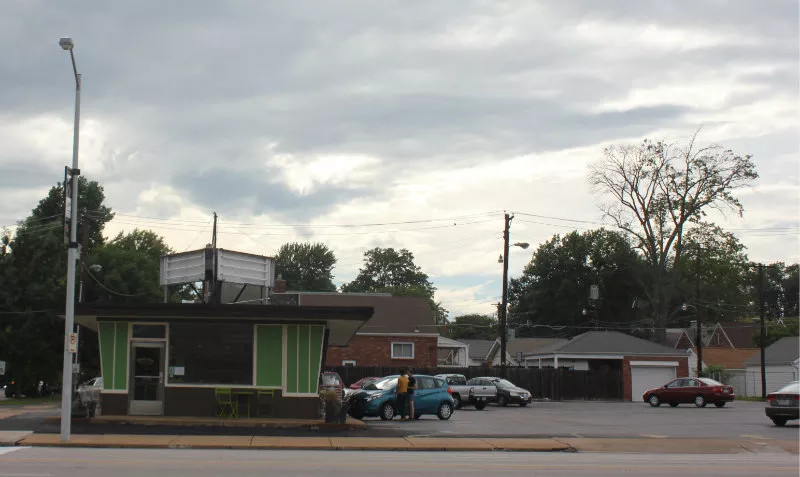 PHOTO BY SARAH FENSKE
The counter-service-only spot fills the former home of Pint Size Bakery, which moved to a bigger location in the same neighborhood earlier this year.
Turn the page for more photos of Kounter Kulture.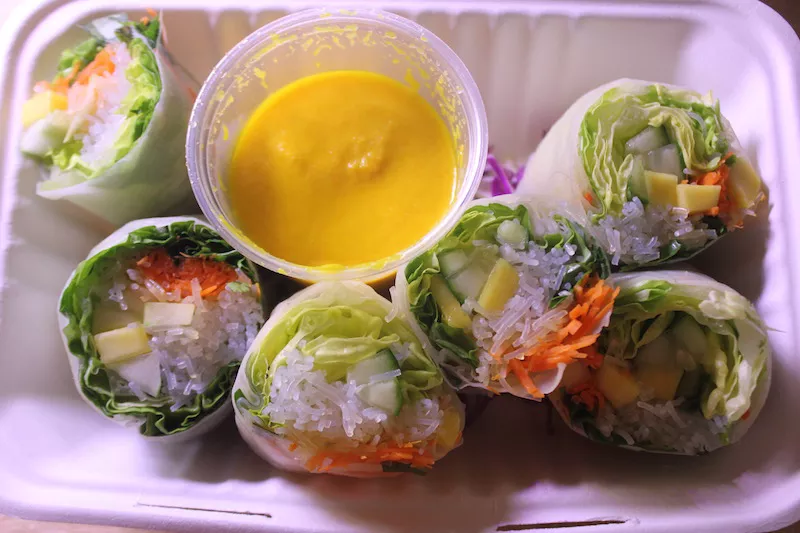 PHOTO BY SARAH FENSKE
Spring rolls are packed with fresh vegetables and come with a carrot-sesame sauce.
PHOTO BY SARAH FENSKE
The kohlrabi salad gets its flavor from dried shrimp, Thai basil, lime, chile and palm sugar.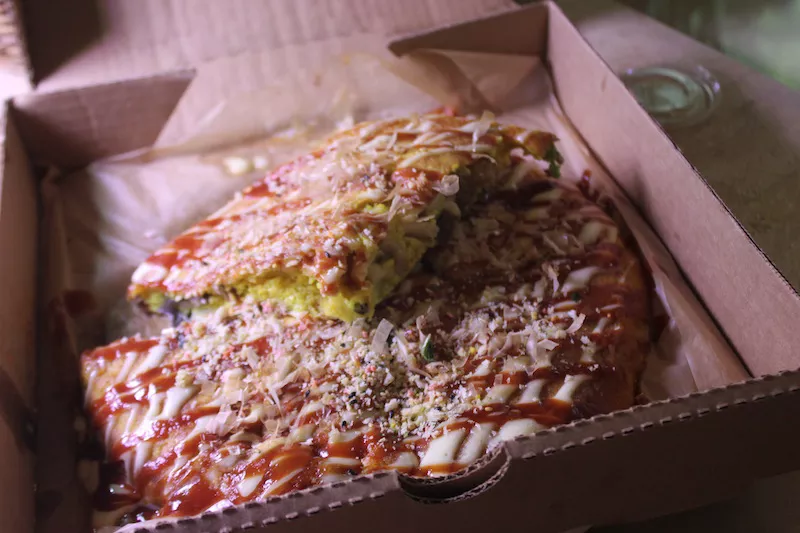 PHOTO BY SARAH FENSKE
Okonomiyaki is said to be like a Japanese pizza — and the box certainly suggests as such — but it's really more akin to a savory pancake.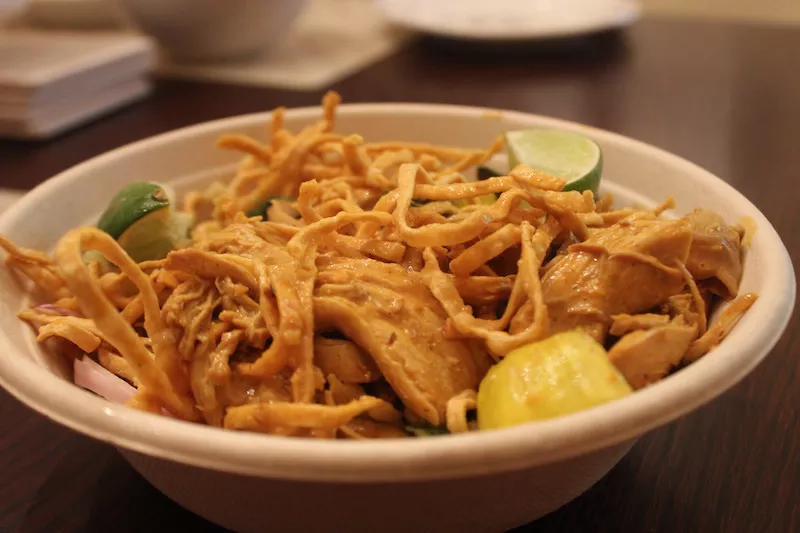 PHOTO BY SARAH FENSKE
The Khao Soi chicken curry is loaded with fried egg noodles and hunks of flavorful chicken.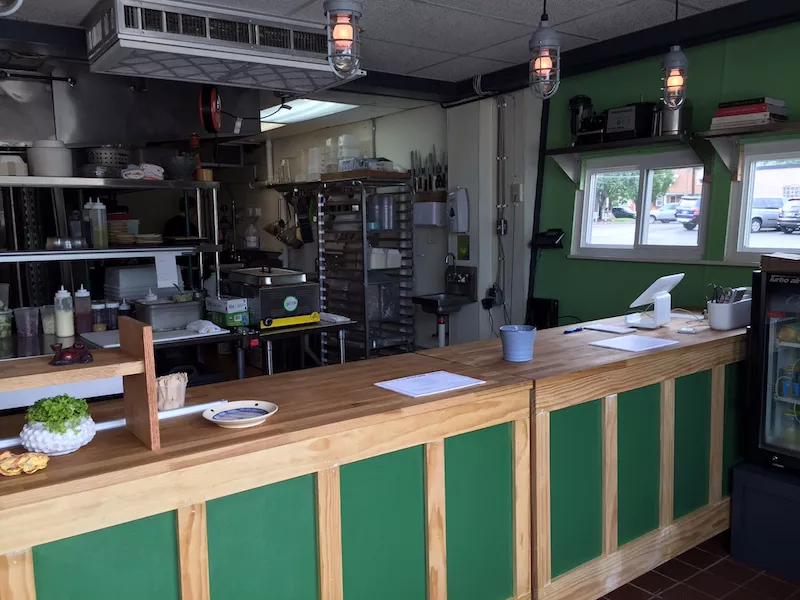 PHOTO BY SARAH FENSKE
The interior is simple but has stylish touches.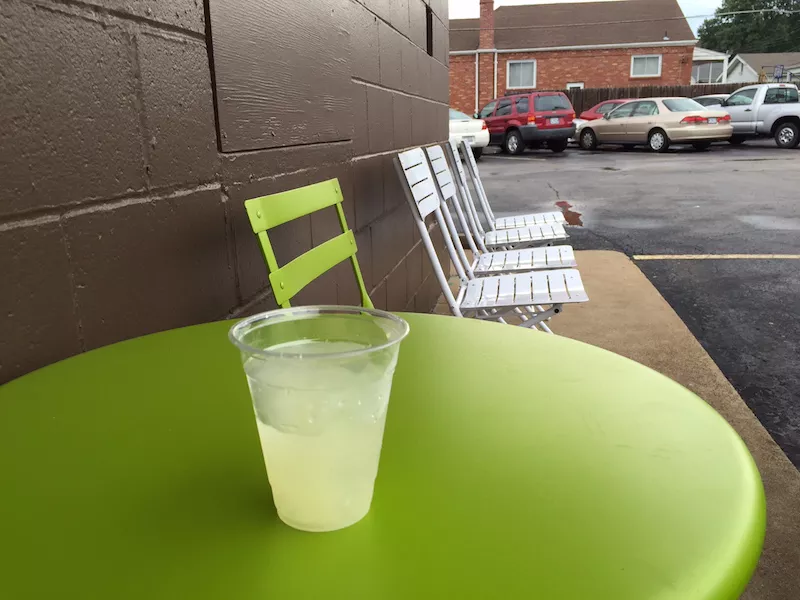 PHOTO BY SARAH FENSKE
The waiting area isn't spacious, but a complimentary cocktail will soothe what ails.
We welcome tips and feedback. Email the author at [email protected]