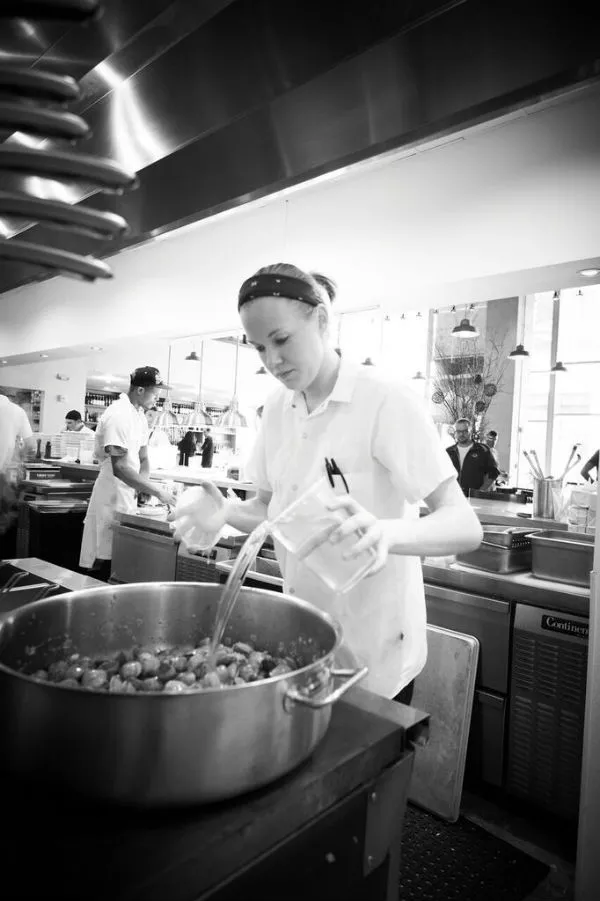 Greg Rannels
Ashley Shelton is a member of Eater's prestigious Young Guns class of 2016.
When Ashley Shelton found out this past May that she'd been selected as an Eater Young Guns semifinalist, her dog was the only one around to share in her excitement. Today, when the news broke that she won the prestigious award, she got to share her enthusiasm with her fellow recipients in Los Angeles.
"I got the email and it rocked my mind," Shelton says. "I was jumping around and laughing and crying. Of course I had to call Gerard [Craft] right away."
Shelton, who is executive chef at Craft's wildly popular
Pastaria
(7734 Forsyth Boulevard, Clayton; 314-862-6603)
, is the first person from St. Louis to receive the nod from the web-based dining publication. It's an honor she shares with nineteen other winners who represent the country's top food and beverage up-and-comers. According to Eater's site, the purpose of the award is to recognize "the most inspiring young talent in the industry."
At 27, Shelton may be young, but she is already an industry veteran. After losing her mother at the age of fourteen, Shelton knew the best way to honor her memory was through food.
"My mom was a fantastic cook," Shelton explains. "Not a restaurant cook — she was a home-cooking mom, and I was always with her in the kitchen. When I was fifteen or sixteen and trying to figure out what to do with my life there was no doubt: I had to cook."
Shelton started her career at Annie Gunn's, in Chesterfield, when she was seventeen. At nineteen, she enrolled in the Culinary Institute of America in New York, which led to an internship in Florence, Italy. Her time abroad ignited a love affair with Italian cuisine that was evident to renowned chef Gerard Craft when he met with her while on a research trip for Pastaria. He offered her a job opening the restaurant, and she worked her way up to sous chef before leaving to return to Annie Gunn's.
But when the executive chef position came up at Pastaria, it was an opportunity she could not pass up.
"I'm just so thankful to Gerard for nominating me," Shelton says. "He's just so good about developing people and raising the food scene in St. Louis."
Shelton gets excited when she thinks about what the award means for the local dining community. "It just brings more national attention to St. Louis," she says. "It's more validation for what we do here."
When asked if she could glean any insight from this year's class of winners, Shelton says that the group is too diverse to discern a trend. That said, she did see one positive theme. "It's a lot of females," Shelton says. "Out of eight chefs, four of us are women. It made me really happy to see that."
We are always hungry for tips and feedback. Email the author at cheryl.baehr@riverfronttimes.com.