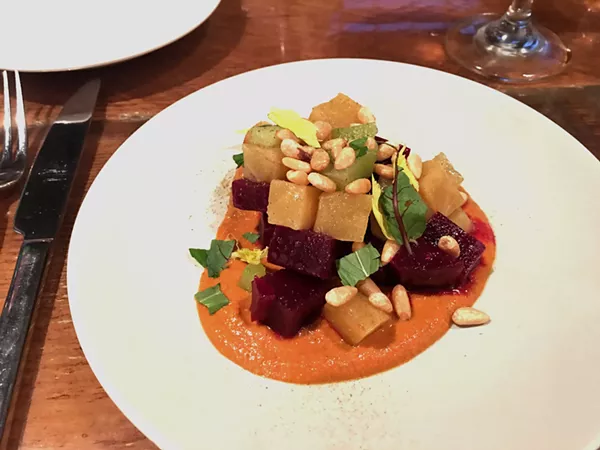 Photo by Lauren Milford
Beet salad with pine nuts.
Lafayette Square's
Element
(
1419 Carroll Street
) offers craft cocktails with views and enticing, shareable plates in a renovated industrial space. It's a perfect destination for a night out with friends or drinks with a date — and fortunately offers a variety of choices for those with diet restrictions. (The menu recently got an overhaul under acclaimed chef Josh Charles, so if you haven't been in a while, head back to try their new dishes.)
The menu starts off with smaller plates priced around $10 and then gets into heavier, slightly larger dishes in the $20 range. Let's break it down for vegetarians and those who eat gluten-free and paleo diets.
Vegetarian:
Veggie dishes on the smaller side include a beet salad with pine nuts, manchego with rhubarb jam on toast, burrata with strawberries, white asparagus salad, chilled asparagus soup and Brussels sprouts. Do not miss the non-traditional arancini made with Mexican rice and black beans.
For your larger dish, go with the celery root ravioli or order the potato gnocchi (without the short rib). The chef created a spring vegetable gnocchi for us that was delicious.
Gluten-free:
There are lots of gluten-free options here. For starters, there's scallop crudo, chop salad, beet salad, white asparagus salad, chilled asparagus soup, Brussels sprouts and broccoli with pork belly.
Heavier dishes include grilled ribeye, barbecue beef filet and salmon.
Paleo:
The paleo-friendly menu items include scallop crudo, chop salad, beet salad, barbecue beef filet, white asparagus salad, chilled asparagus soup, grilled ribeye, Brussels sprouts, broccoli with pork belly and salmon.
Kids:
We'd leave ours at home with a sitter so we can fully enjoy those delicious craft cocktails.
It's rare to find a restaurant with a small plates-style menu that has enough offerings for all types of diets so that everyone in your group can actually share; often, vegetarians chow down on the one veggie small plate while carnivores pass different items around the table. Element offers enough delicious options to avoid that predicament.
For more on Element, read the RFT's initial review of the restaurant
here
.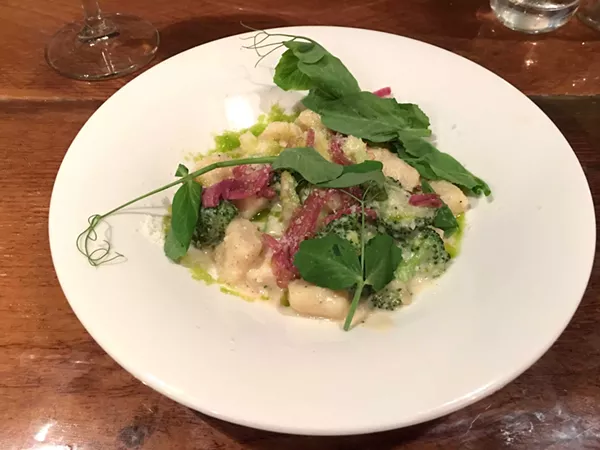 Photo by Lauren Milford
Vegetable gnocchi.