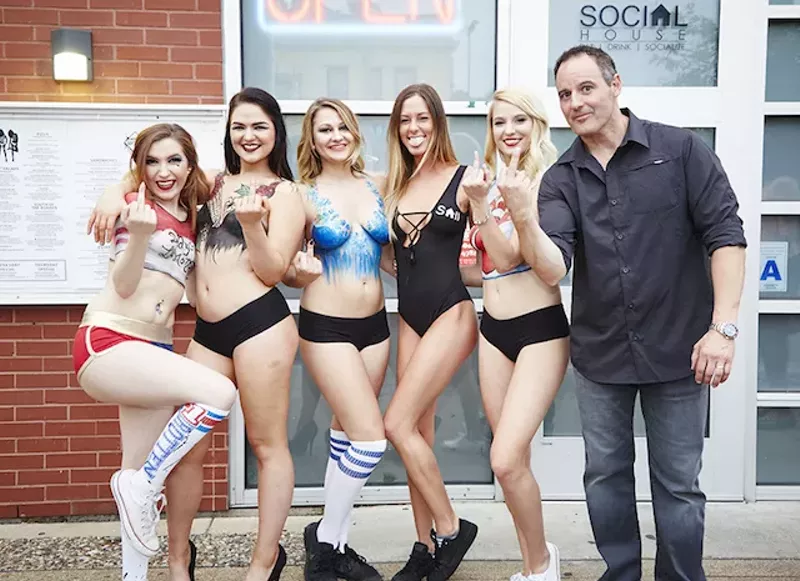 PHOTO BY STEVE TRUESDELL
John Racanelli with servers, at Social House II's grand opening on June 3.
The controversial sports bar that had a significant portion of University City residents clutching their pearls over its body-painted servers will be shutting its doors after last call Saturday.
University City Mayor Shelley Welsch
made the announcement on Facebook
this afternoon, just two weeks
after the official grand opening of Social House II
, in which the sports bar confidently declared it was "open for good."
Welsch was not at her desk and could not be reached for comment. But City Manager Lehmann Walker seemed to tacitly confirm the sports bar's closure is part of a settlement with the city, stating, "The parties have resolved their differences." Walker said the city would have no further comment.
Albert Watkins, who represented owner John Racanelli during most of his battle with City Hall, said he was now the bar's former attorney and not aware of any agreement to close. "If true," he added, "the shuttering of Social House II is a significant blow to the culture and family-friendly environs of the Loop. A true loss for mankind and U. City taxpayer."
The bar opened in defiance of the city in early March, and has been operating without much in the way of public drama since March 18,
when a judge ordered the city to return its license after stripping it
. But that decision was not a final one — it was merely saying there was a likelihood the bar would prevail on the merits, and that the bar could continue to operate in the mean time. Court files show activity on the case as recently as June 10.
Racanelli could not be reached for comment Friday; no one was answering the phone at the Social House II Friday afternoon. We'll update this post as we learn more.
See also: 28 Sexy Photos from the Opening of Social House II
We welcome tips and feedback. Email the author at [email protected]