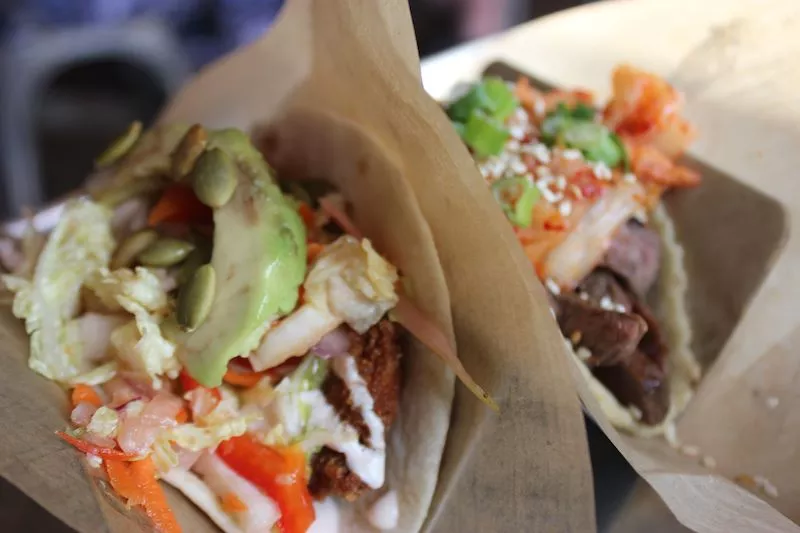 Gourmet tacos have come to Kirkwood.
Club Taco (200 N. Kirkwood Road, Kirkwood; 314-858-1488) opened its doors two weeks ago in the space that previously held the Middle-Eastern restaurant Petra. Sandwiched between Kirkwood Station Brewing Co. and Dewey's Pizza in the heart of the suburb's walkable downtown area, the fast-casual eatery boasts a full bar, a huge patio facing Kirkwood Road and tacos beyond anything seen before in greater St. Louis.
It's not just that you can get breakfast tacos here (all day!). It's that the creative, and surprising, combos include a riff on Thanksgiving dinner, a taco stuffed with bacon-wrapped meatloaf and mashed potatoes, and even three quirky vegetarian options, only one of which features the ubiquitous portobello mushroom. The other two use as their base Southern fried tomatoes and eggplant parmesan, respectively — which should give you an idea of just elaborate, off the wall and
big
these tacos are.
They also aren't cheap. This might be the first time a fast-casual restaurant in St. Louis has charged $5 for a taco — and quite a few options on Club Taco's lengthy list go there. But they are quite filling; the two we tried on a recent visit were overstuffed with piles of meat.
The place is the brainchild of service industry veteran Gerard LaRuffa Jr. A chef by trade, LaRuffa married into the Farotto family and spent more than a decade at the now-closed Villa Farotto in Chesterfield. He also has management experience at Canyon Cafe and Drunken Fish.
The vibe at Club Taco has something in common with that sushi hotspot; it's not taking itself too seriously. If those goofy tacos weren't your first clue, the club music pulsing through the space should be. Where Mission Taco Joint is a laidback homage to a West Coast-style taco shack, Club Taco is a high-energy version filtered through a South Beach sensibility. Among more than a dozen other fruity drinks, there are vats of fresh-made sangria and a "hibiscus pleasure martini" on special at the bar; even at 4 p.m., a server will stop by to make sure you see the cocktail menu.
Club Taco underwent substantial renovations before opening, but it's still a work in progress, as "club concierge" Nick Suna explained on our recent visit. Perhaps most significantly, LaRuffa plans to put a large awning over that gorgeous patio — and a bit of shade is likely all it will take to make this the hottest spot in Kirkwood for margaritas on a hot day.
But don't expect to chow down on chips and salsa while you imbibe. There are none on this menu, nor is there rice or refried beans.
"I've spent a lot of time in Phoenix, San Diego, Houston," LaRuffa says. "I love Mexican food. But I didn't want to open a Mexican restaurant. I didn't want to be restricted by that. I just liked the idea of tacos."
And so once you're full up on tacos, you might want to try an order of the wildly popular "club tots" — a heaping boat of tater tots dressed with white cheddar, roasted poblano chiles, chipotle crema, and a fried egg topped with radish and cilantro, they're about as over the top as, well, Club Taco. They're also just the thing to soak up a hibiscus pleasure martini.
For now, Club Taco is open until 10 p.m. Monday through Wednesday, until 11 p.m. on Thursday and midnight on Friday and Saturday. From 10 p.m. to close, all tacos are half-price.
See below for more photos of Club Taco.
PHOTO BY SARAH FENSKE
A bar in the far corner shows a list of specials on the chalkboard.
PHOTO BY SARAH FENSKE
Order at the counter upon entering the restaurant; servers then bring your order.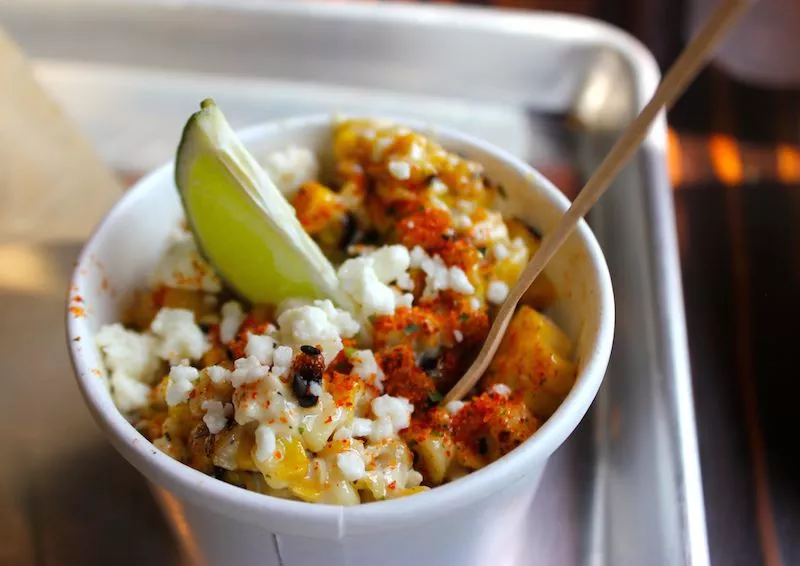 PHOTO BY SARAH FENSKE
The roasted street corn casserole: corn topped with lime crema, cayenne and queso fresco.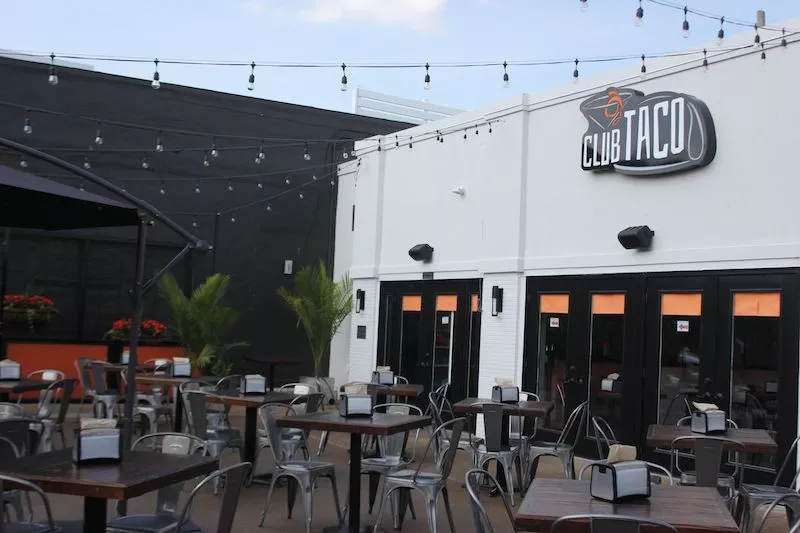 PHOTO BY SARAH FENSKE
The patio will be getting an awning like the one previously at Petra.
We welcome tips and feedback. Email the author at sarah.fenske@riverfronttimes.com