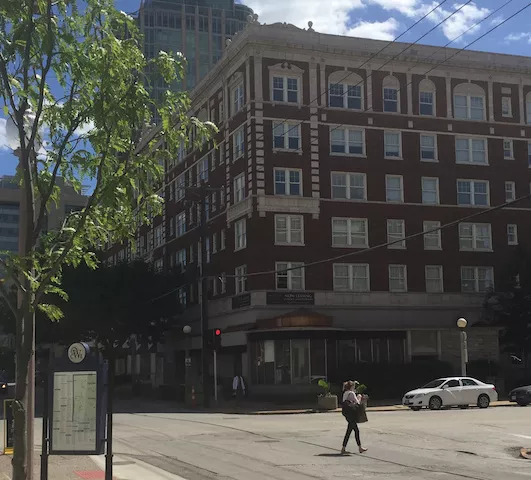 PHOTO COURTESY OF GAMLIN RESTAURANT GROUP
The new restaurant will be located on the ground floor of the Forest Park Hotel.
If you love Gamlin Whiskey House and SubZero Vodka Bar, you're in luck: The restaurant group behind those two concepts is now planning a third concept in the Central West End.
The Gamlin Restaurant Group says it will open a new restaurant in the long-vacant space on the ground floor of the Forest Park Hotel at 4910 West Pine Boulevard, just across the street from the new Whole Foods Market.
The 4,800-square-foot space has been a restaurant in the past, but has been vacant for at least a half-dozen years. The size is similar to the other two restaurants in the group, which are sprawling, multi-room hotspots.
The opening date and the restaurant's concept have yet to be determined.
"The rest of the building has been restored to its original historic grandeur, which we will complement with our new concept," Lucas Gamlin said in a press release. "We have a number of ideas in the works that will provide our guests with a unique experience. We will continue to support area businesses by offering fresh, local flavors for breakfast, lunch and dinner."
The group's most recent new restaurant, Gamlin Whiskey House,
opened just a few blocks north of the Forest Park Hotel in 2013
and has been a huge success, routinely packing in crowds of diners and drinkers. And SubZero, which opened in 2004, is still going strong in its teenage years — a constant offering burgers, sushi and a huge vodka selection even as many other places have come and gone.
We welcome tips and feedback. Email the author at [email protected]