PHOTO BY MABEL SUEN
Melt boasted a cluttered, eclectic interior.
If you're looking for late-night eats after drinking at the Whiskey Ring, you're going to have to head to Uncle Bill's. Only three months after
Art Bar shuttered its doors
, another favorite Cherokee haunt has gone to that big waffle iron in the sky.
Melt (2712 Cherokee Street), the popular breakfast diner and bar that boasted high tin ceilings, eclectic cocktails and some of the best waffles in the city, has officially closed its doors.
In a surprise post on Monday on the business's Facebook page, owner Kelly Simms announced that the restaurant was ending its three-year run, effective immediately.
But great food can still be had at the location. While the owners are obligated to pay the remainder of rent until October, the Simms are working out an arrangement with Sister Cities Cajun and BBQ, who will be periodically occupying the space as a pop-up restaurant while they wait for their new location to open.
Melt began in the Cardondelet neighborhood, and moved to Cherokee a year later. The place was as hip as they come, with skeeball and arcade games, a stage for musical performances, bicycle chandeliers suspended above makeshift tables and vintage loveseats. It was a perfect spot to chill for a quick bite or catch-up with friends.
And did we mention the waffles? The restaurant's signature dish, the Wake n' Bake, was a delectable waffle with bits of bacon mixed into the batter and topped with cheesy eggs, while the Violet Beauregard was a blueberry-lover's wet dream. Pair them with a strong, cheap Bloody Mary, and you couldn't ask for a better meal.

Reached for comment about the sudden closure, owner Kelly Simms (along with husband Benjamin) offered this statement via email:
"We gave it a three-year run, couldn't justify continuing to infuse more money especially after building out the space ourselves at a very steep cost from the white-box that existed upon move-in three-plus years ago. In the end, our space was simply too challenging: A landlocked small kitchen without the ability to expand in order to keep up with heavy destination traffic on weekends and an expansive dining/bar space that was too large for the dearth of weekday business & foot traffic. It was just time for us to move on versus spinning our wheels to keep our heads above water, and we have other opportunities we would like to pursue.

"We can't really comment more regarding the space in the coming months until we meet with WJL Properties the Landlord on Thursday. We have been working on a Pop-Up Kitchen with our friends Pamela & Travis, the owner/operators of Sister Cities Cajun & BBQ, while their new space is being renovated on South Broadway. We are optimistic that since we will be paying rent through October, Sister Cities will be able to utilize the space until their space is ready in September. There are a couple evening events on the calendar we would like to keep and Sister Cities is willing to work out a deal with us to that end, if it works for all parties. We appreciate the opportunity to have served the St. Louis area with our unique waffles and thank all of our loyal patrons & staff."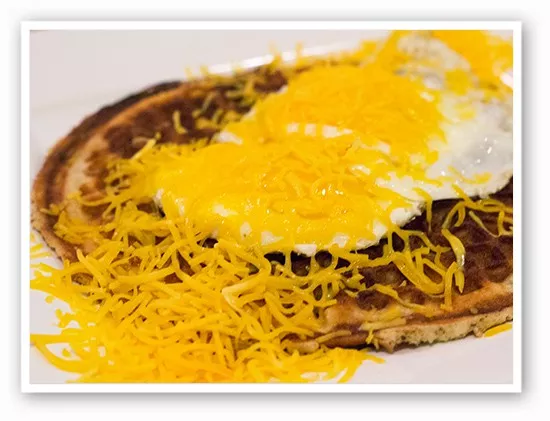 PHOTO BY MABEL SUEN
RIP, Wake n Bake.
Editor's note: This post was changed after publication to clarify Melt's ownership. Benjamin Simms is Kelly Simms' husband; he is not a co-owner. We regret the error.

We welcome tips and feedback. Follow Kevin on Twitter and Instagram and contact him via kevinkorinek.com