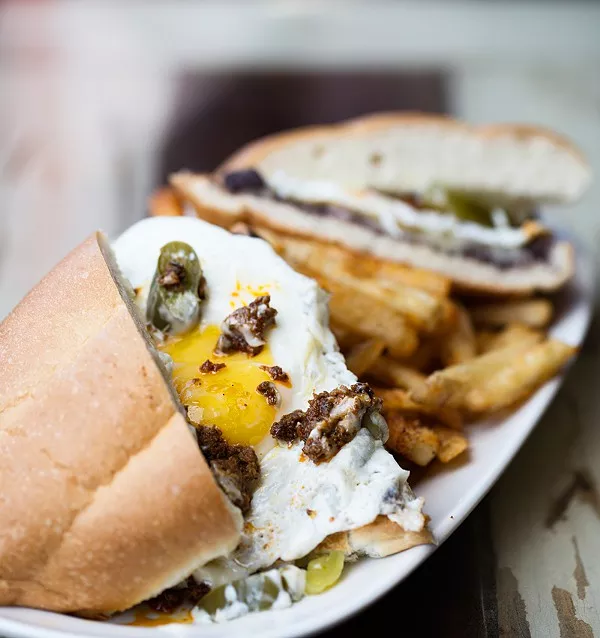 PHOTO BY JENNIFER SILVERBERG
A torta at Mission Taco Joint, which recently opened the doors to its newest outpost, in the old Gringo spot in the Central West End.
We lost some good ones this month. The Stratford Bar & Grill said goodbye, and the Hilltop served its last lunch on Friday (though it's still open for drinks throughout June). Even the Hideaway, that bastion of cheap booze and good piano music, announced it will be closing temporarily as of June 2. (See more about that here.)
But there's also some good news. Several new places are now open on Cherokee Street (including Mexcla,
which technically opened last month but
just got an RFT visit in May). Mission Taco Joint continues its quest for world domination in the Central West End.
The Red Shack
is now bringing Tex-Mex to Dogtown. And there are a
whole bunch of things in motion at the Chase Park Plaza
.
See also: The Red Shack Is Now Open in Dogtown
Did we miss anything? Let us know in the comments section below.
Closings
Cafe Eau
(212 N. Kingshighway Boulevard, Central West End)
Chaser's
(212 N. Kingshighway Boulevard, Central West End)
Fort Taco
(291 Chesterfield Mall, Chesterfield)

Lilly's Music & Social House
(2321 Arsenal, Benton Park)
Noodles & Co.
(6310 Delmar Boulevard, Delmar Loop)
Soulard Supper Club
(706 Lafayette Avenue, Soulard)
The Stratford Bar & Grill
(800 South Highway Drive, Fenton)
See also: The Fort Taco Inside the Chesterfield Mall Has Closed

See also: Noodles & Co. Has Closed in the Delmar Loop
Openings
The Chase Club
(212 N. Kingshighway Boulevard, Central West End)
Fred & Ricky's
(11252 Olive Boulevard, Creve Coeur)
Joey B's
(14445 Manchester, Ballwin)

Mission Taco Joint
(398 N. Euclid Avenue, Central West End)
Propaganda
(2723 Cherokee Street, Cherokee District)
The Red Shack
(6401 West Park, Dogtown)

Sidecar
(212 N. Kingshighway Boulevard, Central West End)
Snarf's
(360 N. Skinker Boulevard, Skinker-DeBaliviere)
Vista Ramen
(2609 Cherokee Street, Cherokee District)
See also: Soulard Supper Club Suddenly Closes After Just Three Weeks

See also: Propaganda Will Open This Weekend on Cherokee