Kavahn Mansouri
Rose Garavaglia Lagates serves the last lunch at the Hilltop Inn on Friday, May 27.
After more than 50 years of cooking, cleaning and tending bar at south city's Hilltop Inn, 73-year-old Rose Garavaglia Lagates served the bar's last-ever lunch Friday.
From its perch atop the small hill at the corner of Morgan Ford and Loughborough, the Hilltop has been a St. Louis staple for roughly 77 years. But Lagates says she's too tired to keep it going. The final day for lunch service and a full food menu was Friday; she'll keep serving booze and burgers until June 30, when she plans to close the place for good.
That last lunch brought a horde of customers. Lagates' brother and granddaughter, as well as the granddaughter of one of her oldest patrons, tended bar and helped distribute meals while Lagates held down the steam table and made sandwiches.
Lagates wears her red hair short. Around her neck hangs a golden necklace in the shape of Italy, where all four of her grandparents were born. On Friday, she was cooking for a crowd of nearly 50 people. She paused briefly to hug customers who were leaving, some holding back tears, or to receive flowers from long-time customers and family members.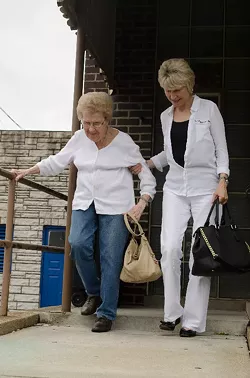 Kavahn Mansouri
Pam Moellenhoff leads her mother Marilyn, one of tavern's longest lasting patrons, down the Hilltop Inn's steps after the bar's final lunch. Lindsay Houser McHune, Moellenhoff's daughter, helped run the Hilltop during its final lunch as a part of her "bucket list."
"I am so delighted not to have to work, but I am so sad… I'm going to miss these people," Lagates says.
Joe Garavaglia, Lagates' father, bought the building at 6902 Morgan Ford Road in 1939. His family lived in the back; he and his wife worked in the front. His name and the date of the purchase are scratched into the walls of the basement where most of the cooking is done.
In April 1966, Lagates took the reins and ran the restaurant herself for the next 50 years. But she worked at the bar even before that, helping out here and there with little tasks.
"As a kid, particularly when I was in high school, my job when I came home was to make the hamburger patties," Lagates says. "If the dishwasher wasn't there I was the one who got to go down and do the dishes."
Throughout the narrow tavern, photos document the Hilltop's seven-decades-long run. In one photo, Lagates' mother holds her as a baby. Several others depict famous St. Louisans, complete with autographs. On the specials board, a short message thanks customers for 50 years of service. Taped beneath are dozens of photos of Lagates and customers.
Lagates worked the steam table for hours, cutting meat and serving sandwiches. So many customers showed up that the wait for food at one point was nearly an hour. Patrons grabbed a beer while they waited.
Lagates says she's closing up shop because her body can't keep up with the workload anymore.
"I'm 73 years old, it's time. It's very bittersweet, no doubt about that. Everybody thinks I'm a bundle of energy. Well, when I get going, I'm OK, but at night my body just can't," Lagates says. "If I dropped dead tomorrow nobody would have to say 'old Rose worked her ass off.' The truth of it is, I did, but I also played my ass off. We had a lot of good times."
Tom Cochran, a patron of the Hilltop for nearly eight years, says he came by with coworkers at least twice a month. There was no place to get a home-cooked meal like it in St. Louis.
Of Lagates, he says, "She's an amazing woman," Cochran says. "She's definitely a legend in her own time."
Lagates made all of the food at the Hilltop, from the sauce to the sandwiches. She never wanted to buy anything premade or prepared by anyone other than herself. That meant roast beef, polish sausage sandwiches, meatloaf and several other homestyle staples. In the evenings, the bar served its signature burgers, topped with grilled onions.
Kavahn Mansouri
The Hilltop Inn's menu included dozens of Italian dishes and homemade staples, all made by Rose Garavaglia Lagates.
Lee Kehner helped behind the bar during the last lunch. He hopes someone like Lagates will buy the Hilltop and keep it going.
"No more good lunches, no more roast beef on Wednesday," Kehner says. "It's a St. Louis staple."
He adds, hopefully, "It will come back. It will rise from the ashes as all good places do."
Lagates says she has several possible buyers, some of whom are loyal customers. But whoever takes over, she hopes they'll continue the traditions she and her family left behind.
"I hope they provide good food at a fair price," Lagates says. "That's where my parents came from and that's where I came from."
The Hilltop will open at 3 p.m. on weekdays and 4 p.m. on Saturdays with burgers and drinks being served through the end of June.

Editor's note: A previous version of this story gave the wrong first name for Rose Garavaglia Lagates' father. He was named Tom. We regret the error.