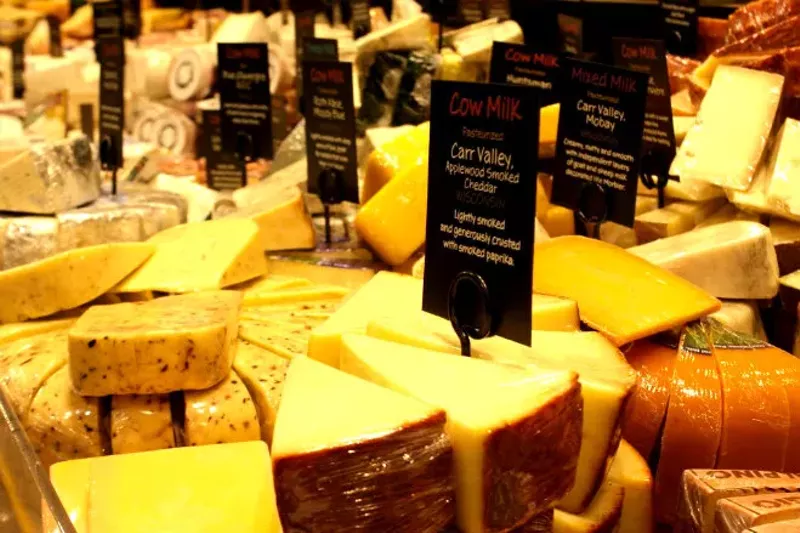 Kavahn Mansouri
Shown here, the new store's cheese section. Whole Foods will provide a staff of wine and cheese pairing experts to help customers make selections.
The first Whole Foods Market (4577 West Pine Boulevard) within St. Louis city limits is set to open its doors in the Central West End today with music, gifts for customers and booze.
The grand opening kicks off at 8:45 a.m., with doors opening fifteen minutes later. The first 500 customers through the doors will receive store gift cards ranging from $5 to $50, with one $500 gift card to be given out at random. Local favorite Bruiser Queen, which was recently announced as part of this summer's LouFest lineup, will play during the grand opening as well.
See also: Get a Sneak Peek Inside the Central West End's New Whole Foods
Store manager Shawn Milford says he believes the new location will be perfect for the Central West End's foot traffic and overall atmosphere.
"If someone is in a hurry, we can get them in and out," Milford says. "Our entrees and appetizers will be perfect if you want to grab something and have a picnic in Forest Park."
Dinners for one, two or entire families will be offered throughout the market's main carry-out area, alongside made-at-order pizza, sushi, sandwich and taqueria stations. A salad bar, bakery, hot food and soup area, and candy bar also line the front of the market.
And if you're looking for a drink, alcoholic or otherwise, you're in luck. This grocery has a built in beer and coffee bar, stocked with local favorites.
The market's bar, the "Central Brew," will host an Urban Chestnut tap takeover on opening day, featuring ten of the local brewery's beers, all priced at $3. One month after the grand opening, 4 Hands Brewery will take over the taps.
Outside of the bar, the location will feature more than 700 wines and 200 beers, with an option to build your own six pack. A cheese section and olive bar is also featured with a staff of experts to provide recommendations for wine and cheese pairings.
The market, like most Whole Foods, strives to use local providers. Throughout the store, local products are marked with tags noting that the product was made or grown in Missouri. In the meat sections, signs designate the animal's point of origin.
The store also touts a beauty section plus a smaller area with Missouri and Central West End merch and several other local non-food products. Central West End-themed grocery bags are available for purchase.
The market sits on the ground floor of a seven-story apartment building, giving the marke 28,470 square feet (slightly smaller than St. Louis's other Whole Food locations) of space. The parking garage's lower floors are reserved for Whole Food customers to ensure easy access.
This marks the area's third Whole Foods location, joining stores in Brentwood and Town and Country. Milford says the store has hired 100 new workers for the location.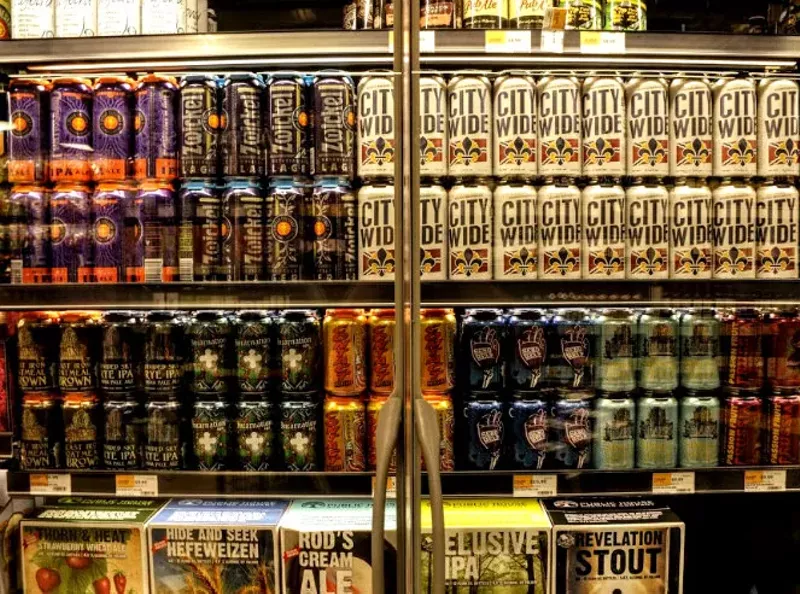 Kavahn Mansouri
The Central West End Whole Foods offers a total of 200 beers and 700 wine selections.
See also: Get a Sneak Peek Inside the Central West End's New Whole Foods