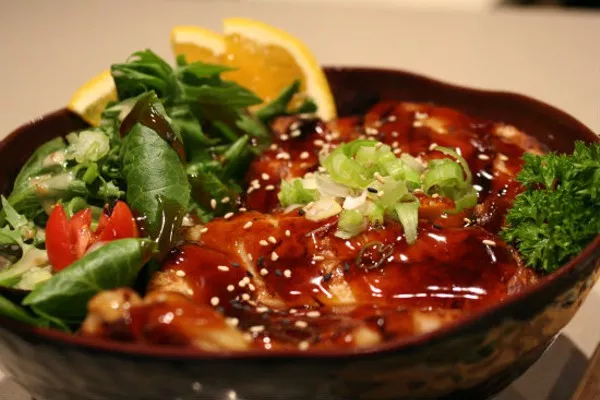 PHOTO BY JOHNNY FUGITT
The chicken teriyaki at Sushi Station.
One of the co-owners of Sushi Station, the nine-month-old restaurant in Webster Groves, is suing his business partners, alleging they diverted funds and engaged in a conspiracy to wrest the business from him.
Wiro Asusing filed suit against his partners Natchanok Nammakhot and Jacob Mangrum in St. Louis County Circuit Court last week, asking the court to dissolve the partnership and grant him damages.
The suit describes an increasingly toxic situation behind the scenes at the restaurant, leading up to the police being called on May 6.
The problems began, the lawsuit alleges, when Asusing discovered that Nammakhot was diverting their shared assets to pay Mangrum. Nammahkhot also allegedly wrote herself a check from their shared accounts for $110,000.
But when Asusing confronted Nammakhot, she announced that "his employment with the company was terminated, ordered him to leave the business premises and subsequently changed the locks," the suit claims. Nammakhot then called the police to have her former partner removed from the restaurant — and, Asusing claims, presented the cops with a revised copy of the lease, one he wasn't included in.
Since Asusing and Nammakhot hold equal voting shares, the members of the company are deadlocked, the suit alleges. "The business and affairs of said Company can no longer be conducted to the advantage of all members" — and so the court must dissolve the partnership.
Asusing's attorney said Friday that he was not authorized to speak about the case. A message left for Nammakhot at Sushi Station was not returned by press time. As of Friday, the restaurant remained open despite the dispute.
We welcome tips and feedback. Email the author at sarah.fenske@riverfronttimes.com