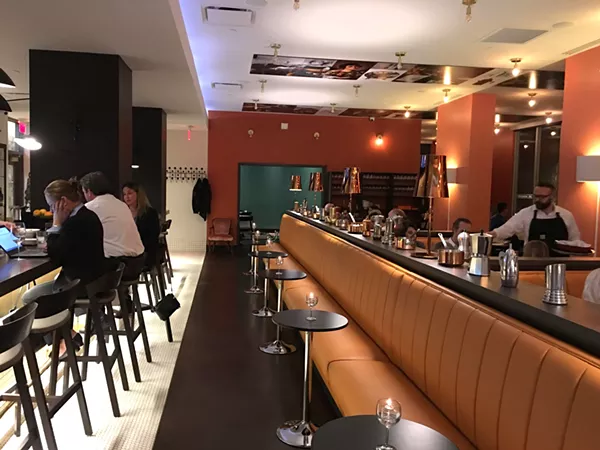 Photo by Lauren Milford
A long banquette faces Parigi's bar.
Parigi
(
8025 Bonhomme Avenue, Clayton; 314-899-9767
) is the first venture
not
located in Botanical Heights for chef Ben Poremba, who also owns Olio, Elaia and Old Standard Fried Chicken. It's located in Clayton, on the first floor of the "Clayton on the Park" apartment building.
And unlike most of our "first looks," this one has been open a few months already. But the place has proven so popular that getting in isn't always easy. (Management also didn't return our calls hoping to chat a bit more about the place's inspiration.)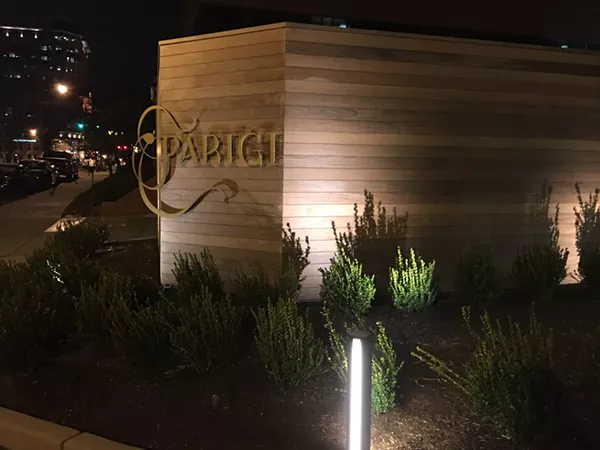 Photo by Lauren Milford
Parigi is located just off Brentwood Boulevard.
The menu at Parigi is mostly Italian with some French inspiration (Parigi is Italian for "Paris"). Executive chef Ramon Cuffie developed the menu — the dinner options include organic pasta made in-house (gluten-free available upon request), grass-fed New York strip and plenty of antipasti options.
When we visited, arancini was one of the appetizer specials offered, and it was delicious.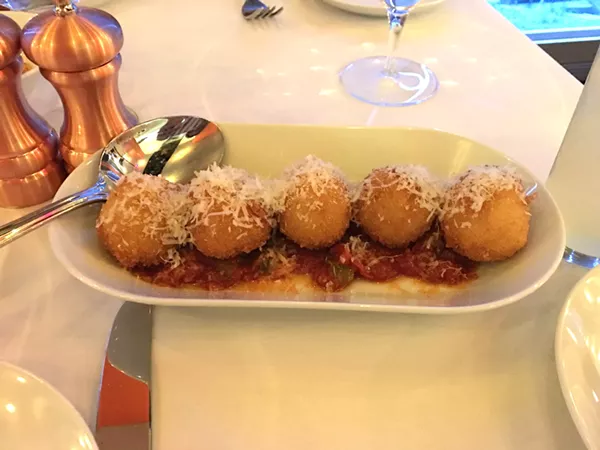 Bringing a little bit of Botanical Heights to Clayton, the bread service is provided by Union Loafers. If you've been to Union Loafers (or
even just read the praise heaped on the place by food writers
), then you already know that it's wonderful.
Desserts are also brought in, including macarons from Botanical Heights' Patisserie Chouquette (where Poremba is a partner) and gelato from Clementine's Naughty and Nice Creamery.
Our drinks were excellent, so it's no surprise that the head bartender is Drew Lucido. Lucido is formerly of Poremba's Olio, which is known for its standout cocktails.
Photo by Lauren Milford
The menus at Parigi.
While Poremba's other ventures feel contemporary and of a piece with their up-and-coming Botanical Heights neighborhood, Parigi has a decidedly Clayton feel. That's not a bad thing: The place has style in spades, with a sleek, retro vibe, aided by the black-and-white photos that grace the ceiling and the menus. Salmon-colored walls, salmon leather banquettes and copper light fixtures give warmth to all that black and white.
The breakfast and lunch menus are sure to draw the Clayton business crowd, with the location also a draw for those who work in the area and can head to Parigi for dinner after the workday ends. On our visit, we saw a good mix of couples, families and groups of friends enjoying the Italian cuisine.
Photo by Lauren Milford
Veal ragu bolognese.
Parigi is open for breakfast (7-10 a.m.), lunch (11 a.m.-2 p.m.) and dinner (5-10 p.m.), with a full menu offered at the bar (11 a.m. til close).