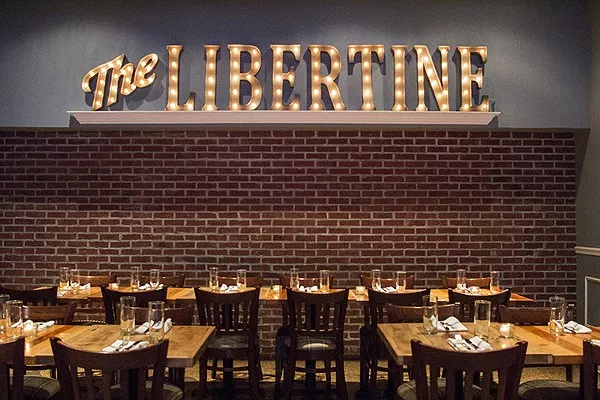 Mabel Suen
Spring has sprung on the Libertine's new menu.
Ask owner Nick Luedde to describe the
Libertine
(7927 Forsyth Boulevard, Clayton; 314-862-2999)
in one sentence, and he doesn't hesitate: "A little bit of hedonism is probably all right."
Consider the new "Parisian Sweetbreads" on the Clayton restaurant's menu, and it's immediately apparent what Luedde means by this philosophy. Pan seared and finished with dry Dolin blanc vermouth and a touch of sea salt, the sweetbreads are layered atop butter-soaked brioche and drizzled with tangerine butter for a bright citrus punch.
The sweetbreads are just one of many items that make up the Libertine's new spring menu, set to launch next Monday, May 16. This new round of offerings is executive chef Matt Bessler's latest mark on the three-year-old restaurant, which moved from a Southern-inflected tone last year following the departure of chef Josh Galliano.
Courtesy of the Libertine
"Escargot and Frites" fuses Belgian and French classic dishes.
Under Bessler, the menu is more classically European in concept, and this season's dishes fit well within that theme. The "escargots and frites" marries two staples of Belgian and French cuisine: mussels and fries with escargot
Bourguignonne
. For this version, butter is stuffed into the escargot shells, which are then beer-braised and served with crispy
frites
.
The "Boutique Oyster Trio" pairs three day boat oysters with housemade sorbets that are inspired by classic cocktails. The initial frozen offerings include a negroni, "The Last Word" (chartreuse and lime) and a French 75 (Champagne and lemon).
The "Ligurian Cornucopia de Mare" hold personal significance for Luedde; he proposed to his wife (and Libertine co-proprietor) Audra while vacationing in Italy's Cinque Terre, and this dish was inspired by one of their favorite restaurants there. Assorted shellfish — some sauteed, some fried — are placed into an Italian newspaper that is fashioned into a cornucopia and served with pesto and spring green remoulade.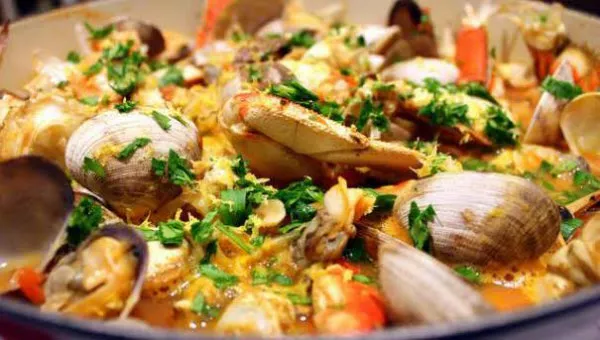 Courtesy of the Libertine
"North Beach Cioppino" features a selection of seafood and chef Bessler's heirloom tomato broth.
The focus on seafoood carries through to entrees with day boat scallops, whole branzino and a San Francisco-inspired "North Beach Cioppino." However, Bessler shows off his Filipino and Mexican chops on the pork belly adobo with teardrop peppers and chow chow made with huitlacoche (the fact that this Mexican corn truffle is also known as "corn smut" is surely not lost on Luedde.)
"We're focusing on that decadent nature of dining that in some ways feels like it has been overlooked recently," explains Luedde. "Our menu planning consists of Matt coming over to my garage and drinking a few cocktails and several beers, so this is the result."
The Libertine's new spring menu is below:
We are always hungry for tips and feedback. Email the author at cheryl.baehr@riverfronttimes.com.