9 Mother's Day Restaurant Specials Mom Will Love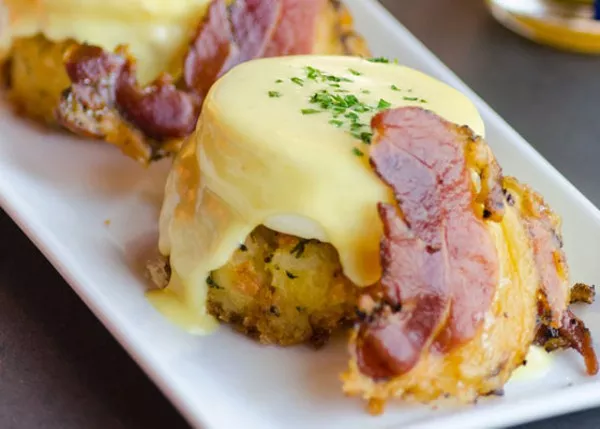 PHOTO COURTESY OF PICCIONE PASTRY
Piccione Pastry is offering a variation on eggs benedict as part of its Mother's Day brunch
There's one important rule for Mother's Day: thou shall not let Mother do any work. That means you should pamper her in all ways possible. And heaven forbid she have to cook for you.

Lucky for you, plenty of restaurants around St. Louis will keep you from starving — and give Mom the delicious food and laid-back day she deserves. Check out these nine places offering Mother's Day specials this weekend. Whether it's a special menu, drink deals or a trip out to the surrounding countryside, all of these places take the day from ordinary to memorable.

1. Mount Pleasant Estates 5634 High St., Augusta; 636-482-9463<!————EndFragment————>
Mount Pleasant Estates goes all out when Mother's Day turns up on the calendar, so your mom can nosh on a menu truly fit for a queen: tomato, basil, pancetta and mozzarella frittata; loaded roasted potatoes with peppers and onions; Belgium waffles with fresh berries and whipped cream; and much, much more. Iced tea, milk, orange juice, coffee and a mimosa are included with your meal. You can indulge in this plethora of food on Sunday from 11 a.m. to 5 p.m. Adults pay $45 ($40 VC member), while kids 12 and under can eat up for just $20. Children under 5 eat free. Check out the Mother's Day Brunch Facebook invite. You can also get in touch with Mount Pleasant at events@mountpleasant.com.

2. Sassafras 4344 Shaw Blvd., Tower Grove, 314-577-9400
If you're looking for a beautiful setting for mom's Mother's Day brunch, the Missouri Botanical Garden is the obvious place to go. Sassafras, the cafe at the garden, begins serving brunch at 10 a.m. this Sunday. You can check out the Mother's Day menu and other details here. Prices range from $14.95 to $29.95. Bonus: admission to the garden is included. Happy Mother's Day to you.



3. Element

1419 Carroll St., Lafayette Square; 314-241-1674
Element typically isn't open on Sundays — but Mother's Day isn't typical. Treat Mom to the delicious American fare and a hefty dose of ambiance at Element on Sunday, when you can enjoy brunch from 10:30 a.m. to 4 p.m. You can look forward to world-class dishes served by Executive Chef Josh Charles, as well as a menu of craft cocktails. Cheers. <!————EndFragment————>

4. Gateway Arch Riverboats 11 N. 4th St., Downtown; 877-982-1410
For a truly unique experience, take mom on a Mother's Day cruise. Set sail down the Mississippi with the a live Dixieland band and a full brunch that includes French toast, cheese blintzes, eggs, prime rib and more. You board at 12:30 p.m. and cruise from 1 p.m. to 3 p.m. on Sunday (which means sleeping in beforehand! Score!). Prepare to spend anywhere between $18 and $45, and be sure to call for reservations. This special cruise is only offered five other times all year, so make sure you take advantage.

5. Anthonino's Taverna 2225 Macklind Ave., the Hill; 314-773-4455, ext. 5
This restaurant on the Hill knows how to treat your mom right on her special day. Mothers and grandmothers receive a complimentary corsage as well as a mimosa at this premium buffet. You're also serenaded with live music by harpist Terry Langerak — perfect for the mom who likes to keep things elegant. You can enjoy brunch from 11 a.m. to 2:30 p.m. on Sunday for $35, and reservations are recommended.



6. Porter's Steakhouse

1000 Eastport Plaza Dr., Collinsville; 618-345-2400
For those celebrating Mother's Day on the East Side, spoil your mom with a three course meal at Porter's Steakhouse. From the signature grilled pepperloin to the house-made strawberry shortcake and every option in between, Porter's special Mother's Day menu is sure to satisfy everyone — and make Mom feel extra special. Porter's is open from 11 a.m. to 4 p.m. on Sunday.

7.

Hiro Asian Kitchen

1405 Washington Ave., Downtown; 314-241-4476
Your mom's special treatment isn't limited to Sunday at Hiro Asian Kitchen this weekend. Mom can enjoy a free glass of champagne when you book your meal at Hiro Asian Kitchen over the weekend — Saturday or Sunday, brunch or dinner, it doesn't matter. And don't stress about the picky eaters in your life; there is a kids menu available as well. Brunch is served from 11 a.m. to 3 p.m. both Saturday and Sunday, with a special Filipino brunch on Saturday. Dinner is served from 3 p.m. to 9 p.m. both days as well.
<!————EndFragment————>
8. Anheuser-Busch Biergarten 12th St. and Lynch St., Soulard; 314-577-2626
Toast to Mom over a brunch-style buffet and its Mother's Day-themed menu. Options include an omelet station, biscuits and gravy, grilled chicken and more. There will be 18 A-B beers on draught in addition to special cidre mimosas and Budweiser Brewed Mary's — and Mom's first drink will be on the house. You can begin brunching as early as 9 a.m. on Sunday, and brunch continues until 1 p.m. It will cost you $15 to $25. Cheers.

9. Piccione Pastry 6197 Delmar Blvd., Delmar Loop; (314) 932-1355
Piccione serves an a la carte, Italian-influenced brunch every Saturday and Sunday, but Mother's Day takes it to a new level with communal, all-you-can-eat dining. You and Mom can indulge in a menu of caprese salad, ricotta pancakes, garlic spinach frittata, Piccione benedicts, fruit salad, bacon, sausage and more. Top your meal off with coffee, juices or one of the classic brunch cocktails on offer. This special brunch is $22 for adults, $10 for children four to 12 and free for kids under the age of three. Reservations are required for this special brunch. Space is filling quickly, so don't hesitate!