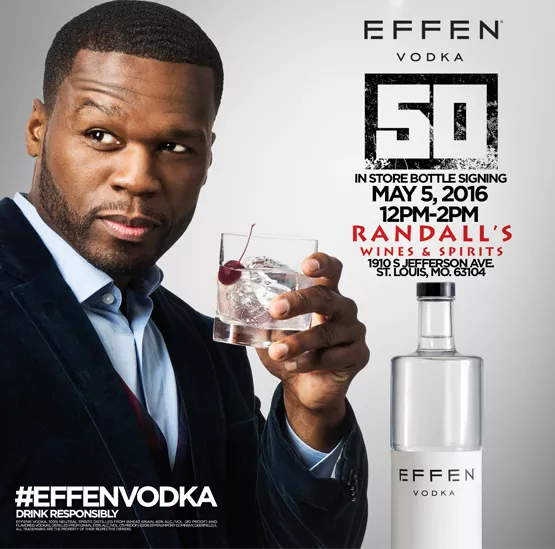 Were you planning to meet 50 Cent and get some Effen Vodka signed tomorrow? Well, you're out of luck.
A
Cinco de Mayo event
at Randall's Wines & Spirits, which would've given you a signed vodka bottle and photo with 50 Cent in exchange for your hard-earned cash, has been canceled. And so has one at Lux nightclub,
the Post-Dispatch reports
.
The recently-bankrupt rapper has an endorsement deal with the Dutch brand; every bottle you buy gives 50 Cent
an undisclosed amount of money
. But Randall's and Lux are joining the ranks of liquor stores nationally who are left trying to respond to an unfortunate incident Sunday, when 50 Cent posted an Instagram video of himself mocking 19-year-old janitor Andrew Farrell. He accused Farrell of being high at work, an example of how "this generation is crazy," and cussed at Farrell when he didn't respond.
But as Farrell's parents have told various media outlets, their son didn't respond because he has several social difficulties, including autism and a hearing disorder.
As word spread, people began calling for cancellation of the Randall's event on the liquor store's Facebook page.
The St. Louis-based chain wrote on its public Facebook page:

50 Cent has since apologized for the incident.
We reached out to Randall's earlier this morning. We'll update this post if we hear back.