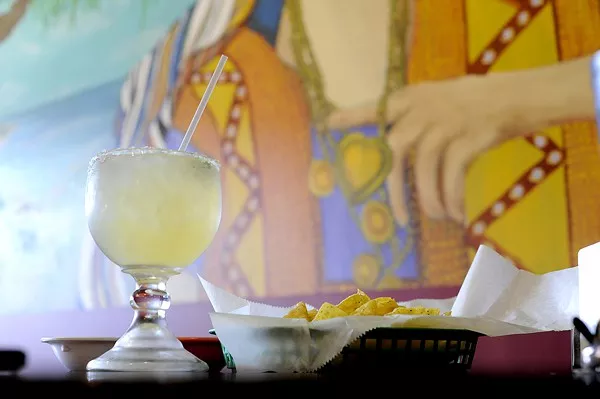 PHOTO BY KELLY GLUECK
Cherokee Street's Tower Taco — just one of the many places to enjoy a margarita on Cinco de Mayo this year.
This year, Cinco de Mayo falls on a Thursday — but many local celebrations, including the granddaddy of them all, which goes down on Cherokee Street, are taking place on Saturday, May 7 instead. So why not double up and get your drink on both nights of the week?
Here is our guide to both night's events. Looking for a
roundup of the best margaritas in St. Louis
? We've got that covered. More interested in whaling on a Donald Trump pinata? W
e have info on that as well
.
Thursday, May 5
Cinco de Mayo at Cantina Laredo
Celebrate Cinco de Mayo in Clayton with Cantina Laredo's limited-edition margarita, the Verde Infusion 'Rita, or its classic Cinco 'Rita. Live music by DJ Bogar Martinez will accompany a selection of tacos, flautas, empanadas and drink specials.
Thu., May 5, 5-10 p.m. Cantina Laredo, 7710 Forsyth Blvd., Clayton, 314-725-2447.

Cinco de Mayo at Howl at the Moon
Party on the actual Cinco de Mayo at Howl at the Moon with a Blue Megarita Bucket. What could be more fun than a bucket of booze with your friends, singing along to a live band on stage and dancing the night away?
Thu., May 5, 3 p.m.-midnight, 314-736-4695, hubs.howlatthemoon.com/cinco-de-mayo. Howl at the Moon, 601 Clark Ave Unit J, in Ballpark Village, St. Louis.
Rosalita's Cinco de Mayo Festival
Come party at Rosalita's annual street festival! The Washington Avenue Tex-Mex restaurant will have live entertainment, drinks and a mechanical bull.
Thu., May 5, 10-midnight. Rosalita's Cantina, 1229 Washington Ave., St. Louis, 314-621-2700.

Cinco de Mayo at Las Fuenetes
Enjoy authentic Mexican food, great drink prices and a family atmosphere. This Affton restaurant promises face painting for the kids, $2 jello shots and other drink specials for adults and a photo booth.
Thu., May 5, 11 a.m.-2 p.m. Las Fuentes Mexican Restaurant, 8025 MacKenzie Rd, Affton, 314-932-7552.
Westport Plaza Cinco de Mayo
Westport's collection of restaurants and bars celebrate Cinco de Mayo with specials on food and drink.
Thu., May 5, 8 a.m. Westport Plaza, I-270 & Page Ave, Maryland Heights, 314-576-7100.
Cinco de Mayo Fiesta
Frontenac's Canyon Café will be featuring food and drink specials all day on Cinco de Mayo. Our signature limit-two margaritas will be only $10, with Coyote Margaritas just $4! There will be live music from noon to 8 p.m. from Nigel the Steel Drummer.
Thu., May 5, 11 a.m.-10 p.m., 314-872-3443, www.canyoncafe.com. Canyon Café, 1707 S. Lindbergh Blvd., Frontenac.
Saturday, May 7
Cinco de Mayo Cherokee Street
Cinco de Mayo Cherokee Street is a street festival dedicated to the spirit of neighbors getting outside to party together. This year's Cinco de Mayo is centered on on the intersection of Ohio Avenue and Cherokee Street (www.cincodemayostl.com), and festivities run from 11 a.m. to 9 p.m. today. Music will be featured on three different stages. Don't forget the People's Joy Parade, which starts at 1:11 p.m. and stars Mexican wrestlers, dancers, puppeteers, neighborhood kids, artists and pretty much everyone else who signs up before the May 6 deadline.
Sat., May 7, 11 a.m.-9 p.m., free admission. Cherokee Street (Iowa Ave. & Cherokee St.), Cherokee St. and Iowa Ave., St. Louis.
Cinco de Mayo After Party
As the Cherokee Cinco de Mayo street festival shuts down, the Luminary will open its doors for an after-party with Chicago-based DJ collective Sonorama, DJ MAKossa and DJ Needles spinning vintage Latin sounds, artist-designed latin-themed cocktail specials and more.
Sat., May 7, 9 p.m.-1 a.m., $5 cover, theluminaryarts.com/events/cinco-after-party. The Luminary, 2701 Cherokee St, St. Louis.
Derby de Mayo Bar Crawl
Celebrate Cinco de Mayo and Derby Day with a Wash. Ave bar crawl. Tickets cost $10 and include two $5 gift cards, drink specials, a scavenger photo hunt and Uber credit. Participating venues include Lucas Park Grille, Hair of the Dog, Rosalita's, Fallery's, Bobby's Place and more. Visit
eventbrite
for tickets and information.
Sat., May 7, 4 p.m.-2 a.m., Washington Ave., St. Louis, 314-241-7770.

Margarita Madness
Big Daddy's on the Landing will offer specials on import and domestic beer buckets, premium tequila flights and tastings, and music by DJ Timmy Heat until 3 a.m. Sat., May 7.
Big Daddy's-The Landing, 118 Morgan St., St. Louis, 314-621-6700.
See also: 12 Places to Drink Great Margaritas in St. Louis

See also: All About the People's Joy Parade