PHOTO BY STEVE TRUESDELL
Tatyana Telnikova is going full Russian for her new bar on Cherokee Street.
This weekend, Tatyana Telnikova plans to open a new bar in the heart of Cherokee Street. It will be called Propaganda (2732 Cherokee Street) — a wink at her childhood in Soviet Russia.
It's not meant to be authentic so much as nostalgic good fun. "It's not very super-traditional Russian," she explains. "It's my own take on it."
That means red walls and Soviet art — and even a mannequin in a Russian military coat. The striking interior is by local artist Jamie D. Jessop, who also designed Telnikova's Art Bar, which closed one month ago; there's also a sizable mural by Joe Albanese.
Telnikova plans to offer a limited menu of Russian-inflected food and, she hopes, a strong sense of Russian conviviality. Every night at 11 p.m., she foresees offering guests a complimentary mini-shot of vodka with a pickle back — and, she promises, "We'll do a toast with whoever is ready to participate."
Then she adds, laughing, "But who is not ready for that?"
PHOTO BY STEVE TRUESDELL
The bar features a Soviet-style mural by local artist Joe Albanese.
The bar's opening is not without controversy. Some neighborhood denizens were livid when Telnikova
announced in March that she was closing two-year-old Art Bar
. The outrage on social media was intense. Someone
even created a petition
. "F*ck that place that used to be Art Bar," the headline read. "We the undersigned pledge that any business that displaces artbar in a bid to get our money shall receive nothing from us."
For Telnikova, the uproar was exhausting. "That was crazy," she says. "I don't appreciate that. It was 100 percent coming from ignorance and misinformation."
Her decision to close Art Bar, she says, was entirely financial. "I feel like people thought I was closing it because I didn't like it, or I didn't like them," she says. "The bar was not making money. It was losing money every month for the last two years. I had to figure out a different way to do things." She adds, "I had to make a clean cut and try again."
PHOTO BY STEVE TRUESDELL
Telnikova gave a few friends a sneak peek on Sunday night.
Telnikova also owns HandleBar in the Grove, which also recently implemented a Russian-inflected menu, to high praise from critics,
including the RFT's Cheryl Baehr
.
"Overall St. Louis has been really supportive of all my businesses," she says. "If a handful of people decide to hate me over my decision to look out for my well being, I'm OK with that."
She sees Propaganda as both an affectionate look back at her past and a call to question the propaganda we're being fed.
"When I was younger, even dreaming of visiting the States was out of the question," she recalls. "I was growing up in a country with closed borders. Only diplomats were able to leave the country. I was raised with the mentality of 'the rotten West' — that people had terrible lives here." It wasn't until she emigrated at sixteen that Telnikova learned a much different truth.
And so when people ask whether the bar's name is meant to pay homage to the idea of communist propaganda, she laughs out loud. "On the contrary. I want people to think about how much these divisions meant and how little they mean now. And maybe think about what that means in terms of what we're hearing today."
The bar will have its official opening in time for Cherokee Street's Cinco de Mayo party this Saturday, May 7. It will be open Fridays and Saturdays throughout May before what Telnikova anticipates will be a six-day-a-week schedule in June — open every day but Monday, from 4 p.m. to 1:30 a.m.
But Propaganda will be a work in progress even after its opening. And that's in part because Telnikova has her sights set on some very specific items — old Soviet textbooks with their photos of Grandfather Lenin, giant hammer-and-sickle flags — that even eBay hasn't been able to sate.
"In an ideal world, it will take a couple of years to get to where it needs to be," she says. "I just can't get everything I want without going to Russia."
Telnikova opened the bar to a few close friends last night, and Steve Truesdell was there. Turn the page for a sneak peek at Propaganda.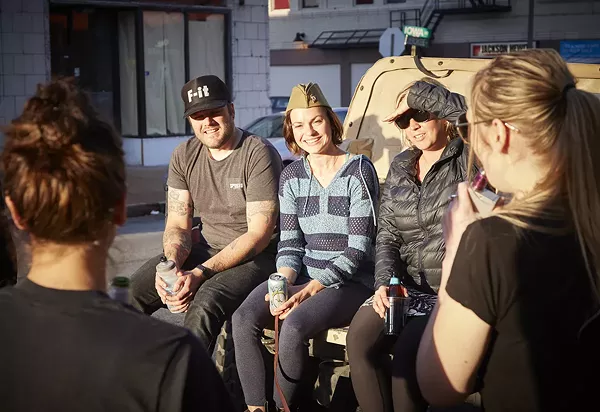 We welcome tips and feedback. Email the author at [email protected]