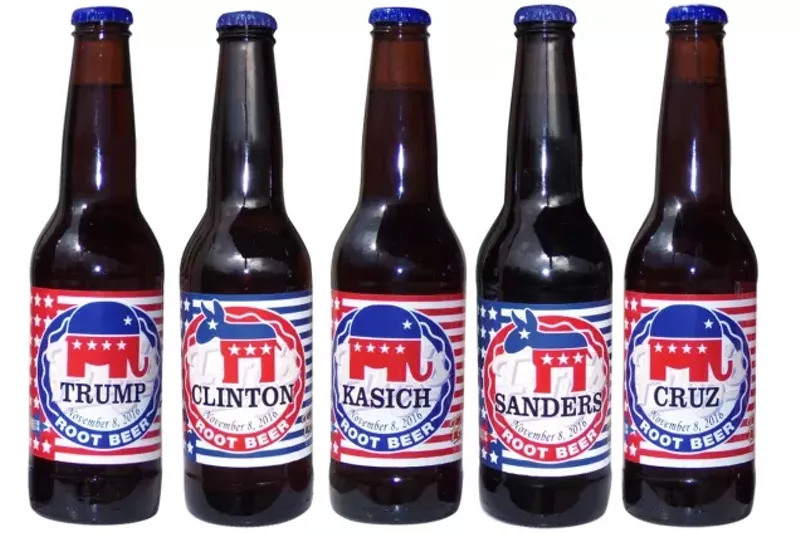 Courtesy of Fitz's
Fitz's is offering customers the chance to show their support for their respective candidate this election season by purchasing limited edition, specially labeled bottles.
Pollsters might think they have the upper hand in predicting the outcomes of Presidential elections, but it's doubtful that their methods are as tasty as
Fitz's American Grill & Bottling Works
(6605 Delmar Boulevard, University City; 314-726-9555).
In what's become an electoral rite of passage, the restaurant and soda bottler is now offering limited edition, specially-labeled bottles of its flagship root beer. Clinton, Cruz, Kasich, Sanders and Trump bottles are all available for sale at the restaurant and
online
. Customers don't have to even be of voting age, and they don't have to worry about those pesky voter I.D. laws, Fitz's system is truly open to all—even if you're casting your root-beer ballot for Trump.
At this point, Fitz's is only tallying the votes for each party, rather than individual candidates—but they're keeping those numbers under wraps for now. Come convention time, you'll be able to see which nominee is selling the most when it's narrowed down to two.
In the Romney/Obama match-up of 2012, Fitz's straw poll correctly predicted Obama's re-election.
Halfway through election day
, Obama led in a tight race with 3,180 bottles sold to Romney's 3,145.
The presidential-campaign bottles cost $1.99 a pop (in-store only). Four-packs are two for $7, also only in store, or $39.95 for a 12-pack shipped to your home. But move quickly — as candidates drop out, the bottles will disappear as well.
Actually, who are we kidding? No one's dropping out this year until the conventions, even if they should. So go ahead and buy a bottle for the candidate you really believe in; there will be plenty of time to settle for the party's nominee come fall.
Editor's note: This blog post was edited after publication to provide correct pricing on the bottles. We regret the error.