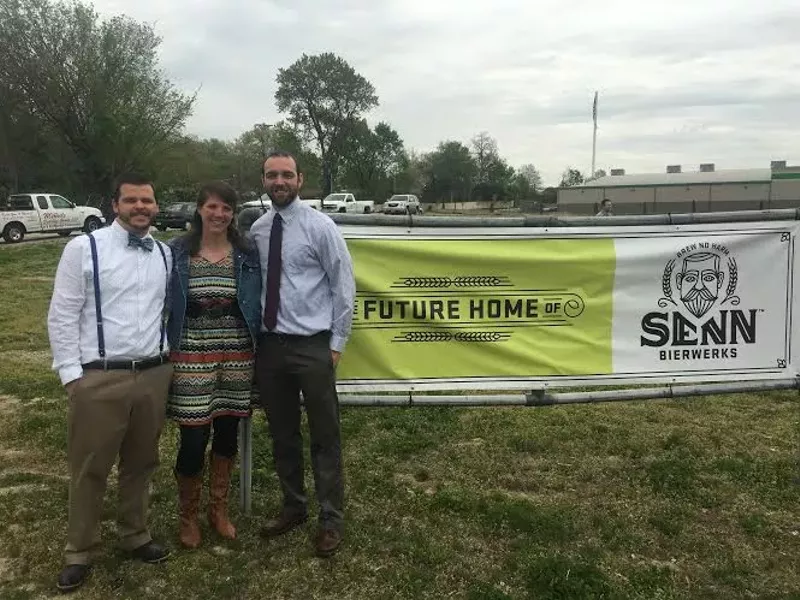 Cheryl Baehr
Senn Bierwerks founders (from left to right) Dustin Chalfant, Kristen Chalfant and James Hellmuth.
Senn Bierwerks has finally made it official: Their brewery, tasting room and restaurant will be at 7793 Olive Boulevard, in the heart of University City's Olive Link district.

University City mayor Shelley Welsch made the announcement at a press conference on the site of soon-to-be Senn Bierwerks, confirming months of speculation as to the project's location. The brewery is slated to open sometime in the spring of 2017.

Founders James Hellmuth, Kristen Chalfant and Dustin Chalfant said they're thrilled to be at this point.
"James, Kristen and I are incredibly excited to do what has always been a dream of ours — a brewery — here in University City," said Dustin Chalfant, the brewery's president. "We look forward to building a community here."
Chalfant, formerly the head brewer at Morgan Street Brewery, named the brewery after his great-great-great-great uncle Frank Senn, Sr., a prominent brewery in Louisville, Kentucky. He will continue his family's legacy with the University City complex, which will include a 2,500-square-foot production facility, a 2,500 square foot tasting room and an attached restaurant and biergarten.
Senn Bierwerks will offer three flagship beers, possibly four, with four to six seasonal options that will be served on location, as well as sold to local restaurants. The brewery will also serve 20 to 25 beers that will only be available in house.
"James and I know what it is like to brew only one type of beer over and over again," Chalfant explains. "It gets boring. We've created a program for our brewers where they can be creative and play around. Their only restriction is that they can't go over budget."
The proposed restaurant and biergarten will be operated independently, Chalfant says. Three business are in the running to take on that role, though Chalfant will not confirm who they are.
"What's great is that all three people in the conversation will work cooperatively with us," he says. "As we shift our menus seasonally, they will do the same so that the beer and the food are always complimentary."
The brewery is the first of its kind for this corner of University City, better known for its ethnic restaurants and markets than for beer. Councilman Rod Jennings Sr. sees Senn Bierwerks as a boon for an up-and-coming part of town.
"We really think this will be a catalyst for the neighborhood," says Jennings. "Right now we have all of these great ethnic restaurants, specialty grocers which bring people in from all parts of town. This is a great addition to that. We think it will bring even more people in and let them see what we have going on here."
Editor's note: A previous version of this story wrongly identified the councilman who said Senn will be a catalyst for the neighborhood. We regret the error.
We are always hungry for tips and feedback. Please email the author at cheryl.baehr@riverfronttimes.com.