Solar roof at Eclipse | photo courtesy of Eclipse
The St. Louis culinary scene is growing almost exponentially these days – the incredible talent and diversity on display at restaurants in the city is unprecedented. This month, as Earth Day approaches, we've partnered with the St. Louis Green Dining Alliance to celebrate another recent development – green dining. This isn't new, of course, but the organization is the first independent non-profit organization in St. Louis dedicated solely to the certification of, and ongoing training in, practices such as conserving energy, reducing waste and sourcing locally.
Since it was founded in 2011, the GDA has certified 96 restaurants locally. Here, we share the story of ten who have made a significant impact through their commitment to the health and well-being of their customers and the local community.

See Also: 10 St. Louis Restaurants Growing Their Own Food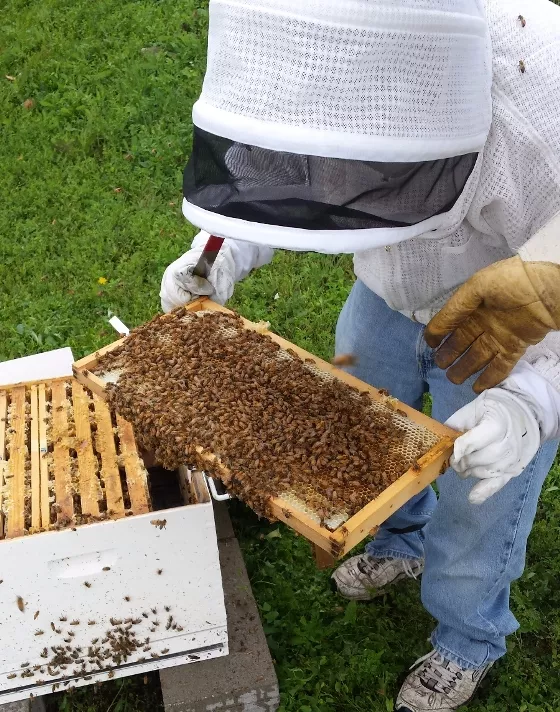 One of three bee hives at the gardens of Vin de Set | photo courtesy of Vin de Set
1. Vin De Set
2017 Chouteau Avenue, Lafayette Square
Vin de Set (along with sister restaurants Eleven Eleven Mississippi, Moulin and PW Pizza) has focused its sustainability efforts on growing much of its own produce in order to reduce demand on large-scale farming and also to ensure quality and freshness for their kitchens. A quarter-acre organic urban farm, twenty aeroponic towers and three bee hives provided 5,000 pounds of produce – over 50 percent of the kitchen's usage – for the restaurant last year. All crops are heirloom and started from seed.
Other sustainable practices: a 50 kilowatt solar panel array, 100 percent kitchen scrap composting; paper, glass and plastic recycling; fish from Missouri's Troutdale Farms; pork, lamb and additional produce from Eat Here St. Louis; bike racks to encourage car-free travel and participation in Ameren's alternative energy research program Pure Power.
Urban Chestnut | photo by Urban Chestnut
2. Urban Chestnut
4465 Manchester Avenue, The Grove
Urban Chestnut's second location, which achieved LEED Silver certification from the U.S. Green Building Council, was repurposed from its previous life as a paper manufacturing plant. In addition, as water usage is a significant component of any brewery operation, the owners benchmarked usage in 2014. Just a year later, they had realized a reduction of 21 percent as a result of the capture and reuse of water used for heating and cooling processes and the streamlining of brewery cleaning procedures.

Other sustainable practices: 96 percent waste recycling and composting (including 600 tons of spent grain donated annually to cattle farmers), a largely locally-based menu, and energy reduction from daylighting and efficient lighting and equipment.
Loading a whole pig at Bolyards Meat & Provisions | Whiskey & Soba
3. Bolyard's Meat & Provisions
2810 Sutton Boulevard
The owner and head butcher of Bolyard's Meat & Provisions, Chris Bolyard, describes the shop's "pasture to plate" offerings as animal-friendly, small-farm-raised, whole-animal butchery. Beef, chicken and pork are delivered whole and broken down by hand in-house so that each animal is utilized completely, from premium cuts to deli meat, sausage and pate. Lard and tallow are turned into soap and hand balms, bones are used for stocks and sipping broths, and trim is made into dog treats. Nothing in the shop is wasted.
Other sustainable practices: meat sourced from farmers whose animals are 100 percent pasture-raised and antibiotic- and hormone-free.
Solar roof at Eclipse | photo courtesy of Eclipse
4. Eclipse
6177 Delmar Boulevard, The Loop
A rooftop solar panel array in view of Eclipse's iconic moon harvests enough solar energy from that other celestial body in the sky to power both rooftop bars and the top two floors of the Moonrise Hotel. Bonus: The solar panel also serves as a beautiful semi-transparent ceiling.

Other sustainable practices: food waste composting; recycling of glass, paper and plastics; an electric car charging station; the use of non-toxic cleaning products; support for the research for and generation of wind energy.
Lettuce at Schlafly Gardenworks | photo courtesy of Schlafly
5. Schlafly Bottleworks
7260 Southwest Avenue, Maplewood
Schlafly Bottleworks' sustainability initiatives are centered on community. Not only does the facility's 25 kW solar array offset its energy usage, but a kiosk in the lobby walks customers through the process and shows real-time energy data. Schlafly Gardenworks, the brewery's on-site urban farm, produces thousands of pounds each year for use at the Bottleworks and the Tap Room, as well as serving as a catalyst for a year-round community farmers market, free educational events and seed swaps.

Other sustainability practices: high-efficiency heating, cooling and lighting systems; a reflective white rubber roof to mitigate the urban heat islands and kitchen scrap composting.

Turn the page for five more restaurants doing it right.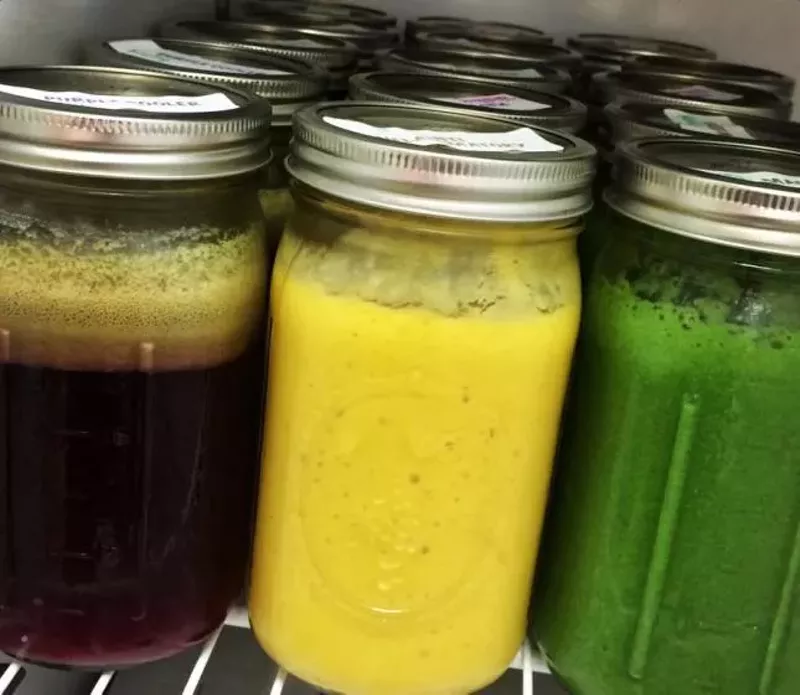 Reusable Ball jars at PuraVegan | photo courtesy of PuraVegan
6. PuraVegan
307 Belt Avenue, Skinker-DeBaliviere
PuraVegan has made great strides in reducing the ubiquitous single-use disposable waste within the food industry. Juices, smoothies and coffee for the shop's popular juice subscription service and its three-day detox programs are packaged in vacuum-sealed re-usable Ball jars (returnable for store credit) and delivered in reusable bags. Glass straws are available for purchase in the café.

Other sustainability efforts: an all-vegan menu; the use of a bicycle delivery service; a highly efficient order system to almost eliminate food waste; and a "candy" machine with bulk items such as cashews, golden berries and chlorella tabs.
Radishes from the garden at Sidney Street Cafe | courtesy of Sidney Street Cafe
7. Sidney Street Cafe
2000 Sidney Street, Benton Park
Sidney Street Cafe was one of the first restaurants in St. Louis to strongly emphasize a menu that rotates with the seasons and is sourced primarily from local farmers. That commitment supports the local community, ensures the highest nutritional value and flavor, and reduces carbon footprint. Part of the restaurant's local produce comes from its 100-yard organic urban garden, which grows more than 50 varieties of fruits, vegetables and herbs. Benton Park neighbors help to maintain the garden and are welcome to harvest for their own kitchens.

Other sustainability efforts: organic meats and dairy, a white roof to mitigate the urban heat island and educational tours for local elementary schools.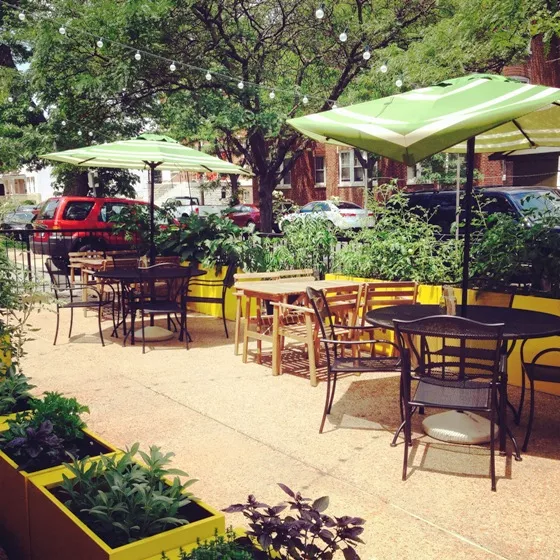 Patio at Lulu's Local Eatery | photo courtesy of Lulu's Local Eatery
8. Lulu's Local Eatery
3201 South Grand, Tower Grove
Lulu's Local Eatery has been smart about finding passive solutions for typically energy-intensive processes. Solar-powered Halycon window shades assist with inside temperature regulation in the heat-retaining brick building. A living garden wall inside purifies the air naturally. An on-site garden provides 15 percent of the menu in the summer.

Other sustainability efforts: locally sourced and vegan menu, preparation of just enough to prevent food waste.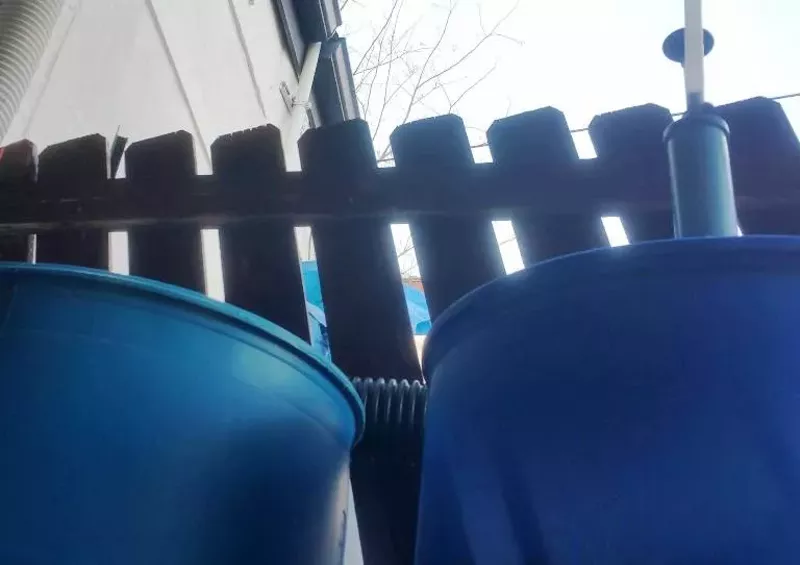 Rain barrels at Milque Toast Bar | photo courtesy of Milque Toast Bar
9. Milque Toast Bar
2212 South Jefferson Avenue, Fox Park
Milk Toast Bar provides a model for community sustainability, recognizing that every facet of running a business is an opportunity to practice conservation. Their "Salad Days" feature allows neighborhood residents to "pay what you can or pay it forward," with their contributions going to provide food security in the Fox Park neighborhood. Restaurant furniture is created with repurposed materials. All food waste is composted for use in the cafe's patio gardens which are irrigated from captured water from rain barrels.

Other sustainable practices: active engagement with the neighborhood garden McKinley Meadows, on-site preservation and local sourcing.
Cupcake from Whisk: A Sustainable Bakeshop | photo courtesy of Whisk: A Sustainable Bakeshop
10. Whisk: A Sustainable Bakeshop
2201 Cherokee Street, Cherokee District
Everything at Whisk: A Sustainable Bakeshop is recycled, including composted kitchen and consumer waste. The kitchen sources 90 percent of its produce locally, much of it from local resource Local Harvest Grocery, along with produce and eggs from Double Star Farms and pork from Geisert Farms.

Other sustainability efforts: the use of non-toxic cleaning products.
The author is a Steering Committee Member of the Green Dining Alliance. Follow Sara Graham on Instagram and Twitter at @engagetaste. E-mail the author at sara@engagetaste.com.
<!—————————————EndFragment—————————————>