PHOTO BY KEVIN KORINEK
Half & Half's new steak salad: arugula with a rare steak on the side.
Mike Randolph of Half & Half (8133 Maryland Avenue, Clayton) is making a few menu additions.
After enjoying success with a trio of highly-reviewed restaurants (including his first-ever nod from the James Beard Foundation, which named Randolph as a semi-finalist for Best Chef: Midwest and honored his Latin-themed Publico as semi-finalist for Best New Restaurant), he's focused on shaking things up at his Clayton breakfast spot. In the Half & Half kitchen, he's listening to Bruce Springsteen sing "I don't want to fade away" while he and chef Dale M. Beauchamp work in tandem to showcase the new fare, which will be available to diners beginning next Thursday, April 14.
Surprisingly, Springsteen and breakfast food go very well together.
"We've been hesitant to change things here but at the same time we want to inject some new life in the restaurant and get some new things on the menu," Randolph says.
PHOTO BY KEVIN KORINEK
"Tess's Toast" — French toast topped with lemon curd and blueberries.
One of the first dishes Randolph shares with the assembled group of food writers and curious invitees is a pair of French toast plates. "Tess's Toast," named for Randolph's daughter, arrives stacked high with brioche bread and a lemon curd that oozes down the plate like honey. The blonde curd's rich tartness is reduced by a handful of blueberries that add color and a simple sweetness.
Conversely, the "S'mores French Toast" is a more inventive item and a departure from what we traditionally know – a trait Randolph has become widely known for. Here, the light graham cracker crust is a lovely contrast, and while you may imagine the toasted marshmallow too neutral a texture to go with the brioche, the entire dish is unified by a layer of rich chocolate drizzled on top.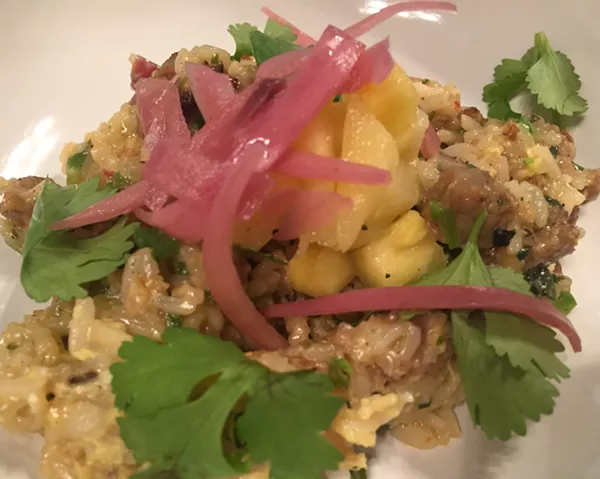 PHOTO BY KEVIN KORINEK
The "Breakfast Fried Rice," which has a texture like risotto.
But Randolph won't hang his hat solely on sweet dishes. The first savory item he breaks out might be one of the best new things you'll crave every morning – "Breakfast Fried Rice." While the mere phrase "fried rice" conjures the basic side dish, the texture here is reminiscent of a fine risotto, with heat delivered by chopped jalapeno and spicy breakfast sausage. It's brought out of a side-dish stupor by chunks of sweet, golden pineapple and pickled red onion. It's a meal you'll want all the time — best served piping hot, cold, leftover or hungover. I happily took a third serving and dashed some Publico hot sauce on top, which made it even better. A clear winner – until the fried chicken sandwich.
When the Randolphs first visited Nashville, they fell in love with the state's signature dish: Nashville hot chicken. Thanks to Chef Rick Lewis, who made it the cornerstone of his acclaimed new restaurant in Midtown, Southern, the question is less "who loves Nashville-style hot chicken?" and more "who doesn't?"
PHOTO BY KEVIN KORINEK
The fried chicken sandwich at Half & Half was inspired by the offerings at Southern.
"I really like what Rick is doing over there with Southern, and I wanted to try and recreate that in my own way," Randolph says. The chicken is sourced from Buttonwood Farms, with homemade, half-sour pickles speared atop a brioche bun.
What's noteworthy here is that the dish is dressed in chili oil and a pickle-reduced aioli for a combination of flavors that rivals the best chicken in the city. It's a sandwich you make friends with fast. The crust is darkly sweet and crunchy but not brittle – it cracks apart with each mouth-watering crunch. And there are plenty of those to enjoy because this is a big sandwich.
PHOTO BY KEVIN KORINEK
Chef Mike Randolph at work.
While the toast craze is a new curve ball for the St. Louis dining scene, Randolph's avocado toast with feta, lime and cracked pepper works as a great starter, especially split among friends or as a quick grab-and-go item.
"This dish is an effort to 'beef' up our salad menu," Randolph jokes, as the Steak Salad makes its way to the table. The salad features a large plate of arugula, soaked in red wine vinaigrette, blue cheese and oven dried tomatoes, while thin slices of rare steak are nestled to the side. The entire dish is light, tangy and satisfying, brought together by the nucleus of a poached egg in the center.
PHOTO BY KEVIN KORINEK
"Breakfast Sushi" — a light dish, it is not.
Probably the most interesting take of the evening is the Breakfast Sushi. It's a food-coma-inducing mashup of your favorite breakfast foods – a bacon weave on the outside, with a roll inside filled with potatoes, eggs, avocado and a spicy aioli. Come early to grab this one – the extensive prep work will make this an exclusive, weekend-only item in limited orders.
Chatting with Randolph is a revelation. He's contemplative of the food culture that is growing locally, but also of his own skills and creations. You can tell he's always thinking about it, turning over old recipes in his head and trying to add an ingredient of creativity, a dash of imagination.
"We really want to maintain the same course we've been on here at Half & Half, which is an evolution," he says. Like Springsteen, he doesn't want to fade away either. And with dishes like these, he's not going anywhere.
We welcome tips and feedback. Follow Kevin Korinek on Twitter and Instagram, and contact him via kevinkorinek.com