Curtain Call at the Fox Theater | Sara Graham
Some bars just exude "sexy." These saloons transport you to another place, or maybe just another era. They take you out of the everyday and into a world where anything is possible.
See also: The 10 Most Beautiful Bars in St. Louis

1. Curtain Call
521 North Grand Boulevard, Grand Center
The newly opened Curtain Call Lounge presents perhaps the sexiest of all drinks — Champagne — in a setting that can only be described as an updated twist on the lavish Siamese-Byzantine interior of adjoining Fabulous Fox Theater. The bar opens at 5 p.m. on every night that features a show at the theater and for two hours after curtain call. It offers a small hors d'oeuvres pairs perfectly with bubbles.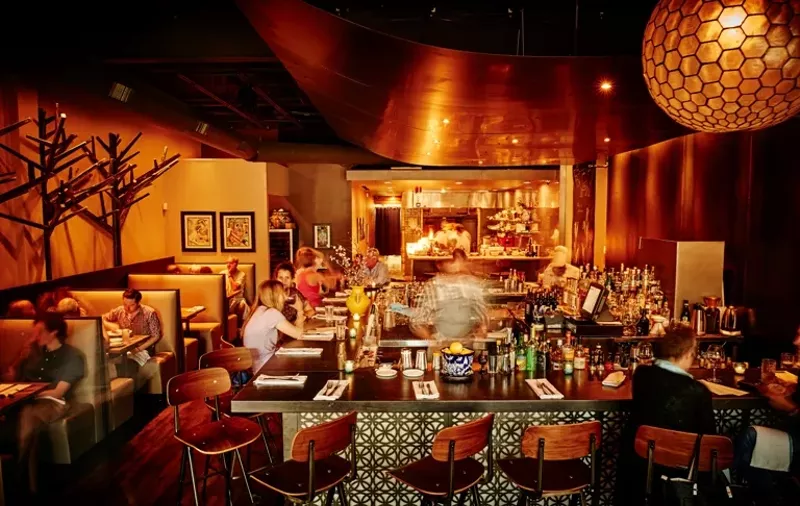 2. Publico
6679 Delmar Boulevard, University City
The restaurant is defined by a central bar. Gorgeously patterned, framed in steel and topped by a thick slab of dark wood, it's a wonderful place to linger over chef Mike Randolph's cuisine, which was recently named a semi-finalist for one of the region's best new restaurants by the James Beard Awards. Low lighting from three large yet delicate orb lamps bounces off a large copper plate hung from the ceiling, casting a warm, inviting glow.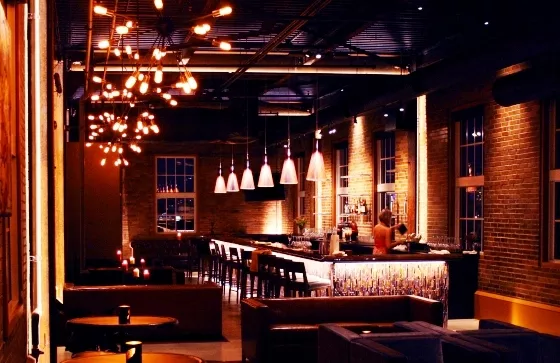 3. Element
1419 Carroll Street, Lafayette Square
Element's upstairs bar features a dramatically lit tiled base that sets a tone for this after-hours lounge. Filled with comfortable couches and chairs, the space overlooks the twinkling lights of the downtown St. Louis skyline from large windows set into original brick-clad walls.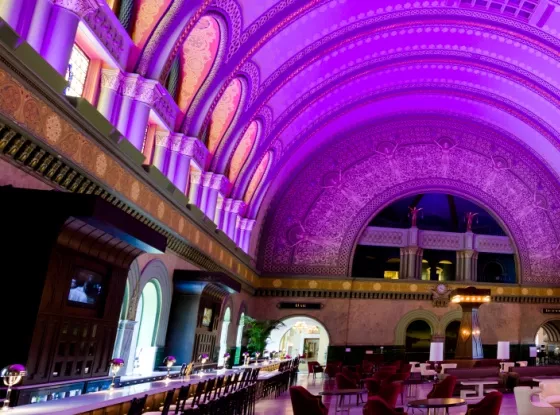 Grand Hall | Jonathan Pollack
4. The Grand Hall at Union Station
1820 Market Street, downtown
After its recent restoration, Union Station's Grand Hall hotel lobby transports you to the grandeur of the late 1800s, featuring a 65-foot ceiling, Romanesque archways, frescos, gold leaf details, mosaics and stained glass windows. The bar remains open even though much of Union Station is slated for changes.

Turn the page for four more sexy bars.
Planter's House | Greg Rannells
5. The Bullock Room at Planter's House
1000 Mississippi Avenue, Lafayette Square
The Bullock Room is the back room at the stately Planter's House, just up a few stairs from the main room. Enjoy artfully crafted cocktails in a cozy room with dazzling walls, rich copper accents and gorgeous stemware. With no windows to let in the curious, this is the perfect spot for a secluded evening with no distractions.
6. Olio
1634 Tower Grove Avenue, Botanical Heights
From the gleaming marble bar and floor-to-ceiling glass windows to drinks served in exquisite glassware on vintage trays, every detail at this wine bar presents a luxurious respite. You'd never know it used to be a Standard Oil station. And what could be more sensual than Mediterranean cuisine? Share something from the pantry — olives, nuts, cheeses — or a nightly rotisserie special.
Fox and the Hounds | RFT Image
7. Fox and Hounds Tavern at the Cheshire Inn
6300 Clayton Road, Clayton
This traditional English-style pub seems built around its enormous stone fireplace that creates an intimate atmosphere year-round. Dimly lit and constructed almost entirely of stone and wood, you feel like you've found the perfect pub off a street in England to while away the hours.
8. Taste
4584 Laclede Avenue, Central West End
One of the first bars in St. Louis devoted to the craft of the cocktail, Taste is a small hideaway just off Euclid Avenue in the Central West End. The sexiest corner in this cozy spot is the small loft area upstairs where you can kick back on a couch far from prying eyes. But even if that space is taken (which it often is), the low lighting makes even the busy bar seem intimate. Taste your way through the masterful drink list or share a small plate or two.
Editor's Note: This post was updated in February 2017 to eliminate two bars that had closed since the post's original publication.
See also: The 10 Bars with the Best Food in St. Louis
<!—————————StartFragment—————————>
Follow Sara Graham on Instagram and Twitter at @engagetaste. E-mail the author at sara@engagetaste.com.