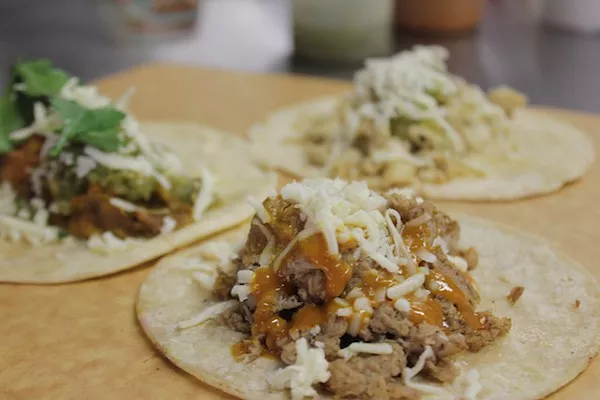 PHOTO BY SARAH FENSKE
Cha Cha Chow has set up it first brick-and-mortar location within the Gaslight space.
For all the high points of March's food developments (a great new bakery in St. Charles! An awesome new concept in the Hill! Great barbecue downtown!), the month's most-talked-about restaurant opening had nothing to do with the grub. This one was all about the pasties — and no, we're not talking about the Cornish variety.
Social House II brought a heap of controversy to the Loop when it took over for Market Pub House on March 4. For now,
the body-painted-party continues
, though the city is still working in court to bring on last call.
Speaking of last call, Tropical Liqueurs won't make it out of April in Soulard; they've been ordered to serve their last drink by April 9. But don't be too depressed —- did we tell you there's a cat cafe coming to St. Louis? And that Gioia's opens its doors downtown today?
Closed
Art Bar
(2732 Cherokee Street, Cherokee District)
Tarahumara
(2818 Cherokee Street, Cherokee District)
The Red Shack
(formerly Q Shack, 6900 Noonan, Ellendale)
See also:
Tarahumara Appears to Have Closed


See also: Cherokee Street's Beloved Art Bar Is Closing
Review: The Q-Shack Serves Up Old-School Barbecue
Open
Gaslight, feat. Cha Cha Chow
(4916 Shaw, the Hill)
Social House II
(6655 Delmar, the Loop)
Source Juicery
(229 N. Main Street, Edwardsville)
Sucrose
(700 S. 5th Street, St. Charles)
Sugarfire Smoke House
(625 Washington, Downtown)
See also: Gaslight Brings Craft Cocktails, a Music Studio and Cha Cha Cha to the Hill

See also: Sucrose Brings the Science of Baking to St. Charles


See also: Sugarfire Smoke House Is Now Open Downtown


See also: A Sneak Peek at Weber Grill Restaurant, Opening April 5