Photo by Kelly Glueck
The new restaurant is next to the St. Louis Blues Museum.
Sugarfire Smoke House's newest location is open for business.
The downtown restaurant (605 Washington Avenue, 314-997-2301) opened today for the first time at 11 a.m. and quickly drew a host of eager barbecue fans.
It adjoins the National Blues Museum, which itself is set to open on April 2. The sizable space has a music theme to go with the museum, including portraits of blues greats Robert Johnson and B.B. King. The menu, though, will be utterly familiar to Sugarfire enthusiasts: It's the same as the original Sugarfire in Olivette, as well as its subsequent spinoffs in St. Charles and O'Fallon, Missouri.
The new restaurant seats 100 and has an entrance via the museum as well as from the street. Like its sister restaurants, it handles dine-in service cafeteria-style, with options also for takeout and delivery.
The restaurant will be open seven days a week, from 11 a.m. until they're sold out of food.
The RFT's Kelly Glueck was there today to capture the excitement.
Photo by Kelly Glueck
Sugarfire's brisket with the mac-n-cheese and green beans.
Photo by Kelly Glueck
Workers dish up barbecue on the line.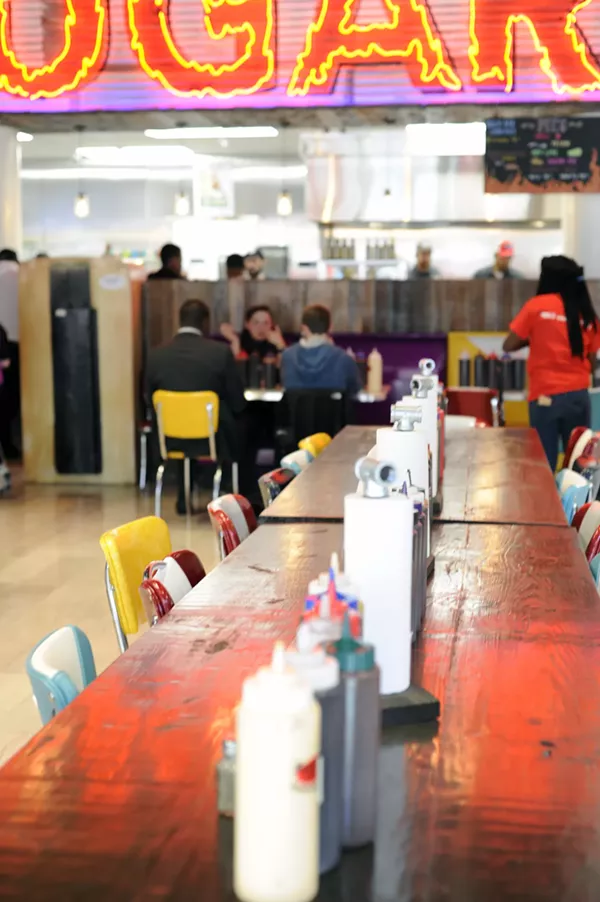 Photo by Kelly Glueck
Colorful chairs flank long wooden tables.
Photo by Kelly Glueck
Choose from a variety of sauces, including Honey Badger, St, Louie Sweet, Texas Hot and Carolina Mustard.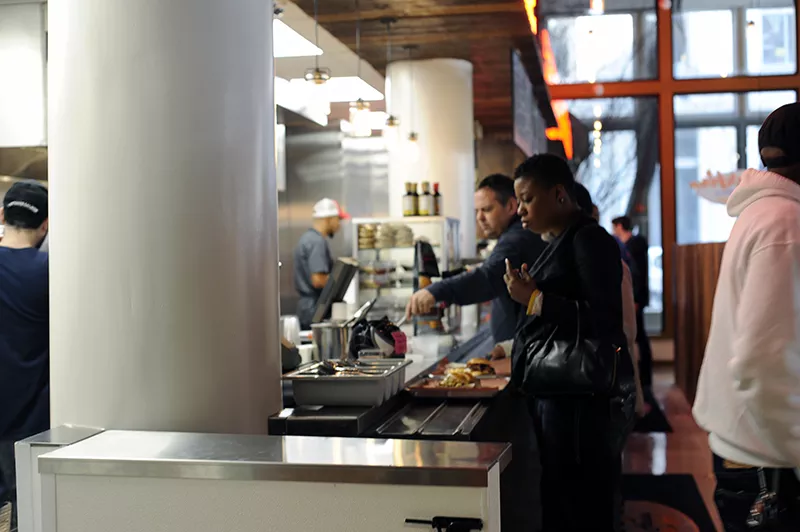 Photo by Kelly Glueck
Customers take their pick of smoked meats and sauces.