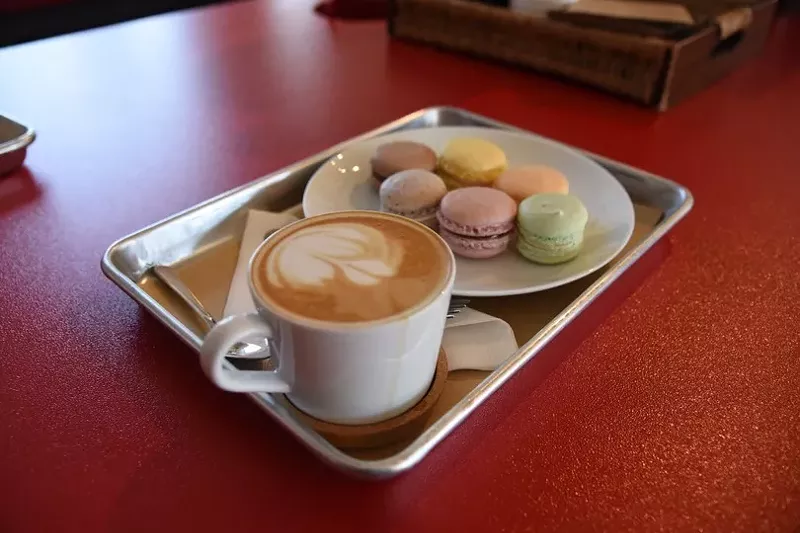 Photo by Kevin Korinek
Macarons and coffee at Sucrose, newly opened in St. Charles.
St. Charles is developing quite the sweet tooth. The newest bakery to open is
Sucrose
(
700 South Fifth Street, 314-288-9176
), a European-style pastry shop and cafe owned and operated by Florida natives Aaron Groff and his wife, Agi. Though the soft opening was just last week, they're already seeing business pick up quickly. "We opened in a frantic rush to get permits and money flowing again. It's not quite finished but we're all about getting it going now," Aaron says.
The Groffs, who met at the Culinary Institute of America in New York, are both trained pastry chefs. They previously owned and operated 4 Seasons Bakery, also located in St. Charles. The tiny space was tucked away between a liquor store and a gas station – easy to pass over if you weren't looking for it. "We needed to move," Aaron Groff says. "It was a great start, affordable, close to home, but we outgrew it quickly and wanted to open a bigger place." A
successful Kickstarter
put them on the road to a new location, new name and a much broader menu.
Notes Aaron, "We wouldn't have made it without the customer base that we built here and the support that we have. It was extremely good."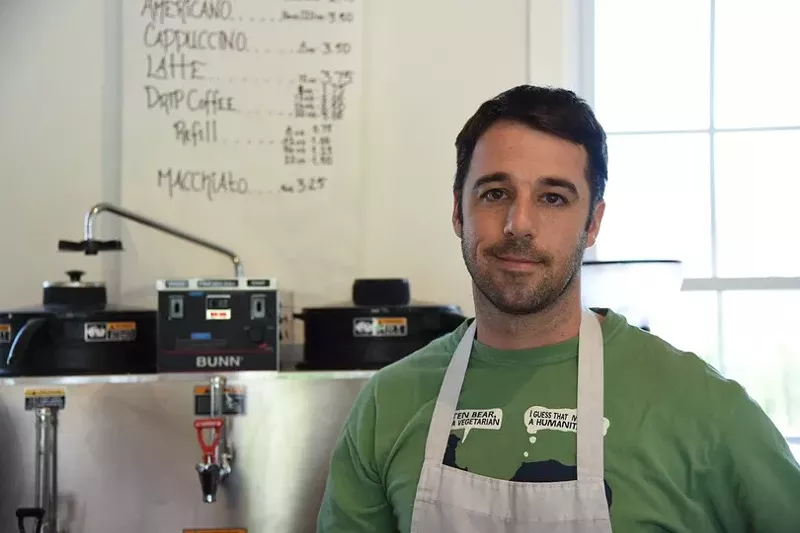 Photo by Kevin Korinek
Aaron Goff
The new space is quite large compared to their previous location, with a window counter full of treats and cafe seating. The new kitchen alone is twice as big as their last space and it's openly visible as soon as you enter. Aaron did most of the building updates himself, installing flooring, trim and building tables. The decor is very sparse, with some basic woods and brick flourishes. Aaron refers to it as "Scandinavian."
Asked about the name change, he answers thoughtfully. "I really liked the name Sucre, from the French word, and I think sucrose goes well with what we do," he said. "When you forget a teaspoon of this or add too much baking powder in that, it really reminds you that baking is such a science."
Photo by Kevin Korinek
Display cases hold Sucrose's tasty treats.
And in that same spirit of science, Sucrose has partnered with Blueprint Coffee of U-City, who will supply and help develop their coffee program. Radames Roldan is Blueprint's Wholesale Trainer and he's been spending the past week teaching the Sucrose team some new coffee-brewing techniques.
The relationship is already off to a great start. "It's been great to work with Aaron because he's open to embracing the direction that coffee is taking, which is this third-wave, specialty coffee movement. Aaron is seeing what that progression looks like. It's not what it was 10 years ago," Roldan admits. "I've been in coffee for four years and it's not what it was four years ago. It's an exciting time to be in coffee."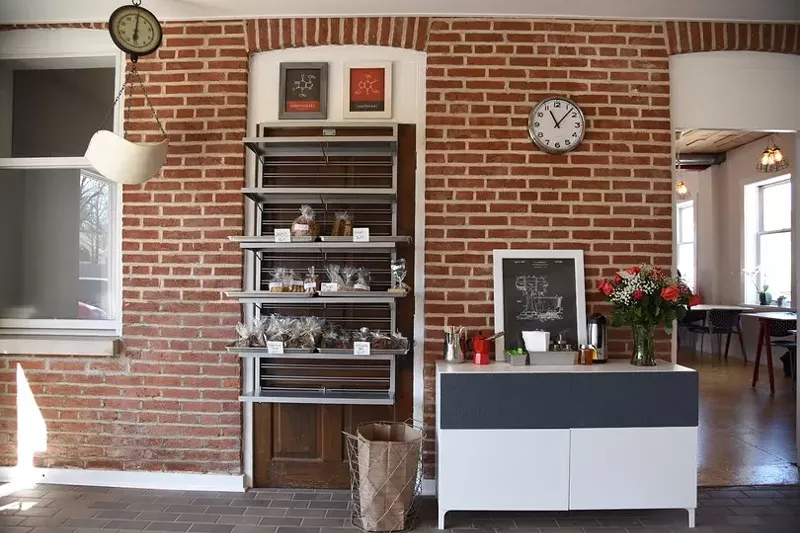 Photo by Kevin Korinek
The bakery's space is charming, with exposed brick.
Aaron and Agi hope St. Charles will like this style of coffee, as they feel it best complements the types of desserts they're making. "Our biggest market is more European style pastries – truffles, tarts, macaroons made from scratch," Aaron says. "Easter is coming so we will hand temper chocolate. We have a full-time cake decorator, so I think our catering will start to take off very soon."
South Fifth Street is undergoing a lot of construction so if you miss it, don't give up. In the meantime, satisfy your sweet tooth with their Dutch almond cookies. Now.
Editor's note: A previous version of this story misspelled the first name of co-owner Agi Groff. We regret the error.