Photo by Sarah Fenske
The bar at Gaslight STL serves craft cocktails.
Many bars in St. Louis do one thing well — they serve excellent cocktails, or they have really good food, or the music is jumping. Gaslight (4916 Shaw Avenue) aims to do all three.
And it's even more than that. The striking new bar on the edge of the city's Hill neighborhood doesn't just include a space for live music performances — the area is also a fully soundproofed studio, with high-end equipment for recording.
On one side of the glass, the musicians enjoy perfect acoustics; on the other side, a live audience enjoys cocktails, with music piped in from the adjoining studio at just the right volume.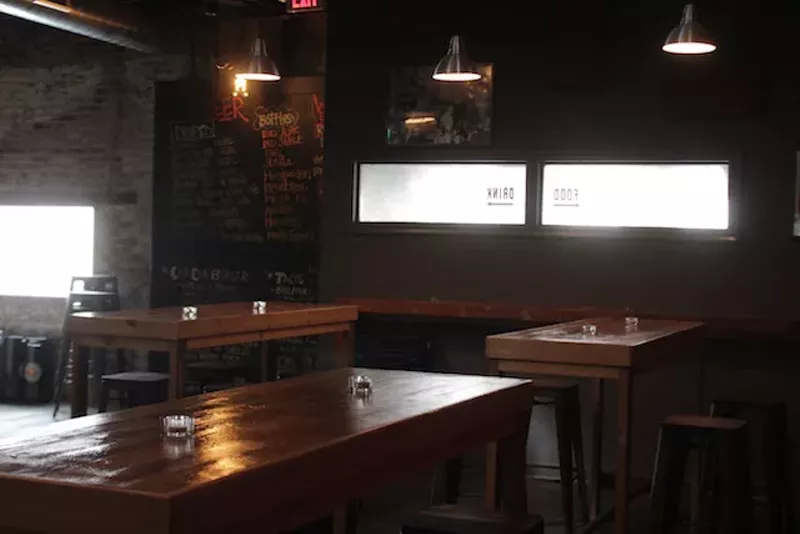 Photo by Sarah Fenske
High-top tables with sturdy stools provide a great place to sip a cocktai, or chow down on tacos.
"When people tell me they've never seen anything like it, that's when we knew:
Either this isn't going to work, or we're just the first people to think of it," says co-owner JB Anderson. So far, based on the huge response the place is getting, he's pretty sure it's the latter.
The bar is the brainchild of co-owners Anderson, a construction company owner, and Matt Stelzer, who also owns the much-loved Amsterdam Tavern on Morgan Ford Road. For a culinary component, they recruited the beloved food truck Cha Cha Chow. Sam Burke, a former manager of the truck, is now the sole owner of the concept's first brick-and-mortar restaurant. (Kandace Davis, who owns the truck, will be using Burke's space as a commissary for the mobile operation.)
Photo by Sarah Fenske
Sam Burke in the Cha Cha Chow kitchen.
Technically, the food and bar are two separate spaces, but much like Amsterdam and the Dam, they feed off each other. A huge chalkboard just inside the bar shows off Cha Cha Chow's menu; the shared entryway shows an arrow to the right for the drink and to the left for food.
The food side is utilitarian — just a simple counter with a big kitchen behind it. You'll want to get your food to-go or eat it on the bar side.
And as for that bar side, it takes its theme from Gaslight Square, the
neighborhood near the Central West End that was hopping during the days of the Beatniks
. Framed photos of the neighborhood hang on the walls, while cocktails take their names from its most famous nightclubs.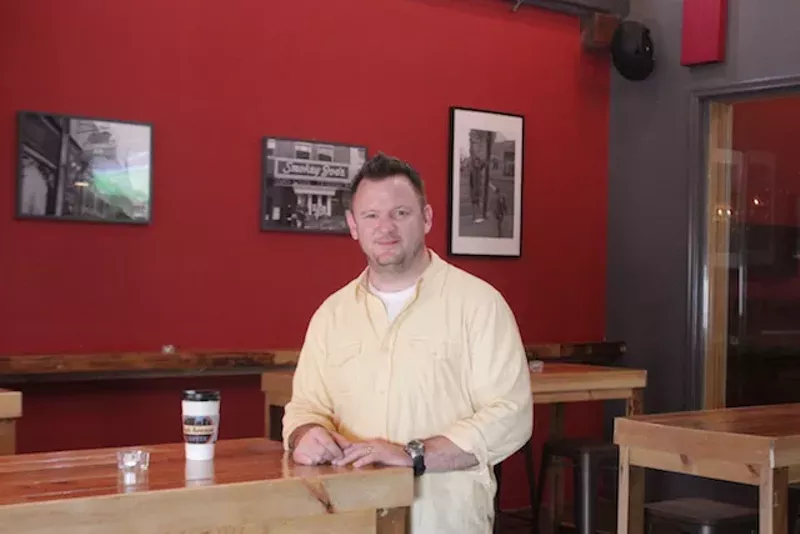 Photo by Sarah Fenske
Co-owner JB Anderson, with photos of Gaslight Square behind him.
Anderson says the bar seeks to capture the spirit of the neighborhood in its heyday — and live music is a key component. "Technically, this is a 24/7 studio," he says, proudly showing off the recording equipment. "We want to integrate creative ideas during the day — we've got everything here so people can just plug and play," including two in-house engineers.
Then, at night, artists can feed off the energy in the bar area. He promises, "People are going to be sitting in that room having a cocktail and listening to music, but they'll actually be able to talk, because we control the volume."
The space that holds all of this innovation used to be an appraiser's office. At 6,600 square feet, perched just west of the corner of Shaw and Kingshighway, it's much bigger than you realize driving by. Anderson and his crew did a full rehab to the space; you'd never realize that any inch of this sprawling complex (complete with a huge warehouse/workshop in the back) used to be a dull warren of cubicles.
Photo by Sarah Fenske
Tacos! Cha Cha Chow has been named RFT's "Best Food Truck," so you know the eats are good.
At Cha Cha Chow's counter, the menu is substantially the same as on the food truck — mostly tacos, with a wide variety of tasty options,
from beef short rib to curried sweet potato
. Tacos come a la carte or as platters; you can get your platters with fries, black beans, or corn salad.
The brick-and-mortar location does have one addition, though: pupusas. A south St. Louis native, Burke lived in El Salvador for five months ("I wanted to learn how to surf, but I tried it and it turns out I was not very good at all"), where he developed an appreciation for the Central American staple. He cautions that his are not "authentic" pupusas per se — in El Salvador, they tend to be only beans and cheese, while he has a meat option. But the inspiration is real.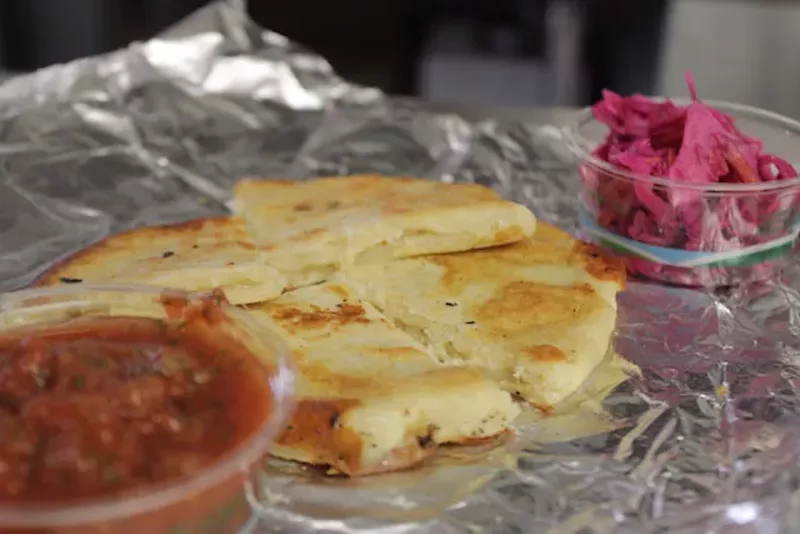 Burke credits his stint in El Salvador for one other thing: "It made me want to go back to work." Not having a job, he adds, wasn't quite as fun as it sounds — "you need to have something going on, or it gets really boring."
He adds, "It was definitely time to come back and start making money." And based on how busy its first few weeks of business have been, Cha Cha Chow should be the perfect way to do that — and stay plenty busy too.
Photo by Sarah Fenske
The building is located at 4916 Shaw Avenue, just past the construction zone where the Kingshighway Bridge has been shut down.
We welcome tips and feedback. Email the author at sarah.fenske@riverfronttimes.com