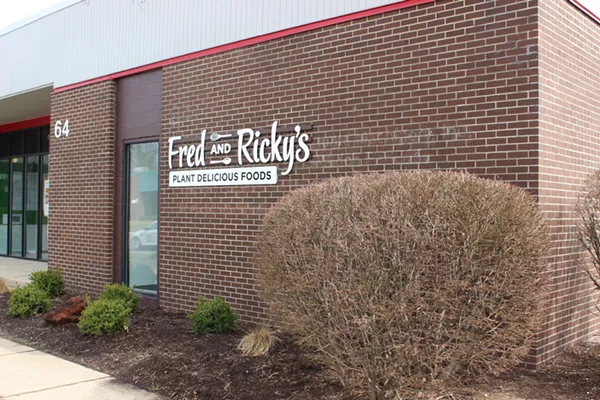 Photo by Lauren Milford
Fred and Ricky's is located at 64 Weldon Parkway.
Soon to open in Maryland Heights, with another location not far behind in Creve Coeur,
Fred and Ricky's
(
64 Weldon Parkway
) brings delicious, ready-made dishes to the St. Louis food scene.
But this isn't just any grab-n-go shop. Fred and Ricky's is entirely plant-based.
The expansive kitchen at the Maryland Heights location is where the magic will happen – all the food is made and packaged here, ready to be picked up and eaten at your desk or taken home to your family.
An outpost also being planned in Creve Coeur at 11252 Olive Boulevard (and possibly other locations in the future) will sell the same dishes made in the Maryland Heights kitchen.
Photo by Lauren Milford
The large kitchen at Fred and Ricky's.
Fred and Ricky are actually Kathleen and Rich Waidmann – Fred is Rich's nickname for Kathleen. Rich Waidmann has a family history of heart disease, with early deaths on both sides of his family. In his late 30s, he started showing signs of heart disease, and a doctor prescribed medication, but Rich found
Forks Over Knives
and decided to try modifying his diet. With a plant-based, oil-free diet, his cholesterol dropped more than 100 points in one month.
When Kathleen met Rich seven years ago, he told her about his diet and she saw it as a challenge. (She has a long background in hospitality; he's the President/CEO of a cloud computing company.)
"I grew up on a farm, and was accustomed to using fresh ingredients. I've never been one to add extra salt or sugar – it's all about the freshness of the ingredients themselves without additives. First time I ever cooked for him, we were going on a picnic, and he said 'I'll pick something up' and I said 'No, I'm cooking for you.' I made him a chopped tomato and onion and cucumber salad, and a cold tricolor pasta salad and a dessert."
That picnic led them to where they are today, bringing healthy food to people who want to eat but don't have time to prepare it.
Photo by Lauren Milford
Black bean soup.
Kathleen says, "So many people are so eager to embrace this. It's not just people who are plant-based eaters. People really want more healthy food that's convenient. It takes time to cook this way; it's not convenient."
The menu at Fred and Ricky's will include dishes like broccoli and potato soup, hearty vegan lasagna, lentil soup, red beans and rice, and Kathleen's favorite — the cornbread. "Our goal is not just to make healthy food," says Kathleen, "but really satisfying food."
Fred and Ricky's is set to open April 8. Turn the page for more photos of the space and the dishes they'll be serving.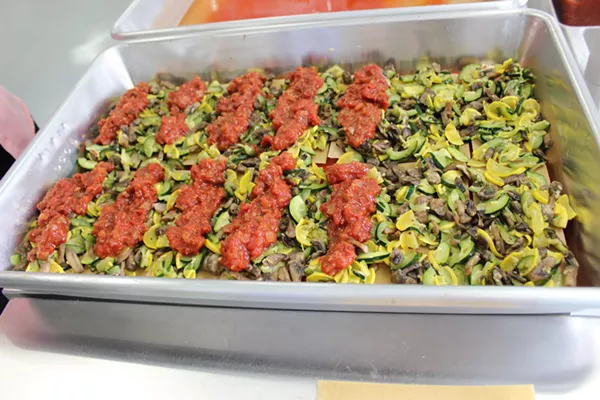 Photo by Lauren Milford
This lasagna is jam-packed with veggies.
Photo by Lauren Milford
Would you believe there's no ricotta in here?
Photo by Lauren Milford
The veggie lasagna goes into the oven.
Photo by Lauren Milford
The finished lasagna.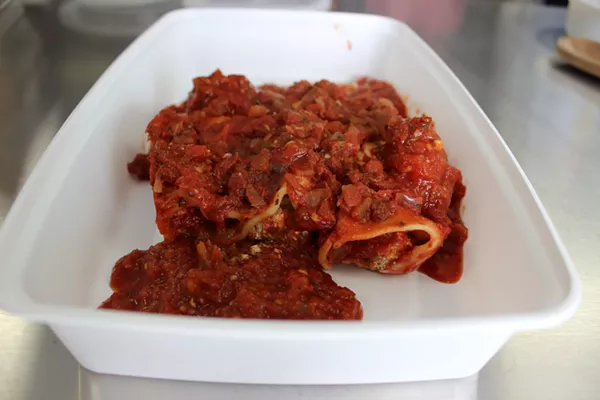 Photo by Lauren Milford
Cannelloni.
Photo by Lauren Milford
Fred and Ricky's creates plant-based dishes and sells them in convenient to-go containers.
Photo by Lauren Milford
Not yet open, this display case will soon be filled lots of options for customers looking for a healthy meal.