Photo by Jenna Murphy
Black Thorn's pizza ... delicious.

Maybe it's because of its location — in the heart of Tower Grove but off the main South Grand drag. Maybe it's the vibe, which is a little dive-y. Or maybe because it's bar serving pizza, not a restaurant per se. For whatever reason, The Black Thorn Pub & Pizza (3735 Wyoming Street) slides a little under the radar.

The deep-dish pies at Black Thorn, however, are truly something special. Although those not fond of Chicago-style pizza might be quick to dismiss the entire deep-dish genre, Black Thorn's isn't a copy of Giordano's or Lou Malnati's. It's a cousin, sure, but a pizza that demands its own category.
Back in 1986, Dave Difani bought the low-key bar on the corner of Wyoming and Spring with some money left over from his grandparents' estate. He had a degree in engineering, but thought he would delay cubicle life for a couple of years with this little adventure. Thirty years later, Black Thorn is doing better than ever.
When he first opened the bar, Difani didn't serve food. By 1998, though, he'd had enough of his regulars bringing in boxes of pizza and decided to start serving 'za himself.
"I built the pizza the way I wanted to eat it," says Difani. Much of St. Louis, thankfully, shares his tastes.
Photo by Doyle Murphy
With brick walls and a dive-y feel, the bar at Black Thorn is often more crowded the dining room.
The secret sauce is, well, the sauce. The thick, dark red sauce has a perfect hint of spice not normally seen on a pizza. Generous amounts of cheese never hurt, and a layered bite of golden crust, melted cheese, savory sauce and toppings of your choice is a thing of beauty.


And while the toppings are good, they don't make this pizza what it is. They simply play one role in a balanced quartet of flavors. Toppings are not needed to cover a subpar crust or bland sauce, but serve to enhance each element. Pepperoni, sausage and mushrooms are the three most popular toppings, but the 14" Chicago-style supreme is the Black Thorn's signature pie. They weighed it once, says Difani, and tipped the scales at more eight pounds.

Although the place has been smoke-free for five years, Black Thorn still feels like a place where a smoky haze should surround the bar. The walls are covered with graffiti, the shuffleboard table is well-used and seats at the bar are often claimed before those in the dining room.

"I haven't decorated the place since we opened," says Difani. "To be honest, the writing on the walls and ambiance has more to do with the patrons than me."

Black Thorn is the kind of place with a handful of regulars at the bar, a few young adults sharing a pitcher with their pizza, and a neighbor who pops in for carry-out. St. Louis is a city with a lot of great pizza, but if you've ever daydreamed of running a neighborhood corner bar, Difani has been living your dream for three decades – and with a magical pizza oven producing some of the best pies in town.

Turn the page for more photos....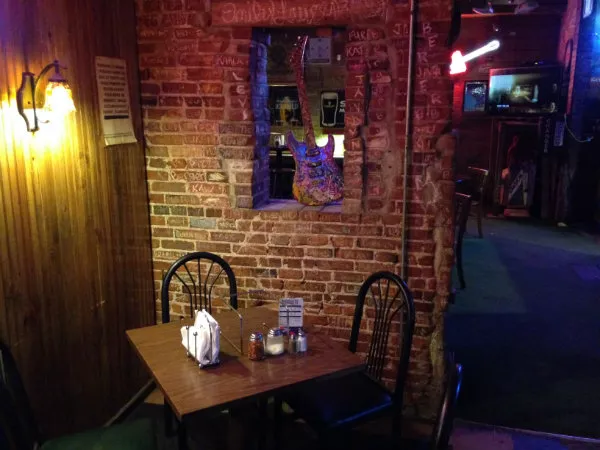 Photo by Doyle Murphy
A cozy nook for dining.
Photo by Doyle Murphy
The graffiti is a bit intense. That "has more to do with the patrons than with me," says Difani.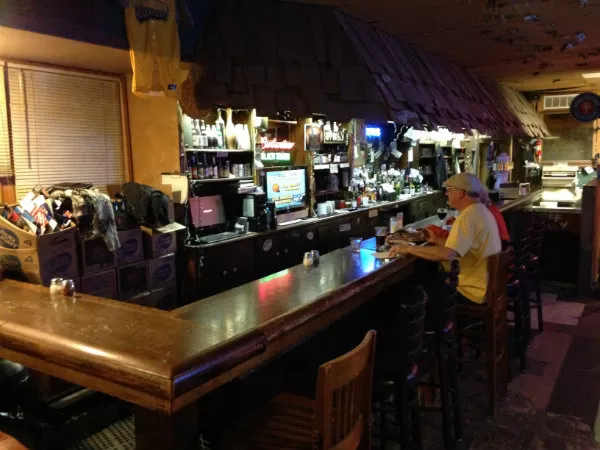 Photo by Doyle Murphy
The bar at Black Thorn isn't fancy, but it'll do.
Johnny Fugitt is a regular
RFT
contributor who often tops his pizzas with pepperoni and jalapeno.