Photo by Kelly Glueck
El Maguey's margarita.
There are almost as many different kinds of margaritas as there are neighborhoods in St. Louis. Cocktail snobs have versions with top-notch tequila, fresh-squeezed lime and a perfectly salted rim; bargain hunters get fat globes filled with no-frills liquor frozen into a slushy with tart sour mix. You can add Blue Curaçao, mango or raspberry, agave nectar or sugar, Grand Marnier or Cointreau. You could even add banana, though we wouldn't recommend it.

St. Louis has no shortage of places to order these delicious concoctions —- and while it's nearly impossible to choose just one favorite, we were able to narrow our list down to 12. You can't go wrong at any one of these places.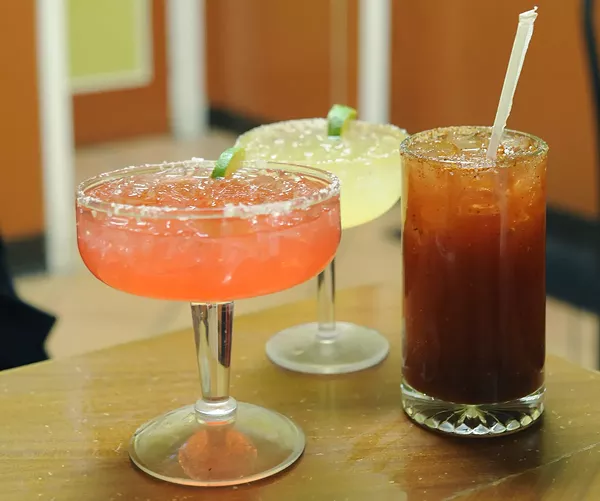 Photo by Kelly Glueck
The margaritas as El Bronco.
1) El Bronco
2817 Cherokee, Cherokee District; 314-762-0691
In addition to great food and a fun atmosphere (we were serenaded on our visit), Cherokee Street's El Bronco features a host of reasonably priced margaritas, from $6.25 to $8. These are great choices if you don't love the taste of tequila — the strawberry margarita will go down just like Koolaid. Not into sweets? A Colombia-born friend says the michelada here (beer, lime, salt, tomato juice, clam juice, soy sauce, hot sauce and chili powder) is the best he's had in the U.S.
Photo by Kelly Glueck
Margaritas at Pueblo Solis. For a twist, try the Blue Curacao.
2) Puebo Solis
5127 Hampton Ave., St. Louis Hills; 314-351-9000
This cheerful Hampton Avenue spot boasts great Mexican food and really big margaritas for $9. The premium, made with Grand Marnier, was definitely the smoothest and strongest of the three we tried, but the Blue Curaçao adds a nice changeup if you like something sweeter. Service is friendly, and in warm weather, you can't beat the patio.
Photo by Kelly Glueck
A margarita at Tower Taco
3) Tower Taco
3147 Cherokee Street, Cherokee District; 314-256-1141
This spot on the western end of Cherokee boasts that all of its margaritas, even the house versions, come with tequila from 100 percent blue agave from Jalisco. And, yes, that makes a difference. We're big fans of the Top Shelf, which features a really generous pour of Tequila Somonque Reposado for just $8. It's crisp and lighter than traditional margaritas — definitely a must-try.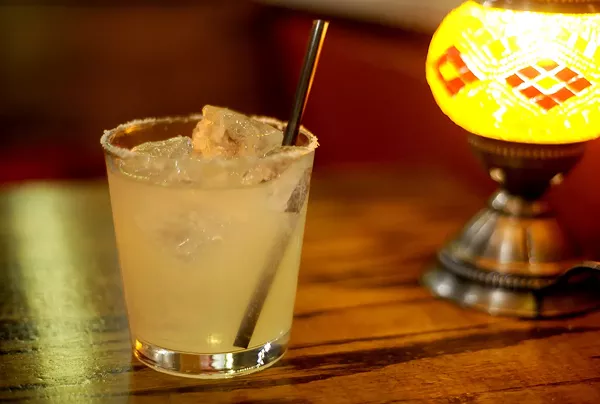 Photo by Kelly Glueck
The Royale's margarita — a surprising, but serious, choice.
4) The Royale

3132 S. Kingshighway, the Grove; 314-772-3600
Even regulars may not realize there's a great margarita on the menu at Steve Smith's beloved neighborhood place — when you think of the Royale, you don't necessarily think of Mexican cuisine. But it proved to be one of our favorites on a recent taste-testing mission, and at $6, one of the best bargains to boot. Surprisingly strong, with a light and refreshing taste, it features Agavero, an anejo tequila liqueur flavored with Damiana flowers. This isn't a margarita for a young drinker seeking frozen strawberry fishbowl — but for sophisticated palates, it's a wonderful choice.

Turn the page for more margarita goodness.
Photo by Kelly Glueck
Tortilleria

5) Tortillaria Mexican Kitchen
8 S. Euclid Avenue, Central West End; 314-361-4443

Now that the Tilford brothers' Mission Taco concept is conquering the world (more on that in a minute), it can be easy to forget Tortillaria, their low-key Mexican spot in the shadow of Barnes-Jewish Hospital. That would be a major mistake. While we're not always fans of flavored margaritas, the ones here blew us away. Instead of sticky-sweet syrup, they use fresh fruit (pineapple, cantaloupe, raspberry, strawberry), house-made simple syrup using agave instead of sugar, and lime juice. We'd also highly recommend the Doorbuster, a.k.a. "Norman's Special." For $10, this drink of Dobel tequila, agave and a splash of Curaçao was one of the most eye-popping margaritas we've ever had. Order it if you dare.
Photo by Jennifer Silverberg
A house margarita at Mission Taco.
6) Mission Taco
908 Lafayette Avenue, Soulard; 314-858-8226
6235 Delmar Boulevard, the Loop; 314-932-54390
Speaking of the Tilfords ... It's a good thing they've announced
plans to open a third Mission Taco Joint
, because we could sit all day at this West Coast-style taco joint drinking margaritas if only both existing locations weren't way too busy to permit it. We're huge fans of the Maestro, which uses Maestro Dobel tequila ($10). Keep the alcohol from overtaking you by scarfing some of the excellent tacos.
See also: Slideshow: Inside Mission Taco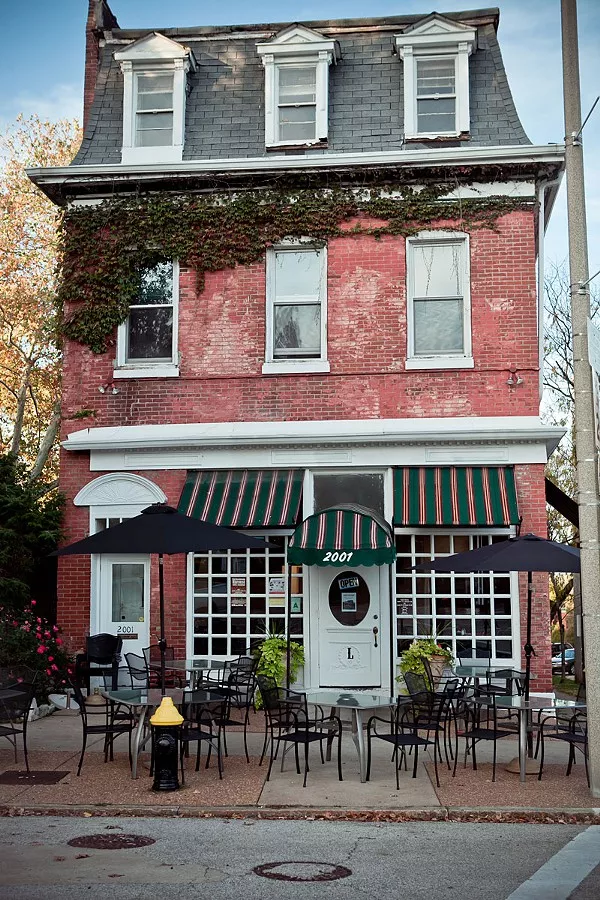 7) Laredo on the Square
2001 Park Avenue, Lafayette Square; 314-231-9200
On a nice day, the patio at Laredo on the Square is
the
place to be — you can enjoy the surprisingly spicy salsa and a house margarita while watching the parade of people and their dogs enjoying Lafayette Park, which is just across the street. But even on colder days, this place has a warm and friendly vibe, with exposed brick walls and a fun family atmosphere. The margaritas are elegant in tall stemmed glasses with a crisp flavor to match; no sour mix here. Get the Cadillac with its float of Grand Marnier ($9.99)
Photo by Kelly Glueck
El Maguey's margarita.
8)
El Maguey
6333 Delmar Boulevard, the Loop; 314-726-1005
If you like your margaritas in a pitcher, get thee to El Maguey, the low-key spot in the Delmar Loop. There's no bells, whistles or fancy tequilas here, just a house margarita for $6.50 and a fun atmosphere with a big patio for people-watching when the weather is nice.
Turn the page for more....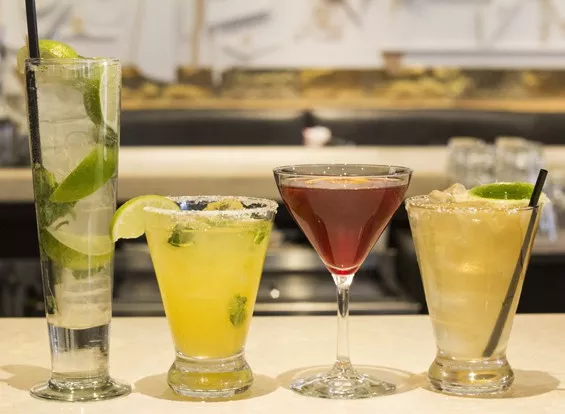 Photo by Mabel Suen
Cantina Laredo's mojito, "Ginger Mint Mango Rita," "Aphrodite Rita" and "Cabo Flip."
9) Cantina Laredo
7710 Forsyth Boulevard, Clayton; 314-725-2447
If Mission Taco offers a take on a casual, cool taco joint that's right out of San Diego, Cantina Laredo instead puts us in mind of Dallas: it's sleek and stylish, with a vibe that's perfect for date night or office happy hour. The drinks are uniformly well-executed — you know the lime juice is fresh when the bartender is squeezing it right in front of you. Try the Cabo Flip with Cabo Wabo Reposado, Grand Marnier and "a lime boat full of tequila."

See also:
Review: Cantina Laredo Shows the Sleeker Side of Tex-Mex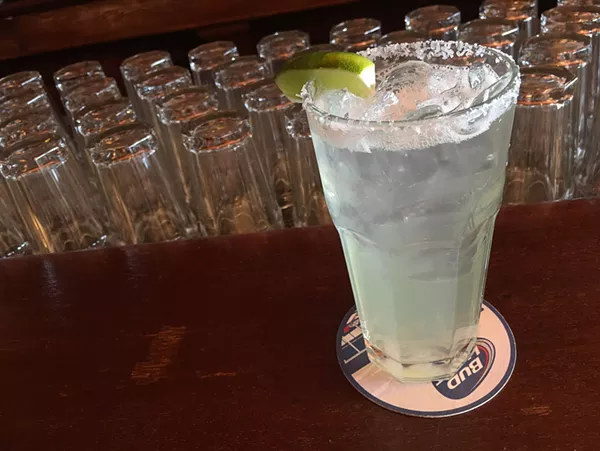 Photo by Kelly Glueck
A house margarita from Chava's
10) Chava's Mexican Restaurant

925 Geyer Avenue, Soulard; 314-241-5503
Many places on our list have either good drinks or good food. This cozy Soulard spot has both, along with great sidewalk dining on a nice day. The queso is something special, and the margarita here sneaks up on you — it's so delicious that it's hard to cut yourself off. The only option here is the house, which costs just $6.50 but is as smooth as many top-shelf versions. Perhaps because of the volume here, they premix the margaritas and pour them through a tap. The result? They're deliciously cold, with far less potential for bartender error. A true winner.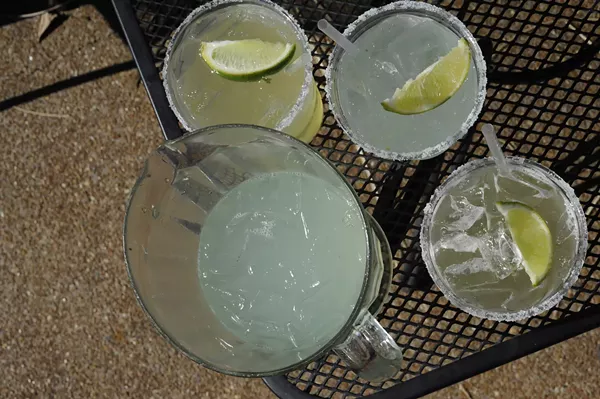 11) Hacienda Mexican Restaurant

9748 Manchester Road, Rock Hill; 314-962-7100
This West County mainstay has tons of choices. Not only can you pick your own tequila, but they offer several different mixes, too. We like the Top Shelf, made with anejo tequila and Grand Marnier — it's both smooth and full of flavor. Adventurous drinkers might want to try the seasonal spicy margarita. With Amatitlan Blanco tequila, Stoli jalapeño vodka and sliced jalapeños, this one definitely cleared our sinuses. Prices range from $6.50 to $36 for a gold pitcher.

See also: Hacienda to Open Fast-Casual Spinoff, the Wet Burrito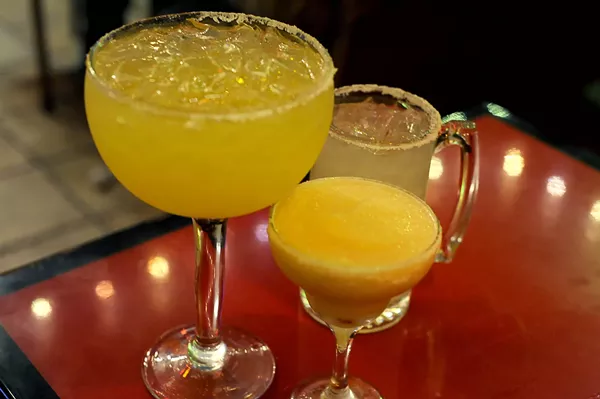 Photo by Kelly Glueck
The margaritas at Chimichanga's — cheap and delicious.
12) Chimichanga's Mexican Restaurant
5425 S. Grand Blvd., Carondelet; 314-352-0202
This busy south-city cantina has so many sizes — you can order a small, a jumbo, a half-pitcher, a monster or a full pitcher, and the prices are among the best in town. Start as low as $3.99, with a 46-oz. monster going for just $9. Even a top-shelf pitcher is just $20. If you're looking to get buzzed for less, this is the place to go. And who wouldn't drink to that?