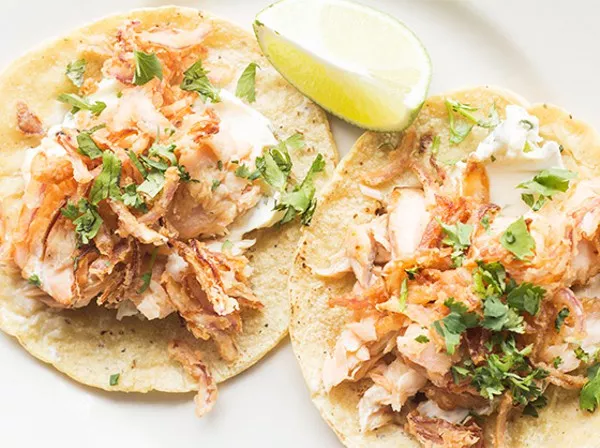 Photo by Mabel Suen
"Pescado blanco" tacos from Público
It's not just St. Louis that loves Público.
Mike Randolph's Latin restaurant in the Delmar Loop
has just been named a semi-finalist for the James Beard Foundation's "Best New Restaurant" award
. The award is the most prestigious honor a new restaurant can get.
In her review last summer, and in
our Best of St. Louis issue
, RFT Critic Cheryl Baehr dubbed Público
the best new restaurant in St. Louis
. So, glad we have consensus!
Other locals show up on the list of semi-finalists as well. Side Project Cellar in Maplewood is a finalist for "Best Bar Program" in the nation, while Stone Soup Cottage in Cottleville, Missouri, is a finalist for "Outstanding Service."
In the James Beard Awards' regional categories, St. Louis competes within the Midwest region. There, Kevin Nashan of Sidney Street Cafe and Kevin Willman of Farmhaus joined Randolph as finalists for Best Chef. Eric Heath, of Cleveland-Heath in Edwardsville, is also a finalist for Best Chef-Great Lakes.
Finalists will be named shortly, with winners
to be announced Monday, May 2
. Last year, Gerard Craft notched a big win for St. Louis by winning
Best Chef in the Midwest honors
. Maybe in 2016 Público (or Randolph, or Nashan, or Willman) can make help us go two for two.
See also: Mike Randolph's Publico Is the Best Restaurant to Open in St. Louis This Year


See also: The 10 Best New Restaurants of 2015

Editor's note: We corrected this note after publication to clarify that all these winners are semi-finalists. The next step will be to name finalists. We regret the error.