Johnny Fugitt
Noodle Soup with Pork
If you're interested in checking out Yummy 17 (8041 Olive Blvd., 314-993-2933), the new, "authentic" Chinese restaurant attached to Olive Supermarket, you had better hurry. In what may prove to be one of the strangest restaurant pivots in recent memory, jambalaya and gumbo may soon replace noodles and hot pots.

Decorations in Yummy 17, which is carved out of the eastern corner of the supermarket, are sparse. The most noticeable accoutrements in the dining room are the TVs, which blared HSN a little too loudly during our visit. We didn't come to buy a vacuum cleaner from a salesman on TV, after all —- we came for a true taste of Chinese cooking.

We were not disappointed. The noodle soup with pork was tasty, flavorful and satisfying. The pork ribs, coated with a sweet, tangy sauce, required a bit of nibbling, but were good.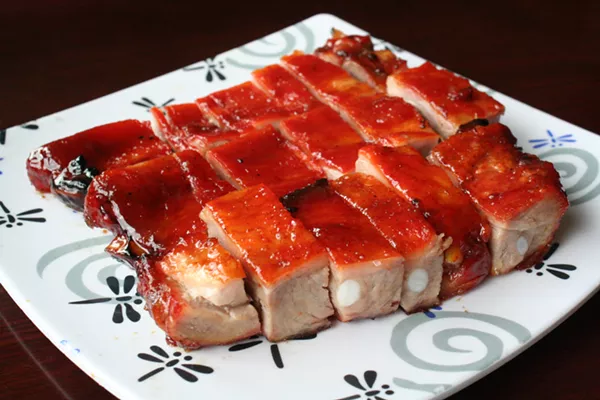 Johnny Fugitt
Pork ribs
But that's when things took a strange turn. After paying, we asked our server if we could speak to the manager to ask a few questions about the restaurant. We were directed to the supermarket next door and told to ask for John. After asking for John and explaining that we wanted to ask a few questions about Yummy 17 for a piece with
Riverfront Times
, we were told John was unavailable and that we should come back in a few weeks.
At this point, a number of questions suggested themselves. Is John out of town? If so, is there someone else we could speak with? Why would they try to delay press coverage for two weeks?
Sensing our questions, or perhaps simply reading them on our faces, the man explained that the menu was changing. That made sense, we thought.
But then he continued.
"There are too many Chinese restaurants on Olive," he said. "But no Cajun restaurants." He had us there.
He said the change to a Cajun menu will happen within the next couple of weeks. It doesn't appear to be a case of tenants running out of money, giving up, or discovering irreconcilable differences. It simply seems as though they want to try something else — almost as if the little restaurant in the corner is an experiment for the owners of the normally busy supermarket.
It seems like an unusual move after printing menus, getting a little business and creating a
sharp website
, but sometimes defying conventional wisdom leads to success.
As we were never able to speak with John, we don't know the story behind the name of Yummy 17, but we can speculate it has to do with 17 being a lucky number in Chinese culture. Seventeen is the combination of eight, the number of luck, with nine, the number of longevity. The Forbidden City in Beijing, for example, is home to the
17-Arch Bridge
, which may or may not have been successful in adding a little luck and longevity to the palace's royal inhabitants.
Despite its name, it doesn't appear as though longevity is in the cards for Yummy 17.