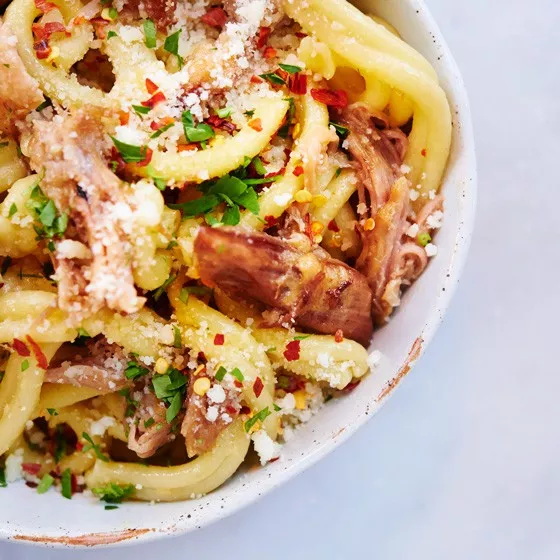 Photo by Greg Rannells
Porano Pasta
If you want to try Gerard Craft's new fast-casual pasta joint,
Porano Pasta
(
634 Washington Ave., 314-833-6414
) you have limited options. That's because, so far, Porano is only open for lunch. And while we all want heaping bowls of semolina pasta and negroni slushies at noon, we don't all have the flexibility to make that happen. Some of us don't work anywhere close to downtown St. Louis. Others of us just never ever get to take a lunch break.
But this weekend only, there's a way to get around that —- and it's for a really good cause, too.
On Saturday, Feb. 20, the James Beard award winner's latest eatery will be open from 5 to 10 p.m. For $50, you can try hors d'oeuvres, a build-your-own pasta bowl and dessert. You'll also get two drink tickets (which means, if you have any modicum of good taste, negroni slushies). And because Craft & Co. are donating everything, the event organizers tell us that all of the proceeds go directly to St. Louis Children's Hospital.
So basically: you can chow down at the gorgeous new place all the food lovers are talking about, get tipsy on frozen negronis
and
help a good cause. You have to admit, it's a far cry from the rubber-chicken-in-a-ballroom you last choked down to "help the community."
See also: A Look at Gerard Craft's Brand-New Porano Pasta, By the Numbers
For more info, or to purchase tickets, check out
this link from Children's Hospital
.

We welcome tips and feedback. Email the author at sarah.fenske@riverfronttimes.com