Emily Higginbotham
The "Mamma Mia" Meatball Pizza at PaPPo's Pizzeria and Brewing Company.
When
PaPPo's Pizzeria
(
3690 Forest Park Avenue
) opened its third location, the first in St. Louis, late last month, owner Chris Galloway vowed to keep doing what they do best —- making quality pizza —- with just one big change. He also wanted PaPPo's to brew its own beer.
The Springfield, Missouri-based pizzeria spent only a brief amount of time looking for a space to open a St. Louis location, Galloway says, before hearing that Six Row Brewing Company was closing the doors on its Midtown taproom, which was also the former home of the original plant for the Falstaff Brewing Company. Galloway was impressed by the character of the space, which has wood features, high ceilings and an eye-catching copper bar. He quickly made a deal that would secure the historic building and brewery, as well as Six Row's brew master, Evan Hiatt.
Galloway explained that his desire to acquire Hiatt as PaPPo's brew master goes back to his decision to brew beer in the first place, as well as his philosophy to pizza: subtle and clean flavors made with quality ingredients.
"Our approach to the brewing of beer is the same as our approach to making our products," said Galloway. "We deliver the full flavors of the beer and the full bodies, but we wanted it to be approachable, and I think Evan has matched that up perfectly for us right now."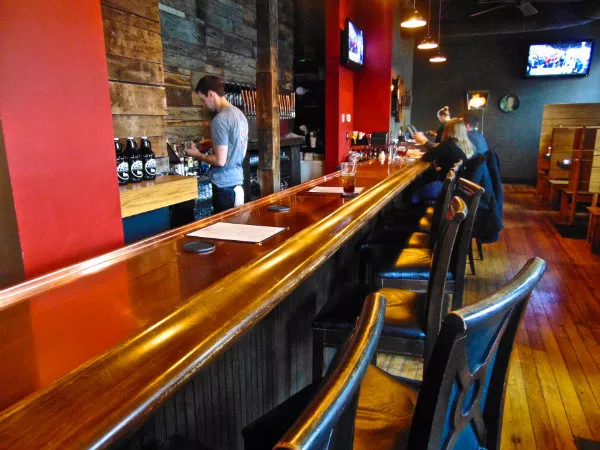 Emily Higginbotham
The bar at PaPPo's Pizzeria.
PaPPo's offers a variety of beers on tap—a something-for-everyone kind of selection, with a Tripel, a Marzen, Session IPA and a Witbier. However, if you're looking to purchase one of PaPPo's brews at a grocery store near you, you'll be out of luck. These beers will only be sold in-house.
Although the brewery has been a large focus of this newest location, PaPPo's is still the pizzeria it set out to be in 2012. The name originated from Galloway's three-year-old granddaughter, who began calling him "Pappo" —a name he likes far more than grandpa. When the time came to name the restaurant, Pappo's seemed like a perfect fit, especially when Galloway discovered the Italian meaning of the word: to "prepare food carefully."
Customers can choose between a hand-tossed, thin crust and a gluten-free option, which Galloway brags is superior to gluten-free crusts at other pizzerias. Galloway also makes a point of distinguish between the thin crust at his restaurant to the thin crust at others — they may call their crust thin, but his goes a step further, achieving the crispy, cracker-thin crust St. Louis pizza is known for.
Emily Higginbotham
The brewery at PaPPo's.
The menu is eclectic: options are as quirky as breakfast or Mexican-inspired pizzas, but there are also classic pies, such as the Margherita, which is more in line from what you might expect from Galloway, whose passion for cooking comes from his strong Italian heritage. His inspiration for opening Pappo's dates back to the Sunday dinners he had with his family as a child, in which he watched relatives cooking from scratch—drawing flavor from the ingredients rather than having a heavy hand with salt or additives.
"Everyone is going to do food that is instant. It comes in a bag. It's idiot-proof," says Galloway. "So we decided to make our salad dressings from scratch, making the dough from scratch and make our sauces from scratch and to even grind our own cheese."
It's a quality that Galloway says sets PaPPo's apart from the rest. They're focused on simple flavors and fresh ingredients—and food just like
nonna
used to make.
Emily Higginbotham
3690 Forest Park Ave