Courtesy of Shake Shack
Shake Shack's Madison Square Park location in New York City
"When Shake Shack opened up a block from my house," says chef, traveler and TV host Anthony Bourdain, "I dropped to my knees and wept with gratitude." Come 2017, residents of St. Louis' Central West End may do the same thing.

Danny Meyer, founder of New York's successful and celebrated Union Square Hospitality Group, is bringing his popular Shake Shack concept to his hometown of St. Louis. The John Burroughs grad grew up on the border of Ladue and Clayton, but he's chosen to open his first local outpost in the Central West End.

"The Central West End is the neighborhood in St. Louis that most reminds me of New York," Meyer tells
Riverfront Times
.
Situated between the Barnes/Children's Hospital complex and the busiest part of the Central West End, the new location at 32 North Euclid Avenue will replace a pharmacy near the intersection of Euclid and West Pine. It's also a half block from where Meyer's father grew up. And since Meyer spent a lot of time at his grandparent's house, the location has deep personal appeal as well.
Meyer says his team has quietly been looking at St. Louis locations for some time and waited until the right opportunity presented itself. The company opened a Shake Shack in Chicago about 14 months ago and Meyer says he is pleased with how the concept has been received.
Asked about favorite burger joints or memories in St. Louis, Meyer had a long list. His favorite burger came from the counter in the Clayton Straub's, and he also fondly remembers Fitz's Drive-In at Brentwood and Clayton, Steak and Shake (where he says he spent many Friday nights after getting his driver's license), and Crown Candy Kitchen.
Famous for the hospitality at his restaurants such as Union Square Cafe and Gramercy Tavern, Meyer incorporated aspects of fine dining, such as warm service and the use of quality ingredients into a fast, inexpensive concept — something we see trying to be replicated across the restaurant landscape today.
Might we see another of Meyer's concepts in St. Louis sometime soon? "This [Shake Shack] is a lot for us to chew on," says Meyer, so don't hold your breath for a Gramercy Tavern outpost.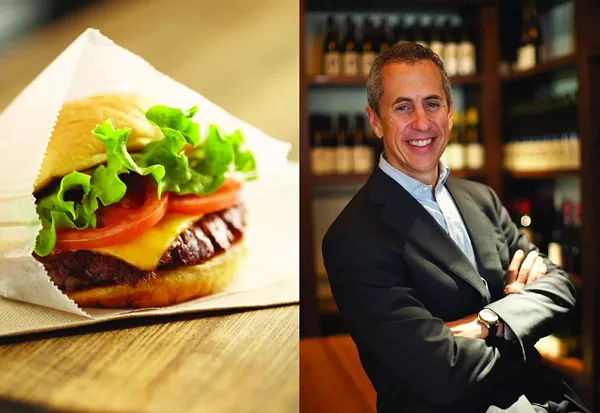 Courtesy of Shake Shack
St. Louis native Danny Meyer and the ShackBurger
Shake Shack's menu features burgers, griddle-cooked hot dogs and frozen custard. As St. Louis is deeply in love with another frozen custard brand, expect a renewed and vigorous debate over who has the best frozen treats in town.
Meyer said the restaurant will open in 2017, but couldn't be more specific about the date since it's part of a larger development.
Founded in 2004, Shake Shack has 17 locations across New York, restaurants in a number of other states (Connecticut, Florida, Georgia, Illinois, Maryland, Massachusetts, Nevada, New Jersey, Pennsylvania, Texas, Washington D.C.) and has even expanded to 10 foreign countries (Japan, Kuwait, Lebanon, Oman, Qatar, Russia, Saudi Arabia, Turkey, UAE, the UK).
Johnny Fugitt is a regular RFT contributor and author of
The 100 Best Barbecue Restaurants in America
.