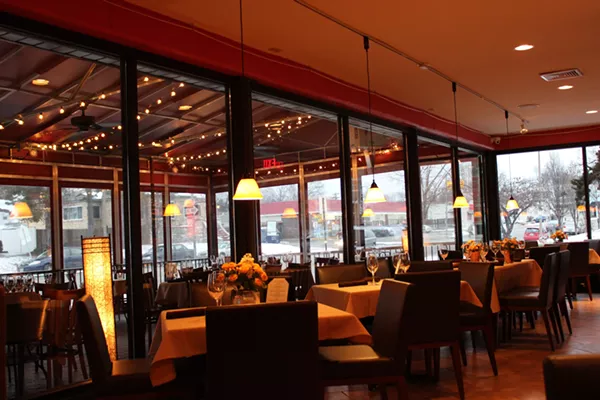 Photo by Lauren Milford
Inside J McArthur's - An American Kitchen.
At 3500 Watson Road, you'll find
J McArthur's – An American Kitchen.
The owners boast that J McArthur's uses farm-fresh ingredients and offers "a bit of everything – expertly prepared." Given that description, we were intrigued.
It's not a large restaurant, and it doesn't have a huge menu. But that's not necessarily a bad thing, because what is on offer is great – flavorful, delicious food from local sources. Chef Ben McArthur updates the menu daily based on the freshest seasonal ingredients.
Photo by Lauren Milford
The charcuterie board offers local meats and cheeses and assorted preserves.
In addition to dinner, J McArthur's also has a small happy hour menu available from 5 to 6 p.m. Tuesday through Friday, and a late-night menu of flatbreads, street tacos and charcuterie, available 10:30 p.m. til close Thursday through Saturday. In addition, they serve brunch from 10 a.m til 2 p.m. on Sundays.
They do accept reservations, and we'd recommend making one.
So how do they do for picky eaters? We put them to the test — and the results are promising.
Photo by Lauren Milford
Beet salad with goat cheese, fennel and an orange vinaigrette.

Vegetarian:
For starters, there's a garden salad and street tacos, which the menu notes can be made vegetarian. There's also a beet salad than can be ordered without the bacon, and it is heavenly.
The veggie main plate option is a creamy pearl barley risotto with roasted local vegetables, smoked grape tomatoes and shaved Parmesan. For dessert, J McArthur's offers a panna cotta, beignets and a chocolate and cheese board featuring sweets from Crown Candy Kitchen.
Photo by Lauren Milford
Pearl barley "risotto."

Gluten-Free:
To start, choose from the beet salad, Amish farmer tomatoes with goat cheese and ham, short ribs or a charcuterie board (minus the crackers). J McArthur's main course offerings include the fish of the day, diver scallops and Missouri beef daily cut. For dessert, try the chocolate and cheese board (again, skipping the crackers).
You should let your server know that you're interested in gluten-free options in case there are any specials that either are gluten-free or can be modified to be so.
Photo by Lauren Milford
The "Eat Your Garden" salad includes locally foraged greens.

Paleo:
There's a garden salad and short rib starter, and the paleo entrée options include the fish of the day, diver scallops and Missouri beef daily cut. Served with corn, peas, potatoes and pesto, the diver scallops were a major hit with our table.
Photo by Lauren Milford
Cast-iron skillet seared diver scallops.

Kids:
J McArthur's does have high chairs, but they don't have a kids' menu, and while our server was perfectly friendly to our tiny diner, he was the only child in the restaurant. So you certainly could take your kid here, but this might be one of those times where you'd be better off to get a babysitter and enjoy an adult evening out.
Photo by Lauren Milford
J McArthur's is located at 3500 Watson Road.
Classic, fresh, delicious — we'd head back to J McArthur's in a heartbeat.