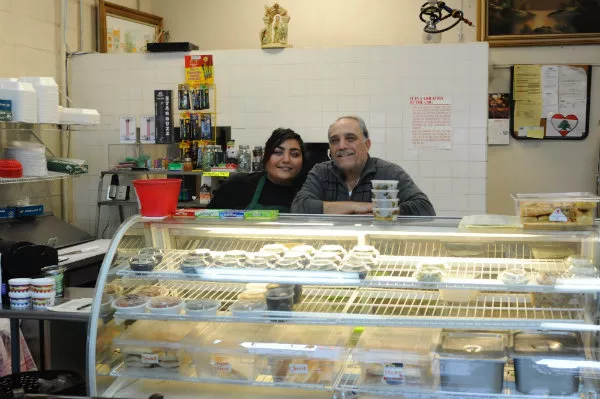 Photo by Sarah Fenske
Sleiman "Sam" Bathani, right, with his daughter Joeanne.
Twenty years ago, Sleiman Bathani gathered his wife and six kids to contemplate the biggest decision of their lives. They'd settled in Chicago five years earlier after fleeing the war in Lebanon. But crime was overtaking their neighborhood, recalls daughter Joeanne. They needed to start over in a new city.
The three finalists for the Bathanis' new home couldn't be more different: Boston, Phoenix and St. Louis. Sleiman, though, had done his homework. All three cities had good Maronite churches — and that meant a strong community of Lebanese Christians. He put the three names in a hat and had his young daughters draw one blindly.
St. Louis was the winner.
In June 1996, the family moved to their new home, and by the following February, they'd bought the business they've now been running for 19 years and counting —
Al-Tarboush Market
(
602 Westgate
), a low-key deli and casual cafe just a few feet from the Delmar Loop.
In Chicago, Joeanne says, they owned a huge restaurant — 350 seats, along with a nightclub. Sleiman Bathani, who'd been a well-known pop singer in Lebanon, performed, while his wife, a culinary instructor in their homeland, did the cooking. St. Louis meant a humbler setting: a counter, a few tables. At first, they didn't even offer Middle Eastern food.
"We started with pizza and French fries in case people didn't want to go straight to Lebanese food," Joeanne Bathani says.
She adds, laughing, "You don't see pizza and French fries in here anymore."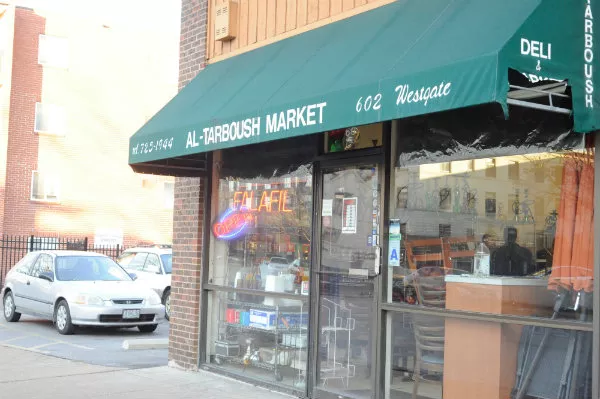 Photo by Sarah Fenske
Al-Tarboush sits just off the beaten track of Delmar on Westgate.
And indeed, why should you? The shop has a steady stream of regulars who delight in the Bathanis' wonderfully creamy hummus, the falafel, the garlicky lamb-and-rice sandwich, served warm and folded into a pita. The shop is as no-frills as they come, but the food is delicious — and Al-Tarboush's following is absolutely devoted.
A big part of that is the family atmosphere. Joeanne, now 25 and applying to nursing school, greets everyone by name, while Sleiman, who everyone calls "Sam," has a wonderful twinkle in his eye that many a customer has been fooled into thinking is just for her. He's not confident in his English — asked for an interview, he instead arranges to have Joeanne do the talking — but he's a charming presence, singing as he assembles the orders.
Sleiman is quick to credit his wife for the market's following ("this was not my job," he makes a point of explaining, gesturing to the food). And indeed, for years, it was his wife who did all the cooking. "My mom wouldn't let him touch the food," Joeanne says. But after she had back surgery in 2000, she took a step back from the business; today, she bakes the delicious house-made baklava and works on catering, which is a huge part of the Bathanis' business. It's Sleiman and the kids who kept the market running.
"We all grew up working here," Joeanne says. "In high school, we were all here. These were our chores."
The lessons they learned have led to a second family business. Two of Joeanne's sisters have opened a salon in Brentwood — "and everything they learned about business came straight from here," she says proudly.
Other things have changed, too. At first Al-Tarboush only had a few hookahs; its wide selection of pipes and accessories are now a big part of the business. But even as the Loop has transformed itself from an inexpensive strip for hippies and college kids to a collection of increasingly upscale restaurants and businesses, the regulars just keep coming.
"It's that family feeling," says Joeanne. "It's like you are bringing people inside your house."
It's Joeanne who sees to it that the market is decorated every February for its birthday. "I go crazy on the first of February every year," she confesses. "I buy balloons, make sure everybody has candy."
Sleiman is now 65, and his family knows it's only a matter of time before he retires. And Joeanne, too, is looking to eventually transition to a new role — perhaps running things more than working behind the counter, she says. But nothing is really going to change at Al-Tarboush, she promises.
"We want to keep it going," she says. "It'll be just having a little help. We'll have the same recipes. And whoever does work here will be a part of the Al-Tarboush family. We want to teach them to greet everyone by name."
We welcome tips and feedback. Email the author at sarah.fenske@riverfronttimes.com