Johnny Fugitt
Kona kampachi with a beet, ginger, chili sauce
Boundary, the brand-new restaurant opening tonight in the space that previously held the Restaurant at the Cheshire, is a big change from its predecessor.
"We decided to extend the bar and make this space more casual than it was before," says Executive Chef Rex Hale. "That's what the concept is really about — to make it not a special occasion place anymore, to make it an everyday place. That's why the menu is designed the way it is... So the great part is, you can come in and have a big dinner or just have a couple of bites and go home."
While still under the same management, Boundary features a significant physical remodel as well as a menu overhaul.
Hale is a native St. Louisan who worked in kitchens around the world before returning home. Similar to his work at downtown's Three Sixty, the menu at Boundary is impossible to pin down geographically.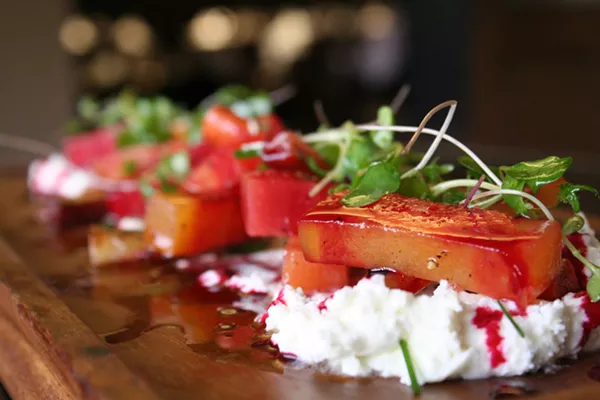 Johnny Fugitt
Beet salad with whipped Baetje Farms goat cheese
Many dishes mix Hale's professional experience across the globe with local products. The butternut squash and leek curry with toasted quinoa, for example, features flavors he worked with in the Caribbean. And just as Hale's dishes in Antigua were made with local ingredients, Boundary's curry is made with fresh turmeric root and ginger root grown in St. Louis by Gateway Garlic Urban Farm.
St. Louis loves ribs. The ones Hale is serving are a mix of Berkshire, Huroc and Red Wattle heritage breeds from Rain Crow Ranch in Doniphan, Missouri. They are glazed with a Korean red chili paste barbecue sauce with pickled radishes and pears, both of which are grown locally.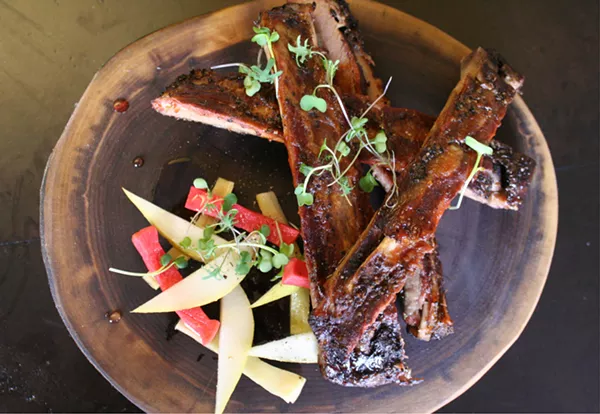 Johnny Fugitt
St. Louis-style ribs with radish and pear salad
The Missouri trout, meanwhile, comes with roasted local cauliflower and leeks over a cauliflower puree. It's an absolute treat.
The menu is divided into six sections, which means diners can put together their meal in a number of different ways. The ensuing checks can range from "that's it?!" to "well, that escalated quickly." It's more casual, but it's still a far cry from cheap.
The "To Share" plates, such as the ribs, range from $8 to 16. Raw bar options, including ceviche and oysters, start at $12 and go up to $21. Dinner entrees, including the Rainbow Trout, are priced from $18-22, while the big "For the Table" options go all the way up to a $75 Porterhouse steak, which weighs in at 32 ounces.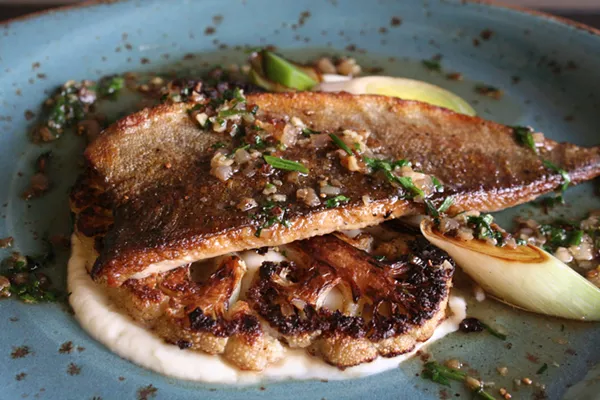 Johnny Fugitt
Missouri trout with roasted cauliflower and leeks over cauliflower puree
The new space seats roughly 120, but the low-hung lights, long bar and smaller seating sections make it feel more intimate. The kitchen is open and bright, but the dining space itself is much darker, with deep, dark tones accented by a surprising pop of bright color.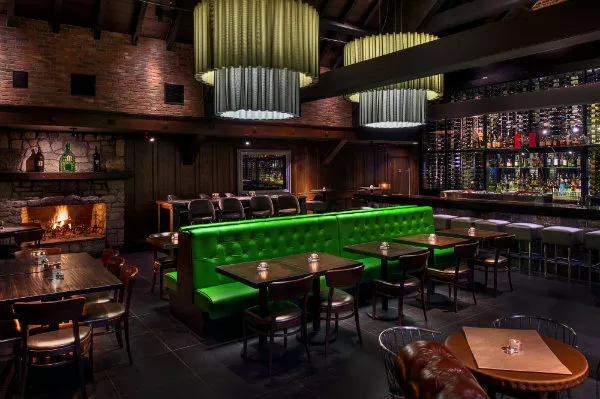 Courtesy of Boundary
Newly remodeled, the space is a stunner.
Boundary has its soft opening tonight, February 8, with the restaurant opening at 4 p.m. Lunch service will begin in a few weeks with a weekend brunch following. The timeline for expanded hours has not yet been announced.
Johnny Fugitt is a regular contributor to RFT and author of
The 100 Best Barbecue Restaurants in America
.