Photo by Jennifer Silverberg
A Snarf's Italian sandwich.
There's a new Snarf's opening this April just a few hundred feet from the heart of the Delmar Loop — at 360 N. Skinker, it will sit on the corner of Skinker and McPherson.
But owner Matty Aronson wants to make one thing clear: That doesn't mean he's closing the Snarf's on the Loop, at 6301 Delmar.
"It's been a tough year, but we're still hanging in there," he says. "I want people to know that we're still keeping the Loop."
Even though the locations are just one half-mile from each other, Aronson believes there's room for both. "The Skinker location is close to Wash U. and there's good foot traffic," he says. As for the six-year-old Loop location, "We're hoping the Delmar store will keep the Delmar pedestrians, and hopefully the trolley will bring more people, too."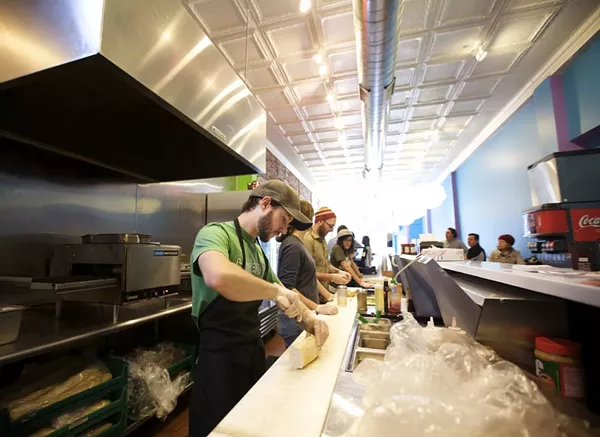 Photo by Jennifer Silverberg
Snarf's staff at work in the Loop.
The Skinker shop will have something the Delmar one lacks — a patio. The 1,500-square-foot storefront seats 44 inside, in addition to what Aronson describes as a lovely patio. "It's under construction right now," he says. "We're renovating the whole place and completely remodeling it." They hope to be open by early spring.
Snarf's is based in Colorado, but the ownership of its St. Louis stores is local — Aronson is married to the sister of founder Jimmy Seidel, and the couple owns the St. Louis stores. (Seidel is himself a St. Louis native, Aronson says, though he now lives in Colorado.)
The sandwich shops have won a devoted following for their perfectly toasted bread and friendly service. In addition to the location opening on Skinker, there are shops near the Saint Louis University and downtown in the MX development; thanks to those strategically placed locations, they deliver throughout most of the city.
We welcome tips and feedback. Email the author at sarah.fenske@riverfronttimes.com