Photo by Lauren Milford
Penne amatriciana, better known as the "eviction notice" according to some pregnant women.
If you want to see desperation, look into the eyes of a woman who has been growing a child for 40 or more weeks. They're huge, they have to pee every five minutes, they hope to avoid induction by their doctors — and they'll do anything to get labor going.

The old wives' tales have it that everything from lots of walking to using a breast pump to sex can get Junior ready to go. And you might have heard of one of the more common recommendations to encourage that baby to join the world: eat some spicy food.

But you may not be aware of a dish in St. Louis that has worked for at least 20 very pregnant women – the "eviction notice" special at
Frank Papa's Ristorante
(
2241 South Brentwood Boulevard
).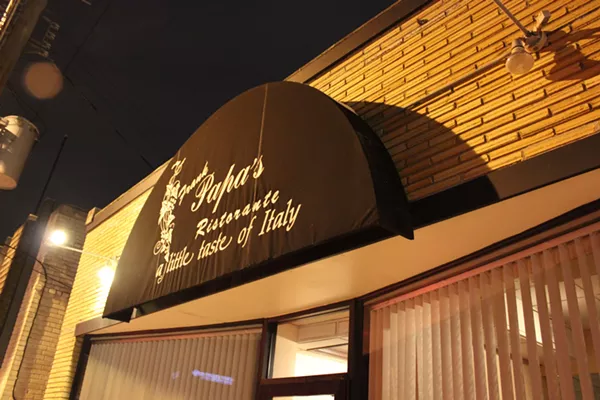 Photo by Lauren Milford
Frank Papa's Risorante is located in Brentwood.
On the menu at Frank Papa's you'll see it listed as the penne amatriciana, a quill-shaped pasta with spicy marinara sauce, Italian sausage and pancetta bacon. Owner Frank Papa says, "We're a little more cautious now when we serve it to pregnant women, because we've served it to a few who had planned delivery dates and then went into labor after eating the pasta" — and just like that, the "planned" date is out the window.
The dish has been on the menu since Frank Papa's first opened. The restaurant owners noticed that they had had a few very pregnant patrons who ordered the "eviction notice" and ended up delivering shortly after. This started to happen more frequently, and now it's a bit of an urban legend.
Papa says, "We've literally had people who left the hospital and were dilated but couldn't progress further, and they'd come in and have the dish, then end up going back to the hospital because their labor was continuing." However, for most women, it takes a day or two to work.
Frank thinks it's the mixture of the acid and spiciness that gets the metabolism and then labor going, and it doesn't seem to affect women who eat spicy food regularly. But for those who don't usually eat spicy food, it has been effective – at least 20 times, and likely many more than that.
To Frank's knowledge, no one has ever had their water break right there in the restaurant. But if you're working on convincing your baby that it's time to join the world, it may be worth trying the penne amatriciana – especially before you drag out that breast pump or go on a five-mile walk. Eating some delicious pasta is a much easier way to get the job done – or in this case, started.