Johnny Fugitt
Decisions, decisions.
When we first wrote about Porano Pasta eleven months ago, St. Louis didn't even have an IKEA. Much has changed in the time it has taken for Gerard Craft's fifth restaurant to come to life, but great things take time — like wine, relational trust, wine, higher education and, yes, wine.

Although we are happy that Craft's first fast-casual concept has finally arrived, with today serving as its grand opening, our sneak peek suggests the concept isn't for the indecisive. If you empathize with Jimmy Buffet, who once said "Indecision may or may not be my problem," you may find the options at Porano paralyzing. You'll need to choose from five bases, eleven sauces, five protein/vegetables (fifteen if you do half-and-half) and eleven toppings — which equates to thousands of options. So many, in fact, we decided to do the math and break down Porano Pasta by the numbers.

Here's what we learned.
99,825: The number of basic combinations at Porano. (1 base + 1 sauce + 1 protein/vegetable (including half and half) + 2 toppings)

273: The number of years it would take to try all of them, if you ate lunch here every single day.
1,989: The population of Porano, Italy (2011 census)

8,300: The population of hungry downtown St. Louis residents
634: Porano's address on Washington Ave. (in the St. Louis Mercantile Exchange)

3,200: The would-be flagship restaurant's total square feet

90: The number of seats for dining in

3: The number of days it took to install the wallpaper

70: The number of Porano's distinctive light fixtures (see below)
Johnny Fugitt
Lights...so many of them.
36: Number of years so far for Chef Gerard Craft, the man behind Porano

10: The number of years Craft has spent in St. Louis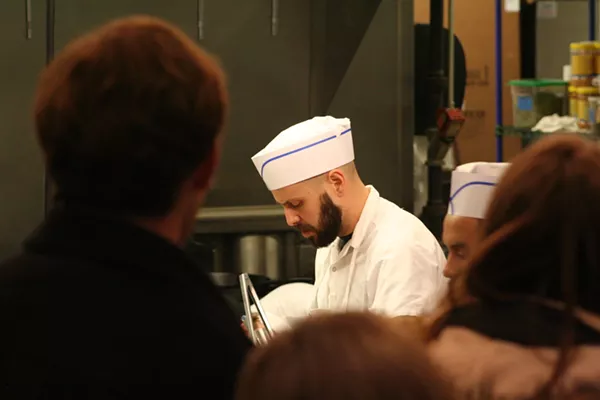 Johnny Fugitt
Chef Gerard Craft
28: The number of beverage options

22: The number of staff members

$6: The price of Porano's Negroni slushie

3: The flavors on offer of Gelato pops (Vanilla Bean, Askinosie Chocolate and Mango Sorbetto)
3: The number of red dots on all of Porano's marketing posters

3: The number of dishes on the kids menu (Mac and Cheese, Buttered Noodles, Pomodoro)

3: The number of special production drinks (Porano Pasta English Ale from Civil Life and two wines from Scarpetta Wine)

2: The number of local partnerships (Companion Bakery and Civil Life Brewing Co.)

1: The number of foosball tables on the premises



Johnny Fugitt
Porchetta focaccia



$16.90: The cost of a basic bowl of pasta, Negroni slushie and gelato pop.

Priceless: A fun meal with friends and family — Negroni slushie, of course, included.
Johnny Fugitt worked in the kitchen of a Sicilian chef who would fly off the handle at any connection between the terms "fast-casual" and "Italian." That chef is mentioned in his book,
The 100 Best Barbecue Restaurants in America
.