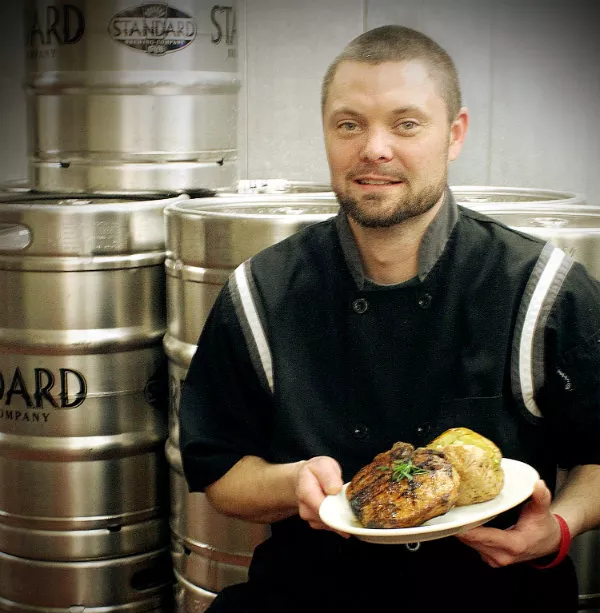 In high school,
Wade Waller of
Standard Brewing Company
(12322 Dorsett Road, Maryland Heights; 314-548-2270)
envisioned a life in the big leagues rather than in the kitchen. "I'd always wanted to be a baseball player," Waller explains. "But school was never really my thing. I didn't have the grades for it. I had a few [college scholarship] offers, but none that were all that great."
Luckily, he had a backup plan. A Carbondale, Illinois native, Waller grew up with an appreciation for food. "My dad hunted and fished," Waller recalls. "I was always around deer and fish and watched how he cleaned and prepared them. It's what got me interested in cooking."
However, it was an experience he had while on vacation that sealed the deal for him. "We were on vacation in Florida and I had some jerk chicken," Waller says. "I remember thinking, "Oh my. This is totally different than the sort of home cooking I grew up on."
Waller was hooked, and as soon as he was old enough, he started working in restaurants and even took a home economics class in high school. When Johnson & Wales came to his school to talk about culinary arts, he realized it was a career he could pursue. Eventually, he packed up and moved to North Carolina to attend the university's Charlotte campus.
Waller lived in Charlotte for seven years, but recently found himself called back to the Midwest. An avid home brewer, he jumped at the offer to lead the kitchen at Standard Brewing Company. Here, he doesn't just work by the brewery — he's created a menu that utilizes the brews in the cooking. He took a break from rolling out his newly designed menu to share his thoughts on the St. Louis food and beverage scene and his high-octane daily ritual.
What is one thing people don't know about you that you wish they did?
That I love to fish and watch football.
What daily ritual is non-negotiable for you?
I have to have at least a pot of coffee to start the day.
If you could have any superpower, what would it be?
Time travel or the ability to stop time.
What is the most positive thing in food, wine or cocktails that you've noticed in St. Louis over the past year?
Micro-brewing.
Who is your St. Louis food crush?
Cleveland-Heath
Which ingredient is most representative of your personality?
Jerk seasoning — it has a little bit of everything to it.
If you weren't working in the restaurant business, what would you be doing?
I'd like to be a sports commentator.
Name an ingredient never allowed in your kitchen.
Canned green beans.
What is your after-work hangout?
My house with my wife and kids.
What's your food or beverage guilty pleasure?
Chicken wings and gummy bears.
What would be your last meal on earth?
A dozen raw oysters and my mom's chicken pot pie.
We are always hungry for tips and feedback. Email the author at cheryl.baehr@riverfronttimes.com.