Comet Coffee | Jules Brown
When is a coffee shop not just a coffee shop? When it goes above and beyond simply providing a good cup of Joe and approaching its production and presentation as an art form.

A growing number of St. Louis coffee houses do just that. For these artisans, a good cup of coffee not only tastes good, but has been crafted with care, from growing and harvesting to processing and roasting. Some focus solely on single-origin offerings that represent the unique flavors created from the places and people that produce them. Others experiment with blends and offer creations only found in their shop. Some roast beans in-house, while others support local roasters and use the extra kitchen space to prepare pastries or full dining menus. All of them feel like a cozy home away from home, perfect for enjoying a beloved cup of brew.

Here, in no particular order, are our ten favorites.
1. Comet Coffee
5708 Oakland Avenue, Dogtown
All of the coffee at Comet Coffee is brewed by the cup and to-order and hails from some of the best roasters around the world, including Tim Wendelboe imported from Oslo, Norway and Square Mile from London, England. In fact, most of the coffees on the menu are not available anywhere else within 500 miles. Coffee is an experience here, with superior flavor offered alongside fascinating tales of the coffee's origin, superior quality and a cozy spot for sipping.
Blueprint Coffee | Marcus Stabenow
2. Blueprint Coffee
6225 Delmar Boulevard, Delmar Loop
At Blueprint Coffee in the Loop, the art of coffee lies in the delicate balance of sweet and acidic and appreciation of where it is from, how it is grown, processed and shipped. With brews by the cup, customers are able to sample a variety of styles in one visit. The shop's best-selling coffee is the Penrose house-blend, a dense and sweet espresso that pairs especially well with milk. Second in line is Tekton, a bit of a French winemakers approach to coffee that is approachable, yet complex, balanced and unique.
Northwest Coffee Roasting Company | Jay Fram
3. Northwest Coffee Roasting Company
4251 Laclede Avenue, Central West End
Northwest Coffee Roasting Company opened in 1993 as the first Seattle-style roaster and coffee house in St. Louis. Hand-roasted beans yield a coffee that is full-bodied and bright with moderate acidity. Varietals are offered from all over the globe and the shop's custom blends are the result of years of experience, experimentation and sheer boldness that have resulted in flavors that complement and enhance each other. Best sellers are a single-origin Sumatra and a house blend of Colombian and Guatemalan beans.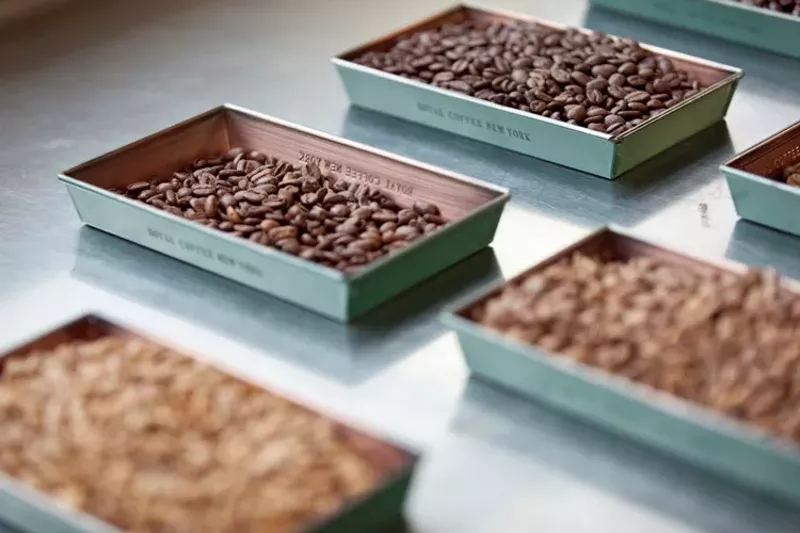 Park Avenue Coffee | courtesy of Park Avenue Coffee
4. Park Avenue Coffee
1919 Park Avenue, Lafayette Square, plus other locaions
Park Avenue Coffee has been a part of the Lafayette Square community for a decade, offering an extensive menu of ethically sourced, small-batch, air-roasted coffee. The shop's best seller is a house dark roast – an Italian roast which brings out the full flavor of the beans without the harsh bitter after tones from traditional darker roast coffees. An interesting side note: the shop has 200 solar panels on the roof, which generate all the electricity for the shop (extra, in fact, which is sold back to Ameren UE's electric grid).
ArtHouse Coffees | courtesy of ArtHouse Coffees
5. ArtHouse Coffees
2808 Sutton Boulevard, Maplewood
ArtHouse Coffees began roasting coffee in the back room of an art studio in Maplewood in 2012 with the goal of creating employment opportunities for adults with disabilities through specialty coffee. Building on its success, ArtHouse soon opened Living Room, a cafe devoted to specialty coffee, food and community. Unique, seasonal, single-estate coffees showcase the flavors of specific regions and farms within a country. The shop's best-selling coffee is espresso — by itself, in a cappuccino, or in a specialty drinks, such as the "burnt orange latte." Also popular is Bitt's, a bottled cold brew now available at several local farmers markets and cafes.
Turn the page for five more of our favorite coffee shops.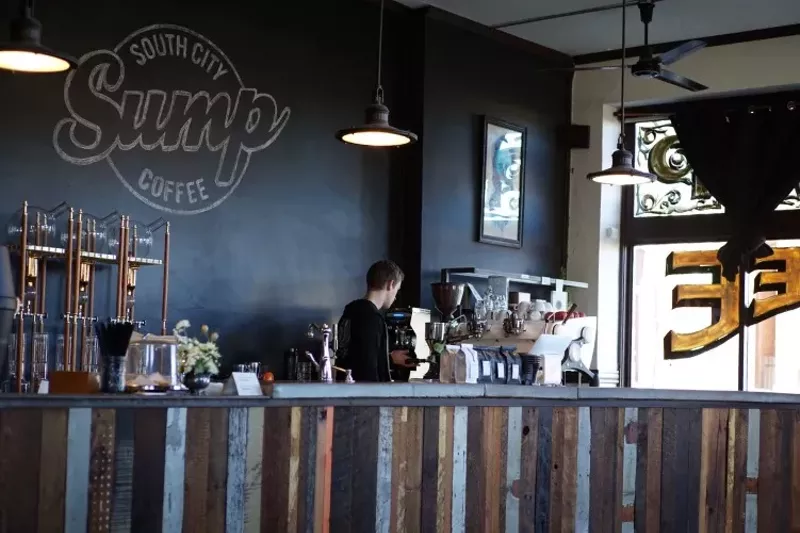 6. Sump Coffee
3700 S Jefferson Avenue, Cherokee District
Sump Coffee is focused on creating an elevated coffee-drinking experience for each customer, infusing each up with comfort, structure, complexity and clarity. All coffees are sourced and roasted from single-origin estates, often from new origins and new farms for new flavors to try on each visit. In addition, only in-season, current crop coffees are offered for a constantly changing menu. A customer favorite is a Yemen Haaraz coffee, a regular springtime feature.
The Mud House | Casey Miller
7. The Mud House
2101 Cherokee Street, Cherokee District
The Mud House satisfies the quick cup-on-the-go coffee drinker and also slows things down with hand brews for discerning drinkers with a little more time on their hands. A multi-roaster program offers a wide variety of coffees roasted both locally and nationally. The shop's best selling coffee is Los Ortiz from El Salvador, a single varietal coffee roasted locally by Blueprint Coffee with nuances of toffee and milk chocolate and a Meyer lemon acidity.
Foundation Grounds | Eric Nemens
8. Foundation Grounds
7298 Manchester Road, Maplewood
Foundation Grounds offers local coffee with deep flavor profiles — 100 percent organic and fair trade "Love and Gratitude" Goshen Coffee blend and, just added, local Blueprint Coffee. From the farmer to the roaster to the baristas, each person in the supply chain is considered and valued. In fact, everything on the menu, including the tea, meats and dairy, bread, potato chips and cleaning supplies, is locally sourced for full circle sustainability.
Rise Coffee House | Mabel Suen
9. Rise Coffee House
4180 Manchester Avenue, the Grove
Rise Coffee House brews artisan Goshen coffee with tempered water and signature kalita wave drippers, as well as Chemex, V60 and kyoto. ReTrailer teas and sustainably-prepared Whisk Bakeshop pastries round out the coffee shop experience as a bustling daytime community hub filled with art and good vibes.
Editor's Note: This article was updated in 2017 to include updated details about a coffee shop and remove one that closed.
See also: The 10 Best Sandwich Shops in St. Louis

Follow Sara Graham on Instagram and Twitter at @engagetaste. E-mail the author at sara@engagetaste.com.

Editor's note: Due to an editing error, the initial version of this post gave the wrong city for Foundation Grounds. It is in Maplewood. We regret the error.