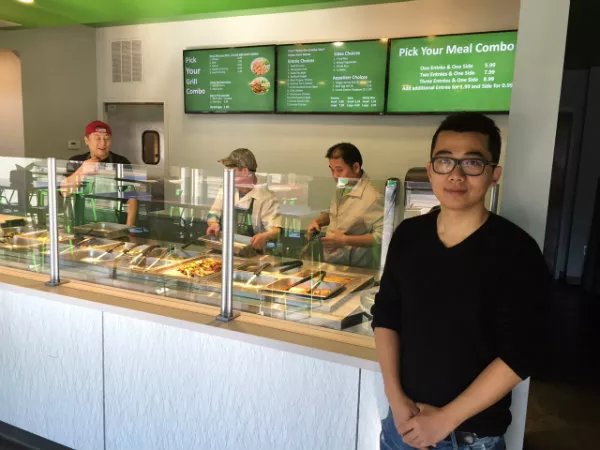 Photo by Sarah Fenske
Ivan Wei at his new restaurant, open as of January 14 in the Delmar Loop.
There's a new restaurant open as of today in the Delmar Loop.
Joy Luck Chinese Express
(
6623 Delmar
) is the third offering from Ivan Wei, who also owns Corner 17 in the Loop and Joy Luck Buffet on Manchester and Hanley.
And this one is a bit of a departure for the young restaurateur — by his own telling, it has more in common with Panda Express than the authentic Chinese he's serving at Corner 17.
"Corner 17 is very traditional and authentic Chinese," he explains. "But we just don't have many American customers. Every time they come in, they're asking for beef broccoli or black pepper chicken." That made Wei realize there might be an untapped niche — a spot that could handle both super-quick lunch service and the kind of Americanized Mandarin that's become ubiquitous in shopping malls.
"There really only is one place like that [nearby], and it's small and it looks old," he says. "And there's so many Chinese and Asian students in this neighborhood, too. With
Bread Co. closing down
, there is demand for a quick lunch place."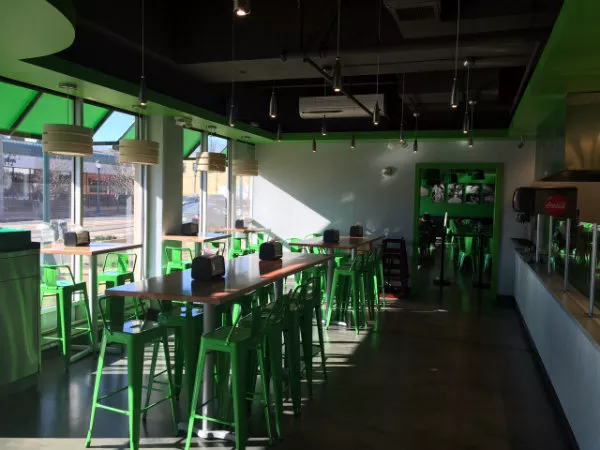 Photo by Sarah Fenske
Big windows line Delmar Boulevard.
As at Panda Express, the food is cooked ahead of time and then laid out on saute tables. Workers will scoop out your meal combo — $5.99 for one entree plus a side, $7.99 for two entrees and a side, and $8.99 for three plus a side. Add an additional entree for $1.99 or a side for 99 cents.
Sides include fried rice, mixed vegetables, white rice or lo mein. You can also get spring rolls, cream cheese rangoons or beef egg rolls. And if you're one of those rare Americans who's not into beef broccoli or black pepper chicken, the kitchen offers a pick-your-own grill combo, with your choice of protein and rice, topped by teriyaki or spicy sauce.
But the place still seems a step above Panda Express. For one thing, the space is a looker — it inhabits the old Corner 17, which moved into a bigger, 2,600-square-foot space in October, and like that space, it's all bright green accents and clean lines.
And on top of that, you can also order Corner 17's slushes and Boba offerings right there at the Joy Luck counter.
Fast lunch and a mung bean slush, too? Heaven! And for those of you less adventurous eaters, there is always beef broccoli.
Photo by Sarah Fenske
The 1600-square-foot space was previously home to Corner 17. But never fear — that eatery, also owned by Wei, has just moved next door.
We welcome tips and feedback. Email the author at sarah.fenske@riverfronttimes.com