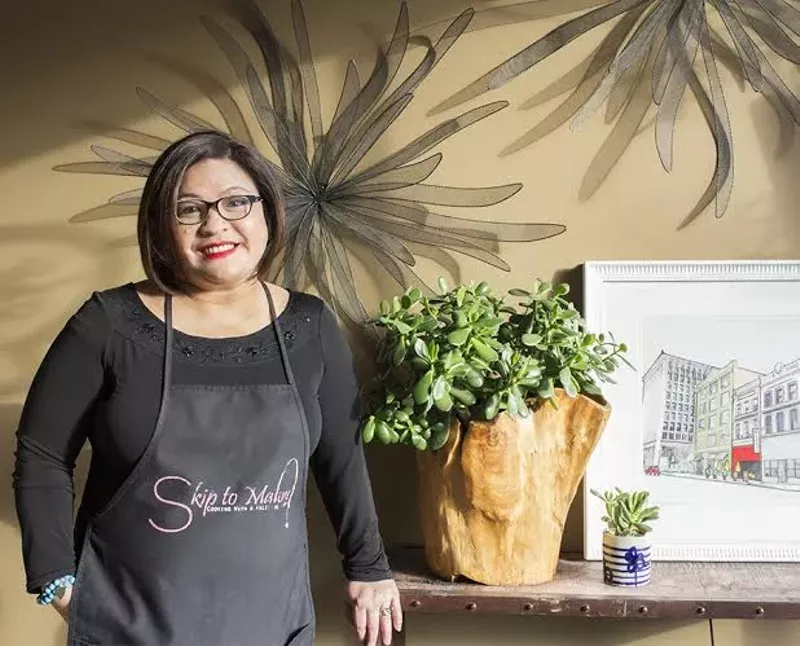 Mabel Suen
Malou Perez-Nievera, or "Skip to Malou" as she likes to say.
Malou Perez-Nievera, who is making a name for herself with her Filipino dinners at Hiro Asian Kitchen, didn't start cooking the food of her homeland until she moved to New York — a fact she finds amusing, considering that she grew up in the Philippines.
"In the Philippines, I cooked, but not much Filipino food. I think it's because we had so many other people cooking for us that I didn't need to," Perez-Nievera muses. "But once we moved to New York, I started cooking Filipino dishes as a way for my children to stay connected to their roots."
Food has always been an important part of Perez-Nievera's life. Growing up, her father was a politician, so her family seemed to always be hosting people for meals. "We were always entertaining — which is where I think I get my love of it," she recalls. "My mom was always in the kitchen preparing things on the fly. It was simple stuff, but once I moved to the city for school, I was exposed to more sophisticated cuisine."
When Perez-Nievera and her family moved to the New York, she began perfecting traditional recipes, but also experimented with different techniques. After relocating to San Diego, she began writing about Filipino food, and started a food blog that gained a substantial following.
Then her husband's job moved the family to St. Louis, which is where Perez-Nievera's culinary career really took off.
"I started a video blog and realized I had so many more views that I expected," Perez-Nievera says. "So I started doing pop-ups at different restaurants around town and teaching cooking classes at places like Kitchen Conservatory. Then I met Bernie."
Bernie Lee of Hiro Asian Kitchen was the guest chef at a pop-up dinner that Perez-Nievera attended. The two clicked instantly, and Lee suggested that Perez-Nievera develop a regular series at his restaurant. "I used to have to jump around from spot to spot, but Bernie has allowed me to do things on a more regular basis," she notes. "At Hiro, I do a Filipino brunch every Saturday and a Filipino dinner once a week as well."
Perez-Nievera is most proud of her monthly Kamayan event at Hiro. "Kamayan means "to eat with the hands," she explains. "It's a traditional feast served at one long table." She thinks it's the best introduction for people new to Filipino cuisine. "I tell people that Filipino food is Spanish food mixed with Asian flavors. We were ruled by Spain for like 400 years, so really, this makes us the original fusion cuisine."
Perez-Nievera took a break from the kitchen to share her thoughts on the St. Louis dining scene and why singing is the most important ingredient in her food.
What is one thing people don't know about you that you wish they did?
That whenever I cook I always hum or even sing loudly. I need to be happy when I'm cooking. I must be in a festive environment. When I'm happy, there is something magical about how I work, and it clearly shows in the plates I serve.
What daily ritual is non-negotiable for you?
I should have my nap or siesta. Even for just ten-fifteen minutes. I always yearn for that afternoon cat nap.
If you could have any superpower, what would it be?
That I could fly, or even better, teleport, like in Star Trek. This is so I could visit my mom and family back in the Philippines whenever I want to.
What is the most positive thing in food, wine or cocktails that you've noticed in St. Louis over the past year?
I moved from SoCal where the food scene is vibrant, three years ago. And since then I have been thrilled to see all the exciting restaurants and dining experiences that the city offers. The journey continued in 2015 with excellent new restaurants launched, like Publico in the Delmar Loop and Reeds American Table in Maplewood.
Who or what is your St. Louis food crush?
A crush when it comes to food? Well, I think my favorite is still Asian fare. I maybe biased but of course I love Hiro Asian Kitchen. It's fancy but not intimidating. It's modern yet it brings authentic Asian flavors. It's so much like my style.
Who's the one person to watch right now in the St. Louis dining scene?
I am actually impressed with the wide array of talents in St. Louis' culinary scene. I can't just name one person. I am impressed by the work of Mike Randolph and his crew at Publico/Randolfi's/Half & Half and also by chef Ben Poremba of Elaia and Olio/Old Standard fame.

Which ingredient is most representative of your personality?
Calamansi. Calamnasi is a small round citrus fruit, so much like lime or lemon. But don't be fooled by its diminutive size. It has its own distinct citrusy notes that come strong and very fragrant. A squeeze of calamansi over your dish brings out an authentic Filipino flavor. Or you could squeeze it and make a refreshing drink. Just like me: small, yet could fill up a room.
If you weren't working in the restaurant business, what would you be doing?
Cooking in restaurants just sort of fell on my lap. I call it my accidental career. I think I would still be writing, talking about and taking pictures of food if I wasn't in the kitchen.
Name an ingredient never allowed in your kitchen.
Grumpy kitchen staff. Just kidding! I prefer working with upbeat and kind staff members, as I work off the energy of the people around me.
What is your after-work hangout?
You can still find me in the kitchen at my home, cooking for family and friends, who all seem to love to hang out at our place.
What's your food or beverage guilty pleasure?
Non-diet soda.
What would be your last meal on earth?
Lechon (roasted pig). Eating that crispy skin and succulent meat with liver sauce would be a great way to end a journey.
We are always hungry for tips and feedback.Email the author at cheryl.baehr@riverfronttimes.com.