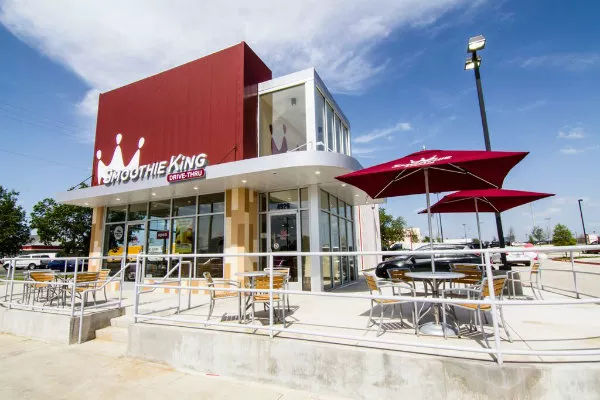 Photo courtesy of Smoothie King
The
Smoothie King in the Delmar Loop may have unceremoniously closed
in recent weeks, but that doesn't mean lovers of frozen fruit drinks are out of luck.
In fact, Smoothie King tells
Riverfront Times
they're planning a massive expansion in the St. Louis next year — with eleven new locations in the works across the metro area. That's on top of the 12 stores that have opened locally since 2013.
Stephen Foley, the franchise development manager for the Louisiana-based chain, says that the new locations are slotted for Fenton, Clayton, Lake St. Louis, Rock Hill, St. Peters, Arnold, Bridgeton and two locations each within the city limits (downtown and St. Louis Hills) and the Metro East (Fairview Heights and Edwardsville). It's too soon to give addresses yet, but he says the plans are definite.
Even Foley has been shocked by the chain's success in the St. Louis market. "As far as our average unit volume, our St. Louis stores have been right up there with our best markets — Houston, New Orleans and South Florida," he says. "That's even though St. Louis generally gets a colder winter for a longer period of time, which is definitely a factor in our business."
He adds, "The St. Louis market for us took off quicker than any other market I've ever seen."
Foley declined to discuss specific reasons for the Delmar Loop franchise's closure. He said that after 2016, he expects the smoothie market in the area to be nearly saturated, with room for only non-traditional locations, like hospitals, airports and office buildings.
"If there's a large amount of people somewhere, we can put a Smoothie King there," he says.
We welcome tips and feedback. Email the author at sarah.fenske@riverfronttimes.com