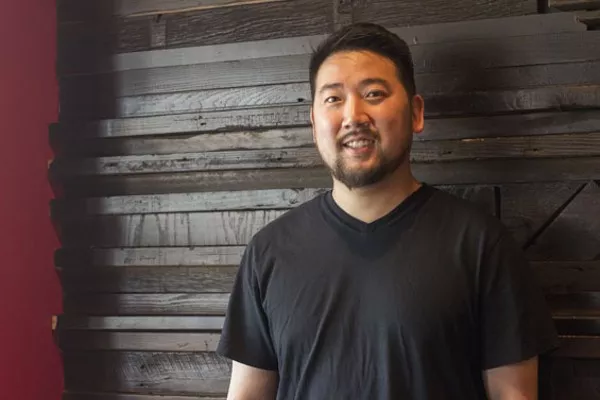 Photo by Mabel Suen
David Choi, who owns Seoul Q and Seoul Taco.
There's a big shakeup on the way at University City's sister Korean restaurants, Seoul Q and Seoul Taco.

Seoul Q, the higher-end, evening-only Korean barbecue experience, will be closing January 16, according to a press release from owner David Choi. But devotees of galbi and bulgogi needn't despair — that's in part to make room on-site for an expansion of Seoul Taco, the fast-casual spot that currently inhabits half the square footage and does a brisk business for both lunch and dinner.

See also: St. Louis Restaurant Openings & Closings: December 2015
Choi says he plans to reopen Seoul Q in another space that will no longer be a joint operation.
"We have been actively looking in different areas in town," Choi said in the press release. "Given the unique concept we have to find a right location as far as space size and the right bones to re-open."
Seoul Q has earned raves from local critics, including
the RFT's Cheryl Baehr
. But Seoul Taco, which began as a food truck, has done almost too well for itself. On our recent lunchtime visit, customers jockeyed for tables, while the line to order grew too long and snarled for comfort.
Choi hopes that increasing the restaurant's footprint into what's currently the Seoul Q space will ease the congestion. He plans to add another assembly line and another register; having the kitchen to itself surely won't hurt, either.
See also: Review: Seoul Q nails the Korean Barbecue Experience
Choi plans to have the renovation complete by mid-February. Seoul Taco will stay open during construction.
A third Seoul Taco location is expected to open in Champaign, Illinois, this spring. Last year, in addition to Seoul Taco moving from another spot in the Loop into the shared space with Seoul Q, brought expansion to Columbia, Missouri.
We welcome tips and feedback. Email the author at [email protected]