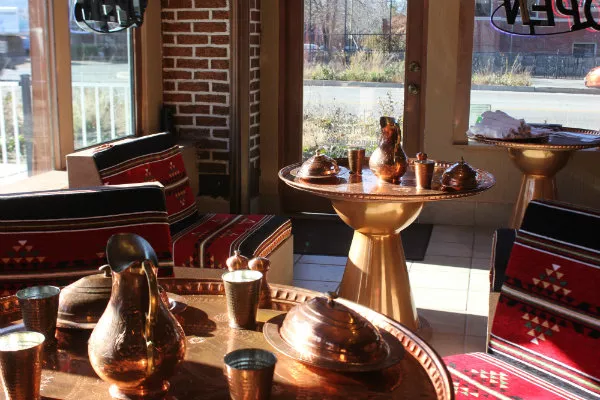 The newest eatery to open on South Grand,
Sheesh Restaurant
(
3226 S. Grand, 314-833-4321
) is a stunner. Round copper tables are topped with copper tea kettles and plates, while bright Turkish tapestries cover the chairs and hang in the windows. And those windows! Facing both Grand and Humphrey, they let in quite a bit of light. The place used to be New St. Louis Wok, but there's no mistaking that there's a new owner here now.
That owner, Safa Marmarchi, is a refugee from the Turkish city of Afyon, which is near Ankara. He's assisted by his sister Zaenab Marmarchi, who manages the restaurant and serves as his translator. She explains that her brother ran his own business in Turkey, a marble company. And while the family didn't choose St. Louis — they were placed here by the U.N. in 2007 — they have no second thoughts about ending up so far from home. "We love St. Louis," she says. "It's a kind of a quiet and nice city."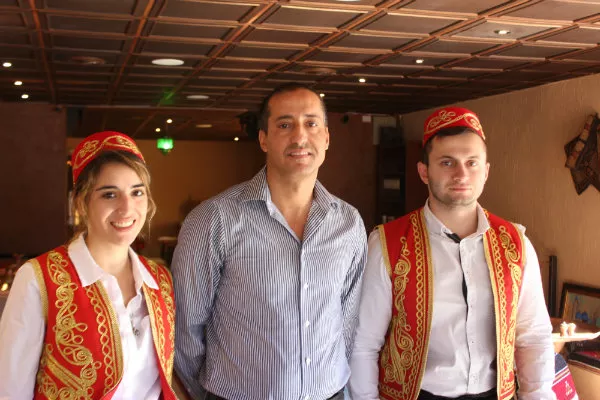 Photo by Sarah Fenske
Owner Safa Marmarchi, center, with two servers at Sheesh Restaurant.
To the Marmarchis, St. Louis' only flaw, in fact, was that until recently, it just didn't have enough Turkish restaurants. They remedied that by opening Sheesh on December 3, bringing not only the fabric and copper fixings from Turkey, but also hiring two Turkish chefs.
<!——StartFragment——>That care shows in the food, which is executed with precision. The lamb biryani comes topped with a leg of lamb, the soft meat almost falling off the bone and the rice studded with raisins, chickpeas and subtle spicing. It's delicious.
Order the hummus appetizer, and you won't just get the usual mass-produced pita bread. Sheesh serves it with a giant, lightly charred puff, perfectly baked so there's just a fine layer of crisp around the warm center.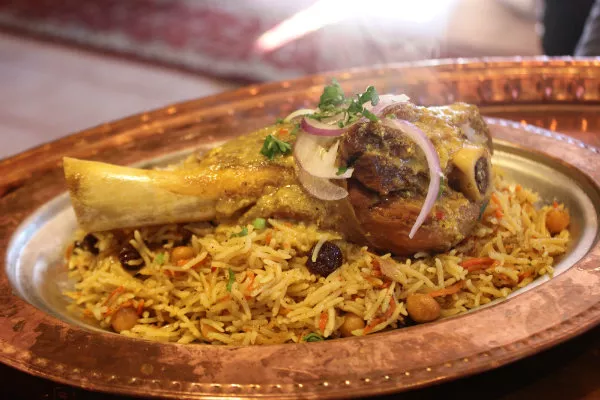 Photo by Sarah Fenske
The lamb biryani
The main entrees aren't cheap — the biryani, for example, is $19.99. But for those on a budget or just stopping by for a quick lunch, other options abound, including a fried eggplant salad, a falafel plate and two doner sandwiches, one with beef and one with chicken.
The doners have a surprisingly commonality with Pittsburgh-style paninis: the French fries are tucked into inside of the sandwich, for a salty, crispy counterpart to the lettuce, tomato and pickle. We found ourselves scarfing the entire thing — and lapping up the yogurt sauce that came with our friend's biryani, too.
The Marmarchis also offer Turkish coffee, baklava and knafeh — a sweet cheese pastry soaked in syrup and sprinkled with pistachios. So even if you can't make it in for dinner, you'd be wise to swing by for coffee and a dessert. Your stomach, we suspect, will thank you.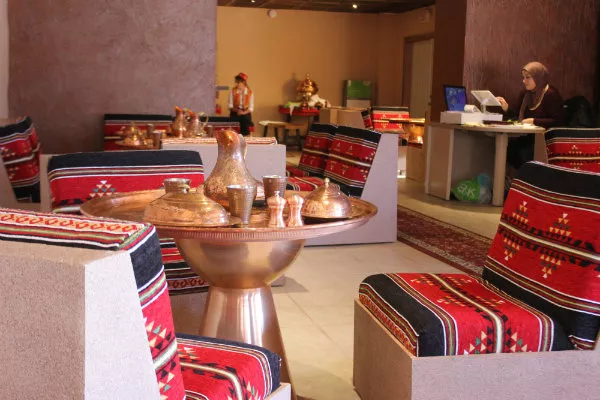 We welcome tips and feedback. Email the author at sarah.fenske@riverfronttimes.com